Peugeot Expert Used Guide 2007-2016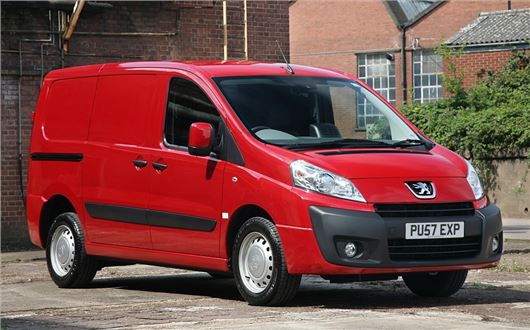 The Peugeot Expert was revealed in 2006 before going on sale in the UK in February 2007. Like its predecessor, it's the sister van to the Citroen Dispatch, though as part of the Sevel Nord joint venture the same basic van is shared with both Fiat and Toyota with the Scudo and ProAce respectively.
The Expert was offered with two wheelbases between 3000mm-3122mm for 4805mm-5135mm lengths overall, two roof heights from 1980mm-2290mm in panel and crew van guises. These, as with rivals, are denoted by L1 and L2 for the differing lengths and H1 and H2 for height. A passenger version, badged Expert Tepee being available to private hire and family users. Likewise, a floor cab was available for users needing coachbuilt backed solutions.
The payload weight capacity ranges from 988kg to 1204kg depending on specification. Helping with that load is the fact that the Expert could be had with pneumatic self-levelling rear suspension. It lowered via a switch in the cabin to ease loading, or access in tighter, height-restricted areas. The payload volume, was, unlike its predecessor, right up with those vehicles it rivalled, with its volume between 5.0 cubic metres and 7.0 cubic metres depending on model. The loadspace itself is well shaped, the Expert's upright, boxy rear allowing all that space to be used effectively, the low load floor and access to it well considered. It'll easily accommodate a Euro pallet, and more back there.
To find the latest van deals, visit: Honest John Vans For Sale
2012 saw the Expert get its biggest overhaul, with a slightly revised look, the availability of a new six-speed automatic transmission and engine tweaks to allow it to produce less CO2.
During its life Peugeot added a new multi-media system with colour sat nav, hands free telephone connection and a 30gig hard drive, this added as an combined option with the visibility pack for a little over £1000. In 2010  Peugeot upped the warranty to 100,000 miles, while 2012 saw the Expert get its biggest overhaul, with a slightly revised look, the availability of a new six-speed automatic transmission and engine tweaks to allow it to produce less CO2.
The 2012 changes also saw Peugeot offer the Expert with 'Grip Control,' an optional extra that allows it to find traction in tricky situations via a sophisticated traction control system. With it the driver could select from four different drive modes - Sand, Snow, Mud and ESP. Not as effective as a four-wheel drive offering that some rivals can produce, but a useful add-on for those customers who might visit work sites, or live in remoter areas in winter. In addition to the clever traction control system the ATV versions added raised suspension by 10mm, under engine  protection and upgraded tyres (215/60 RC16C mud and snow tyres) and were supplied without wheel trims.    
Engines/transmissions
Peugeot offered a choice of three different engines with the Expert, in 1.6 and 2.0-litre capacities. All HDI turbodiesels, the entry-level 16v fixed-geometry turbo 1.6-litre model produced 90PS and came fitted with a five-speed manual transmission. Peugeot described it as suited to urban driving, the 90PS engine needing working hard on motorways. 
If longer routes are required then the 2.0-litre HDI made more sense, not just because of its 120PS but the fact it came as standard with a six-speed manual transmission. Above that Peugeot additionally offered a 136PS version, all engines emitting between 191-200g/km of CO2 and returning an official combined consumption figure of between 38.2mpg and 39.2mpg. Expect a real-world use figure more like 28-32mpg depending on how it's being used.
The 136PS engine in the L1H1 panel van allowed a 0-62mph time of 11.6 seconds, the 120PS model achieving the same in around 13 seconds and the 1.6-litre anywhere from 17.1-18.3 seconds. Laterly, Peugeot added a 2.0-litre HDI line-up that saw the 120PS model raised to 128PS, while the range-topping unit saw its power swell to 163PS.
A six-speed automatic transmission was offered from 2012 onwards, while improvements to the engines at the Expert's mid-life revisions helped reduce emissions and marginally improve performance.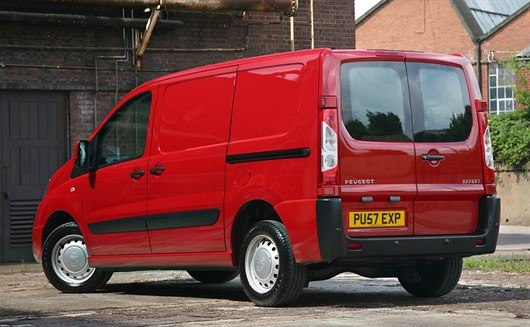 Maintenance
Servicing should take place every year or 10,000 miles, which should cost around £200 from a non-franchised garage, or about £100 more from Peugeot. Interim servicing varies from anywhere between £150-£250.
A clutch will cost around £600 from an independent garage, and around £1000 if you go to Peugeot, it's worth changing the flywheel at the same time - that adding about £350 to the cost but worth it as doing so requires the clutch to be out, anyway.
Front brake pads will cost around £110 fitted, likewise those at the rear, if you need discs two you can double those prices.
A diagnostic check to ascertain any faults will cost about £45, an exhaust around £250, and a timing belt replacement around £420. A new starter motor will cost around £220 fitted, and new front shock absorbers fitted for around £250-£300 and rear ones in the region of £250 for the pair.  
Pricing
A look at the classifieds reveal plenty of choice, with prices for the earliest examples comfortably under £2000, but for that you'll be looking at the highest mileage models that have had fairly tough lives.
Up your budget to £3000-£4000 and you'll have an excellent selection of Experts to pick from, with mileages ranging from around the 60,000 mark to as much as double that. As ever, don't be too afraid of higher mileage vehicles, as they often have an easier time of it than lower mileage, short drop vans. At this price point you can afford to be picky, check that it's been meticulously maintained, and if it hasn't shop elsewhere - there's enough choice out there.  
The bulk of Experts seem to be 1.6HDIs, the choice of 2.0-litre models being a little thinner, though even in the £3000-£4000 you'll find a few. The mix of larger engined versions increases if you get into the £4000-£5000 category, where you'll also find vehicles with bigger specifications, as well as in differing body configurations.
Above £5000 and you can really be picky, expect immaculate condition fair mileage and well-specified models here. With £7000 and above to spend you're in the realm of nearly new, balance of manufacturer warranty grade vans still on Peugeot forecourts. Push hard for deals here, particularly as dealers will be more focussed on the Expert's newer relation.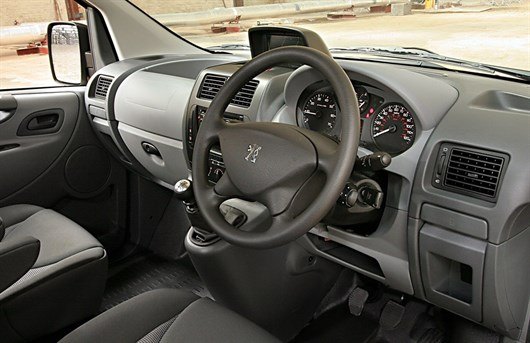 What we said 
"At higher speeds, the 1.6 HDi feels short on power and needs to be worked hard to get up to the national limit and remain there. It's not too rowdy when pushed, but this sort of driving takes it toll on economy when you spend more of the time in the upper reaches of the rev band.
"The soft-set suspension helps to isolate a lot of noise from the Expert's cab, which further helps this to be one of the least stressful and strained vans to spend your working day at the wheel of. The seats themselves are well padded and comfy for long days in the saddle, while the decent spec of the Expert means higher trim levels come with air conditioning to make warm weather much more bearable and demisting in colder temperatures quick and easy."
What to watch.
Listen out for any knocking from the suspension, or vagueness and wandering. The anti-roll bars are a known weak point, and the bushes are prone to wearing out.


Pay close attention to the tyre wear. The Expert is prone to heavy front tyre wear, and it's exacerbated by poor alignment. Have the alignment checked to reduce tyre wear.


The ECU can throw up odd fault codes, it's worth checking the combined fuelling relay module if it's doing so, it a relatively inexpensive fix.


The sliding rear doors can stick, this is likely to poor maintenance. Check the door runners for any damage or debris, clean out and lubricate the workings.


Clutches can wear prematurely if they're abused. Check for slip or any judder when moving off. If it needs replacing then you should replace the flywheel at the same time, as they're also prone to failing - it costing around £1000 from an independent to do both.


Ask when the timing belt was last replaced, when it should be done varies on use, lots of short run jobs can wear them prematurely. If it's over 5 years old it should have it done, regardless of mileage. If it's under 5 years old but over 80,000 miles then needs doing, too.


Check the van has been in for all its recalls. There have been a number of them, the majority of which have been between 2010 and 2011.


Make sure you keep the water drains around the front, as if they block rainwater will seep into the cabin and can soak the ECU which is situated under the driver's seat. Check under there for dampness.  
The Expert might not be the first van that springs to mind in this class over the more obvious rivals, but it's a worthwhile choice. Good space, a well-thought out loading area, fine drive and decent standard equipment make it an inexpensive workhorse. We'd want a 2.0HDI for longer-hauls, but the 1.6HDi for local jobs will do just fine. 
Comments
Author

Kyle Fortune
Latest