Used Buying Guide: Volkswagen Amarok 2011-2019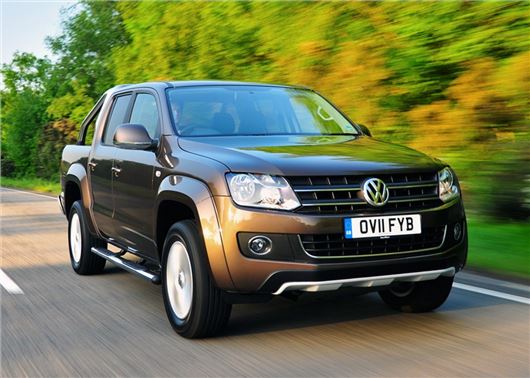 With its Caddy and Transporter vans Volkswagen has long had a strong foothold in the panel van marketplace. It's perhaps surprising then that it wasn't until 2011 that the German company added a pick-up truck to its commercial vehicle line-up in the shape of the Amarok.
With the Amarok, Volkswagen played to its familiar brand strengths, promising a more car-like drive, greater refinement and more prestige than its workman-like competition. It also brought efficiency to the class, with the best Amarok emitting under 200g/km of CO2. That efficiency was achieved by fitting 2.0-litre four-cylinder turbodiesel engine, the Amarok's engine being smaller than the typical class norm. Load space wasn't, with a 2.5 square metre bed, with a length of over 1.5m allowing the Amarok to carry a Euro pallet.
Typically, the Amarok offers a payload in excess of 1.1 tonnes, though the comfort-orientated Highline model with permanent four-wheel drive - rather than the selectable 4x4 as standard on every other Amarok - only has a payload of 750kg.  
Available in other markets in single and double cab form, the UK is only offered the double cab which can seat up to five thanks to the rear bench seat. Launched with three trim levels, Startline, Trendline and Highline. Volkswagen would also offer the Amarok in a number of special edition trims. These limited number series included Canyon, Edition, Dark Label, Ultimate and Atacama, all gaining luxury equipment and unique styling details over the already well specified standard trim levels.
In 2016 the Amarok was given a thorough overhaul, gaining revised exterior styling, a new higher quality interior and a range of new V6 3.0-litre turbodiesel engines.
Engines
At launch the Amarok was offered with a choice of 2.0-litre four-cylinder turbodiesel engines. The entry-level unit with Startline trim is a 122PS version, it featuring a single variable vane turbo, giving it 340Nm of torque at 1750-2250rpm. This gives it a 100mph top speed and 13.7 second 0-62mph time. The same 2.0-litre four-cylinder diesel engine was offered with a Bi-turbo system, boosting the power to a more useful 163PS, with peak torque rising to 400Nm at 1500-2000rpm, allowing a 11.1 second 0-62mph top speed and 112mph top speed.
Both engine choices at launch came with a six-speed manual transmission as standard, all coming with 4Motion four-wheel drive, it being selectable in all but a single Highline offering - where it's a permanent four-wheel drive system. The selectable four-wheel drive system comes with a low-ratio gearbox.
Within a year of its launch, the Amarok gained a boost in performance with the Bi-turbo seeing its output increase to 180PS. That additional power was complimented with Volkswagen's BlueMotion technology, which saw the new, more powerful engine able to offer better emissions and economy by utilising engine start/stop technology and lower rolling resistance tyres. At the same time Volkswagen added the option of an eight-speed automatic transmission. The more powerful engine allowed the Amarok to increase its towing capacity, from 2800kg to 3000kg, the automatic gaining a further 200kg towing limit for a 3200kg maximum.
The Amarok would continue with the range of four-cylinder engines until Volkswagen replaced them with a 3.0-litre V6 as part of its 2016 model year revisions. The new 3.0-litre is offered in 204PS and 224PS (240PS with overboost). All were initially only offered with the eight-speed automatic, though the 204PS and a lower-power 163PS would be offered with six-speed manuals in 2017 in Trendline trim. The manual transmission allows a low-ratio transfer box for those wanting ultimate off-road ability. Early 2018 would see Volkswagen add a 258PS version of the V6 engine, it featuring an overboost function for 272PS for short periods under heavy engine loadings.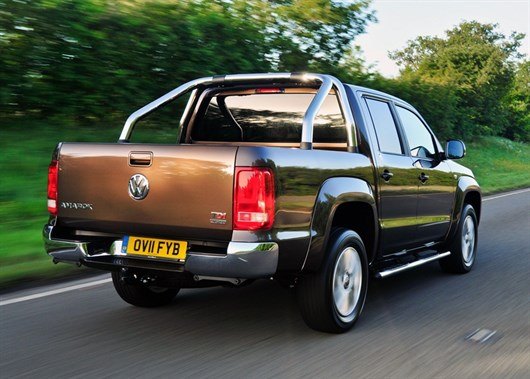 Maintenance
Variable or fixed servicing is offered with the Amarok, but we'd recommend annual servicing every 10,000-12,000 miles depending on use. A major service should cost around £200, a full service around £160 and an interim service £130.
Should you need a new clutch you'll be looking to pay around £1100, new front brake discs and pads will cost £500, and a new timing belt (cam belt) will be around £500, that including fitting of a new water pump at the same time. If a wheel bearing needs replacing you'll pay around £230, and if you need to replace the exhaust gas recirculation valve you'll pay around £700.
For complete peace of mind, the cam belt should be replaced every four years or 60,000 miles, whichever comes first. That'll be much less on vehicles working in dusty or dirty areas, so check it regularly, as failure can lead to the need for a costly replacement engine. If the CV joints are worn, you'll be looking at around £120 a side, again, with the nature of the off-road ability the Amarok offers it worth checking these regularly.
Pricing
Under £10,000 buys you an early high mileage Amarok, though you'll not be spoilt for choice here, as the starting price in the classifieds seems to be above £10,000. Even here you'll be looking at 2012/13 models, with high mileages, the Amarok seemingly not living as hard a life as some of its pick-up rivals.
In that £10,000-£12,000 segment you can start to get a little bit picky, the majority here being Trendline specification, though there are some Highline models - though be careful to check that it's not a sub one-tonne payload model if it'll be predominantly used as a work vehicle. It's not unusual to find well optioned Amaroks, most having some sort of load cover, be it a canopy-type rear or a roller cover over the load bed.
 >>>To find the latest Amarok deals, visit: Honest John Vans For Sale
Spend between £12,000-£15,000 and you'll have a huge choice of vehicles on offer, with sensible mileages, full dealer history and more often than not one previous owner. Autos don't command any more or less than the manuals, likewise, higher trim levels don't inflate the price notably, so it's worth spending the time to look out the perfect specification for you.
Above £15,000 and you're into the realms of the three/four year old examples, with sub-80,000 showing on the odometer.  Spend £18,000 and there's a wide variety of Amaroks on sale, everything from people chancing a five-year old Highline with 90,000 miles to a sub-30,000 four-year old Highline model, so shop around… Here, as with most price segments the engine choice is predominantly the 2.0-litre Bi turbo TDI, the V6 3.0-litre still in the nearly-new sphere so not too far off original list price new.
That'll change, give it a couple of years and those 3.0-litre V6s should be in the low/mid-£20,000, the Amarok demonstrating, across the entire used stock, the perceived value of that Volkswagen badge, as they hold their value rather well.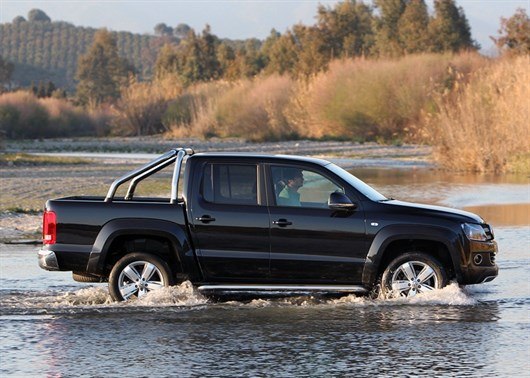 What we said
"It may not have the tough image of the Toyota Hilux but the Amarok majors on comfort and refinement. It's very quiet on the move, rides well and has a comfortable interior with a quality finish that's on par with Volkswagen's car range.
"The load area itself comes lined as standard and like the rest of the car it feels well finished and robust enough to withstand every day abuse. The single cab model has a load area of more than 2.0 metres (2205mm to be precise) and can carry two Euro pallets sideways with 60cm to spare."
What to watch
Check to make sure it has been subject to all the necessary recalls. Volkswagen recalled all Amaroks built between 2001 and 2013 for a potential fuel leak problem, while 2014/15 Amaroks needed their front brakes checked as the callipers may not have been tightened to the correct torque.


Check around the power steering return hose, it can get damaged and leak, leading to power steering failing. This was a recall item in 2017. 


The timing belt on the Bi-turbo TDi is known to fail. Have it checked, regularly, as if it does break it can destroy the engine.


As an off-road capable machine check underneath for any knocks, dents or scrapes. Also check the tyres for uneven wear caused by poor alignment.


If it's got a tow bar, ask what it's been towing, and how frequently. It's a capable tow car, but even so, towing it does add more strain and increase the wear on the drivetrain.


Check the oil, if the light on the dash has come on then you could already be too late. The exhaust gas recirculation cooler is prone to corroding, and it can contaminate the oil, creating damage to the engine's internals/cylinder bores. Volkswagen designed a new EGR cooler, check for excessive oil use, or smoke from the exhaust. 
A classy workhorse that would do your business' image no harm at all, that's capable and versatile, especially if you're using it as both your work and family vehicle. Refinement, comfort and economy all count hugely in its favour, and while Volkswagen's reputation is built on reliability, the Amarok isn't the paragon of it, being noted for a few faults. Keep on top of maintenance and it should be fine though, the Amarok's well worth considering if you need a tough but smart pick-up truck that's more car-like than commercial in its driving manners.  
Comments
Author

Kyle Fortune
Latest