Driven: Volkswagen Caddy 1.4 TSI Petrol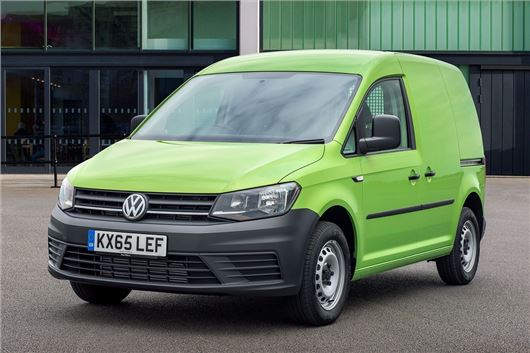 Published 31 August 2016
Diesel is typically the default choice when it comes to vans, but turbocharged petrols are now almost as punchy and economical, but with less complexity. It's not unusual to see petrol options in small van ranges – and now Volkswagen has joined in, offering 1.0-litre, 1.2-litre and 1.4-litre TSIs.
We tested the smallest C20 panel van in Highline trim with a 1.4-litre TSI petrol engine. It's a tremendously quiet, refined engine that is also used in passenger cars like the Volkswagen Golf, but despite being smooth and relaxed it's also capable, with peak power of 125PS and 220Nm of torque from just 1500rpm.
In terms of price and performance it's very similar to the 102PS 2.0-litre TDI diesel, which produces 250Nm of torque from 1300rpm. In practice the difference in performance is marginal, but the diesel is more economical, managing an official 61.4mpg compared to 47.9mpg for the petrol.
That said, modern diesels have their limitations. Particularly for short trips, where particulate filters can become clogged and expensive to fix. As a result, many delivery drivers and inner city van drivers are turning to petrol power. For this kind of environment, the 1.4 TSI is perfect.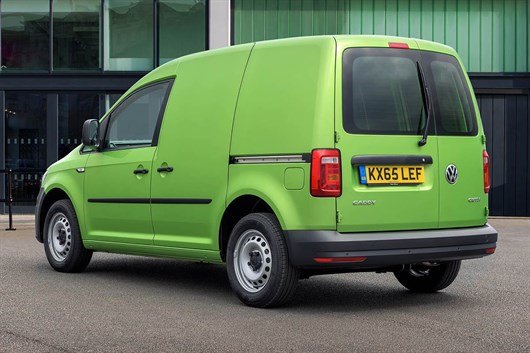 Indeed, the C20 Highline tested has a slightly higher payload rating than the equivalent 2.0-litre diesel, at 643kg, as opposed to 554kg. Gross vehicle weight for the petrol is 2068kg, versus 2141kg for the diesel, while load area dimensions are identical, with a total volume of 3.2m3 – on par with rivals like the Ford Connect.
The asymmetric rear doors open 180 degrees, while the sliding side door provides ample access. A second side door can be specified as an option, if needed, as can a single, upward opening rear tailgate, though the latter is bulky and impractical in bay parking spaces. There are six lashing eyes for tying down loads.
For those who need more space there is a Maxi variant, which has an increased volume of 4.2m3 and a maximum payload of 705kg. There's also a Maxi Kombi, which has a second row of seats, plus the Caddy Life MPV with seven seats, though the rearmost seats are of limited use and are best suited to children.
Up front the Caddy has an impressive, car-like feel. The layout looks very much like the cabin in a Volkswagen Golf, but it's all finished with hardwearing plastic, rather than soft but more easily-marked materials used in Volkswagen cars. Even so, the Caddy has the plushest and most user-friendly cabin of any van in its class, with lots of storage and excellent all-round comfort.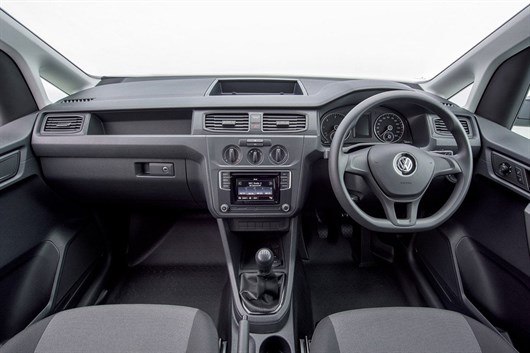 It isn't just the dashboard layout that feels like a Volkswagen car. The touchscreen system, navigation and smartphone connectivity are all very impressive, as are convenience technologies like automated parking, adaptive cruise control and auto-dipping headlights. As a result it is easy to live with the Caddy on a daily basis. 
On the road, the Caddy's refinement and nicely-weighted controls make it relaxing to drive. Ride quality is good, there's little in the way of noise and handling through the corners is neat, safe and predictable, while the relatively compact size means town driving and multi-storey car parks are no problem at all.
The only area in which the petrol-powered Caddy is deficient compared to the equivalent diesel is torque – but only by 30Nm. That's only likely to be noticeable when fully-laden and besides, the smooth, quiet power delivery of the petrol is a fair payoff for very slightly less punchy performance.
For long distance van drivers, the diesel will obviously win the day with its improved economy. However, if you spend most of your time driving in a town or city for delivery work, then the Caddy 1.4 TSI is a no-brainer. It closely matches the diesel in every area that matters, while its four-cylinder engine is smooth, quiet and surprisingly capable for moving large payloads.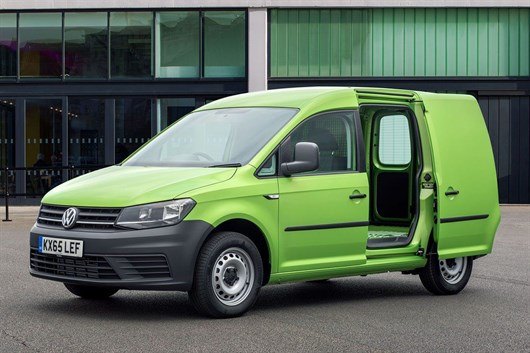 Comments
Author

John Slavin
Latest