LDV V80 (2017–)
Last updated 27 February 2018
Cheap to buy, comfortable ride quality, large load area, five year warranty as standard.
Lacks refinement, no Euro6 engines, poor fuel economy, limited dealer network.
Introduction
The LDV V80 is one of the cheapest large vans, offering more space and practicality than anything else in its price range. Admittedly, it's not particularly efficient or good to drive, but the V80 does the basics well enough, while its five-year-warranty will provide peace of mind for builders and delivery drivers in need of a cheap and reliable panel van.
Based on the old LDV Maxus - launched all the way back in 2004 - the V80 has the undeniable look and feel of an old van. However, with prices starting below £16,000 (before VAT) the V80 sits in the same budget as the smaller Ford Transit Connect and Volkswagen Caddy. This makes it incredible value, when you factor in its five-year/124,000 mile warranty.
As you might expect, the V80 has to make some significant compromises in order to undercut its large van rivals on price. The cabin, for example, is unashamedly cheap and cheerful. And refinement levels are straight out of the early 2000s, with lots of road, wind and engine noise rattling around the retro cabin.
In fact, the 2.5-litre engine is probably the loudest and thirstiest of any mainstream panel van, with advertised economy sitting at just 30mpg. This means the V80 has a frightening thirst for fuel when fully laden, while its Euro5 emission status make it liable for urban pollution charges. LDV tell us that a Euro6 version of the 2.5 diesel is expected in late-2018.  
Despite sounding like an agricultural vehicle from behind the wheel, the V80 is easy to drive. Its comfortable too, with a smooth and comfortable ride quality that remains supple when the van is unladen. Builders who run up large distances on the motorway will find LDV's large van to be a competent companion at 70mph too, with predictable handling and a good view of the road from the elevated seating position. 
At the business end of things, the V80 is available with a short or long wheelbase, with a low, medium or high roof. Gross Vehicle Weights span from 3.2 - 3.5 tonnes and the largest versions of the V80 will carry payloads weighing up to 1419kg. This puts the V80 some distances behind 3.5 tonne versions of the Fiat Ducato and Vauxhall Movano.   
Given its old-school feel, low-quality finish and limited dealer network (there are just 30 in the UK) it would be easy to dismiss the V80 for its many shortcomings. However, its low list price and comprehensive warranty package will give it plenty of appeal with van operators in need of a cheap, low thrills workhorse. 
Also consider...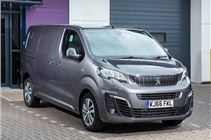 Peugeot Expert 2016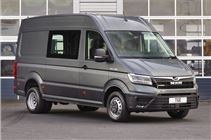 MAN TGE 2017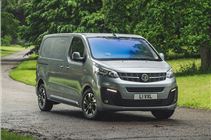 Vauxhall Vivaro 2019