Review: Ford Wellhouse Terrier (2013 – 2016)
Rating:
Professional conversion by Wellhouse, car-like driving and refinement, versatile use of space, comfortable, easy to get to grips with, lots of customisation.
Pricey to buy, expensive to kit out with optional extras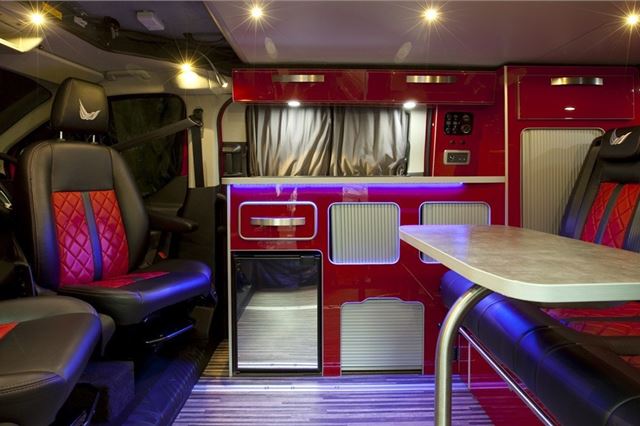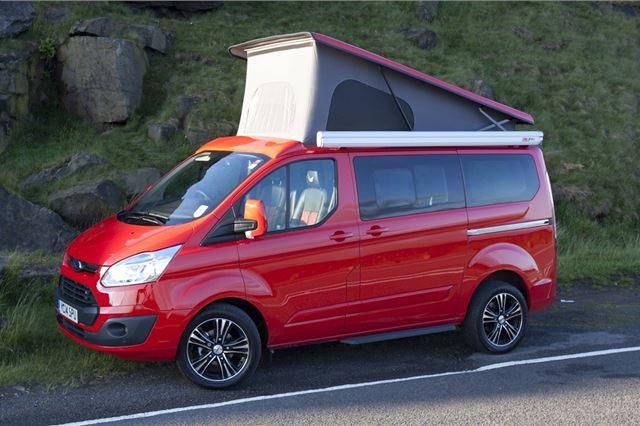 Recently Added To This Review
24 June 2014 Bianco special edition Ford Terrier launched
The Bianco is one of four new special editions of the new Wellhouse Ford Terrier. As their names suggest, the Rosso, Bianco, Nero and Argento special editions are red, white, black and silver respectively,... Read more
22 October 2013 Ford Wellhouse Terrier launched
Wellhouse Leisure is the first firm to develop and launch a campervan version of the new Ford Transit Custom in the UK. With an elevating roof providing an extra large double bed and a three-seat rear... Read more
Ford Wellhouse Terrier (2013 – 2016): At A Glance
The Ford Transit Custom is arguably the best medium-sized van you can buy – so the decision by Wellhouse Leisure to use it as the basis for a camper van conversion was inspired. The result is the Ford Terrier, a neatly-styled, easy-to-drive and beautifully finished motorhome based on the Transit Custom.
Traditionally one of the biggest problems with motorhomes is their van roots. You expect clattering engines, unpleasant motorway cruising, a lack of power and horrible, wallowing handling. They're also usually big, hard to manoeuvre and unrefined. That's not a problem with the Terrier.
In fact, driving the Terrier is no more difficult than driving a car. Of course all the car-like driving dynamics are no use if your van is cramped and uncomfortable, but there are no such problems here. The Terrier is versatile and spacious enough for a family of four if you specify the optional second bed, which is housed in the elevating roof.
There's also a bench seat that folds out into a comfortable double bed, plus numerous lockable draws, cupboards and storage areas. With the elevating roof up there's room to walk around the solid, handsomely finished cabin. It is offered in a large variety of colours and materials, ranging from sleek and understated to vibrant and modern. 
All the mod cons are available - including the kitchen sink. There are two gas rings as standard, along with USB charging sockets, a fridge, flush-mounted LED lighting and a decent leisure battery good for a few days of wild camping. Options include a grill, a solar panel for keeping the batteries topped up and a diesel-fuelled Webasto heater. The latter two come as standard on upper trim levels. 
It's hard to find fault with the Terrier – it seems to follow the perfect recipe. It's easy to drive, spacious, fantastically well-made and comfortable. You do have to pay, though – the Terrier costs from £39,500 and you'll almost certainly want to tick some options boxes. Picking between this and a Volkswagen California might be tricky – but there's no doubting the Terrier is a cracking choice of camper. 
What does a Ford Wellhouse Terrier (2013 – 2016) cost?
Ford Wellhouse Terrier (2013 – 2016): What's It Like Inside?
Up front the Ford Terrier is just like any other Ford Transit Custom - the dashboard is neat and well made and there is a good quality stereo - but the rest is very different. The driver and passenger seats swivel 180 degrees to face into the cabin and the roof is extendable as standard, meaning you can stand up and walk around. 
The cabin itself features a wooden floor with a set of rails, mounted to which is the rear bench seat. This is what makes the Terrier so versatile - you can move the seat forward to meet a removable table at dinner time - and you can lock it there to free up plenty of load space, accessed via the tailgate. Also accessed through the rear is the gas canister, which fuels the grill and two gas hob rings.
There is a sink, small fridge and various plug sockets, plus an optional diesel Webasto heater and USB chargers for phones. There are also numerous cubby holes, storage bins and cupboards, with more than enough space for a trip away. Getting used to all of the various storage areas and the mechanisms for raising the roof or moving the seats takes a bit of time, but nothing is ever difficult. 
It's all very clever – and it's very well put together too. The cupboards, kitchen counter, seats and floor can be finished in a wide variety of colours and materials. If you want a neat and classy design there's a dark wood finish with dark leather. Or you can go for something more extravagant, like white or bright red. You can even choose the colour of crisp, low consumption LED lighting. 
The leisure battery is good for a couple of days wild camping, helped by a solar panel to keep it topped up. However it only provides 12v, so you can't power things like TVs or laptops without an inverter. You can use a 240V hook up if you're on a camp site, which tops up the batteries and powers the standard three-pin UK sockets.
Come night time, the Terrier provides a thoroughly comfortable place to sleep. For a couple it might be wise to retract the elevating roof on colder nights – it makes the cabin both warmer and significantly quieter. Obviously that's not possible if you have a couple of children to accommodate in the comfortable upper deck – but they should be happy there in summer, or with a warm blanket.
What's the Ford Wellhouse Terrier (2013 – 2016) like to drive?
Wellhouse offers the Ford Transit Terrier conversion with a 125PS 2.2-litre TDCi diesel engine as standard. It's a quiet, capable engine that offers plenty of torque at 350Nm. As an option - or as standard in the top model - buyers can opt for the 155PS version of the same engine, which produces a hefty 385Nm. For those who tow a trailer this might be the better choice.
Both engines are paired to a six-speed manual transmission as standard and it's lovely to use. The gear lever has a short, slick and precise throw and the clutch is light. The steering is nicely weighted and accurate so the handling is predictable and safe, with good body control and excellent suspension. That comes in handy on unfamiliar rural roads – something you're likely to experience in a camper. 
On the motorway the level of refinement is tremendously impressive. The cabin is nearly silent, with little engine noise and no extra wind noise resulting from the extendable roof. Cruising along at 70mph is effortless - and easier still with the cruise control and speed limiter system. 
One thing that makes the Terrier a little different from a standard Transit Custom is the handbrake system. Because of the movable front seats the handbrake has been changed for an electrically operated one, with a button by the gear lever. Unlike some electronic handbrakes this one isn't one-touch, nor does it let go automatically when you try to pull away - though with some practice it is pefectly easy to use. 
Being a van, there are some caveats to consider when driving the Terrier - it is fairly tall, wide and long - which can make tight rural roads a little tricky to negotiate. That said, towing a caravan or driving a larger van over the same route would be harder still. The Terrier is far from gargantuan - it's just significantly bigger than a car.