Peugeot Partner Tepee (2008 - 2018)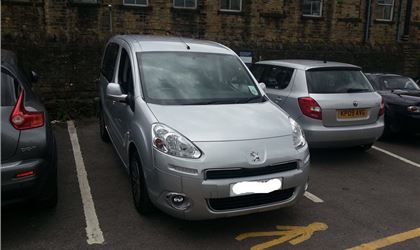 S 1.6 e-HDi 92 stop and start EGC 5dr Auto MPV
reviewed by tjbantam on 8 November 2015
5
Tax/Insurance/Warranty costs
5
Cost of maintenance and repairs
5
Experience at the dealership
5
How you rate the manufacturer
Better than you might think...
Had this car nearly 18 months.

Always liked the Citroen Berlingo (sister car) and what it offered (no frills, just a roomy car with huge load space for not a lot of money).

Went to the local Citroen dealer to look at one, they ended up letting us look at/sit in their valeters car, as they didn't have one in the showroom!

On way home called in at Pentagon Peugeot who had a Partner Tepee.

After being shown around it, the salesman took us inside and offered us an 8 month old Tepee in Silver for only £15 a month more than the finance on the Honda Civic i had at the time (and which was 7 years old).

It was an offer the wife and i couldn't refuse and we haven't regretted it!

It arrived to us with a smidge under 3k on the clock and i've added 14.5k to it and it has had no issues whatsoever.

It's a very comfortable car for long trips, the raised driving position and large amounts of glass provide excellent visibility, it is supremely practical being able to deal with a trip to the tip with a boot load of carpet and laminate flooring or an old sofa as it is a shopping trip with an elderly relative and her walking frame or just picking the wife up from work.

The claimed fuel economy is not realistic, however, i'm averaging around 45-46mpg which i'm happy with and is very respectable given the size of the car.

I've seen reviews that mention the 'odd' angle of the steering wheel, but that is nonsense. Yes, most cars these days seem to have their wheels in an almost vertical position, whereas the Partner's is angled a bit more towards horizontal, but it is by no means 'odd' or 'awkward'.

This is what i call a Ronseal car - it does exactly what it says on the tin. Offers huge amounts of space for passengers, huge boot, loads of cubby holes (door pockets, back of seat pockets, two gloveboxes, cubby holes under the floor), is very comfortable, very economical and inexpensive to run.

Yes, it looks like a van and yes, Peugeout don't exactly have the greatest reliability record, but 18 months and 14,500 miles of pain free, enjoyable motoring show you can't always judge a book by it's cover, or a car by it's badge.

Unless you're a car snob, that is...
reviewed by MotorMaid on 24 April 2012
reviewed by PeugeotDontCare on 31 August 2010
Write your review
About this van
Just reviewed...