Peugeot Traveller (2016 on)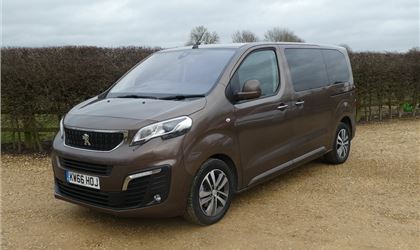 Allure 150
reviewed by That bloke on 25 February 2019
5
Tax/Insurance/Warranty costs
4
Experience at the dealership
4
How you rate the manufacturer
Great carry-all
I bought (contract hired) this as a replacement for a VW Transporter Shuttle 180 BiTDI (that needed a new engine after 60,000 miles, like all the other Transporter 180 BiTDIs!). It is slightly smaller inside than the swb Transporter but is more comfortable, quieter, much better equipped, about 20% more economical and £1,000 cheaper to insure! Needless to say I'm happy.

The only 'issue' I have had is the radio not displaying all the DAB station icons on the screen, but this is definitely a first world problem that I can live with. Apparently it will need a new aerial to fix it.

I fitted Michelin Cross Climate from new to the 17" factory alloys and have just swapped these front to rear after 17,000 miles. This is far more than I got out of the Continentals and Hankooks that the Transporter had on 18" rims.

It is not much bigger than a large 'family' SUV but has way more room inside and more flexibility, all with reasonable running costs (36mpg on average). Sure, being based on a van, it drives a bit like a van. But we've driven through Europe a number of times and it is supremely comfortable on such trips. Like any van, being square-shaped it is much easier to place on the road (town or country) than it's size would suggest.

The only complaint I have had from the (rear) passengers is the lack of opening windows.

Cost of maintenance/repairs left blank as there haven't been any maintenance or repair costs yet.
Write your review
About this van
Just reviewed...