2023 Ford Transit Custom and E-Transit Custom: Prices, specs and release date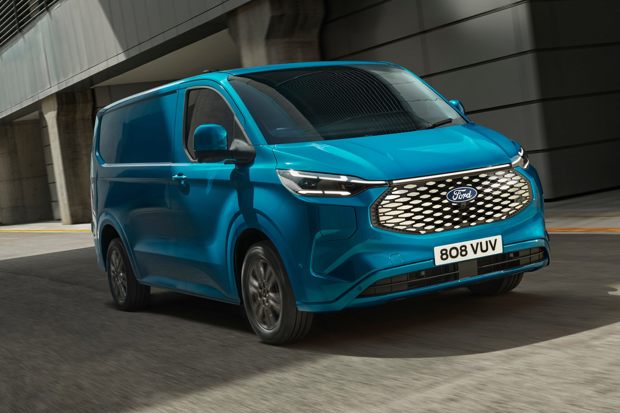 New Ford Transit Custom and Ford E-Transit Custom one-tonne van revealed

Britain's best-selling van goes fully electric option for the first time but diesel and plug-in hybrid (PHEV) versions will continue

On sale in 2023, with prices starting from under £30,000 plus VAT
The new Ford Transit Custom and Ford E-Transit Custom arrive in 2023 to revitalise Britain's best-selling van. The one-tonne commercial vehicle will be offered in diesel and plug-in hybrid (PHEV) guises – and, for the first time, as the fully electric Ford E-Transit Custom.
The popular Ford Transit Custom gains fresh styling, improved practicality, added functionality and a smart new digital-first interior that is fully connected and packed with features. Ford hopes the new Transit Custom range will reinforce its leadership of the UK van market.
It goes up against rivals including the Vauxhall Vivaro, Citroen Dispatch, Volkswagen Transporter and Peugeot Traveller. Some competitors offer pure electric alternatives as well, such as the Vauxhall Vivaro Electric and Peugeot e-Traveller.
2023 Ford Transit Custom: price and release date
The new Ford Transit Custom has been previewed in all-electric E-Transit guise. This model is due to enter production in autumn 2023, and Ford has recently spent $2 billion overhauling its plant in Turkey. Ford E-Transit Custom prices are expected to start from around £39,500 excluding VAT – or from £34,500 once the £5,000 Plug-in Van Grant is deducted.
The regular Ford Transit Custom will go on sale in 2023 ahead of the E-Transit, in both diesel and PHEV formats. Prices are likely to be similar to today's Transit Custom, which is priced from £28,145 excluding VAT.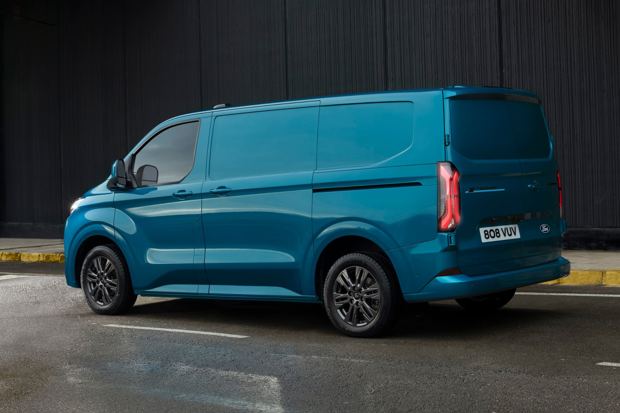 2023 Ford Transit Custom: styling and interior
The new Ford Transit Custom has a sleek and sporty new look, building on the familiar profile of the current version yet giving it added attitude and focus. The slimline LED headlights have a distinctive and moody daytime running light signature, while the front bumper is sculpted to mimic Ford hot hatchbacks.
The new Ford Transit Custom has a large front grille that is finished in sporty black on regular models. On the new Ford E-Transit Custom, the closed-off grille gains a smart, lozenge-style pattern in sparkling silver, plus an 'E' badge in the lower corner. The E-Transit Custom also has a modern-looking LED light bar running across the top of the grille.
The new Ford Transit Custom has racy flared wheelarches, and it will be available with good-looking alloy wheels, as well as more practical (and cheaper to repair) steel wheels with plastic covers. The side profile is contoured, helped by a more aerodynamic rake to the windscreen, while the smart, structural LED rear lights are distinctive. The Ford E-Transit Custom has a wind-cheating roof spoiler, too. 
Inside, the new Ford Transit Custom is available with a sophisticated 13.0-inch central touchscreen. This runs the latest Ford Sync 4 infotainment system and has a 5G modem for ultra-fast connectivity. The Ford E-Transit Custom will benefit from Ford Power-up over-the-air updates, for constant improvements and new 'customer experiences' that will improve productivity over time.
The Ford E-Transit Custom, and other new Ford Transit Custom variants, will come with a year's free subscription to Ford Pro E-Telematics connected tech. This uses live data to help remote operators better manage their fleets of vans, including location, efficiency and vehicle health.
Those on the ground can monitor the new Ford Transit Custom via the FordPass Pro smartphone app – including the state of charge of the E-Transit's batteries. 
Operators can also programme the new Ford Transit Custom Digital Key. They can assign particular functions and features to individual people – for example, capping the speed limit for a younger driver.
New Ford Transit Custom drivers have a cool new Delivery Assist feature, too. When enabled, it automatically turns on the hazard warning lights when the driver shifts the gearbox into Park. The doors are auto-locked when they leave, and the windows are closed. When they return, all settings are returned to where they were. As Ford data suggests some drivers can make up to 200 stops a day, it's potentially a serious time-saver. 
There's another unique feature inside the new Ford Transit Custom: a tiltable steering wheel. The wheel can be flipped flat to form a handy table, on which drivers can rest a laptop, or eat their lunch. This Mobile Office option also includes LED lighting dedicated to the steering wheel area, plus extra stowage for laptops and paperwork between the front seats.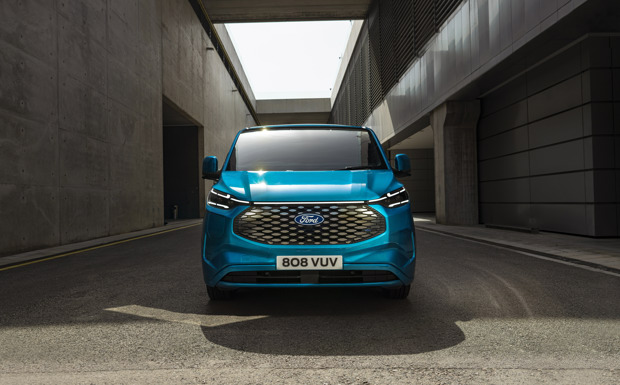 2023 Ford Transit Custom: engine and performance
The new Transit Custom will launch in new Ford E-Transit Custom guise. Ford has confirmed it will have a 74kWh battery pack that offers an electric driving range of up to 236 miles – four times what studies show the average one-tonne van covers each day. It comes with either 136PS or 217PS electric motors.
The new Ford E-Transit Custom will be able to use 125kW high-power DC chargers, which will charge it from 15-80 percent in 41 minutes. A DC charger will add 24 miles of range every five minutes. Using an 11kW AC wall box, charging from 10-100 percent will take less than eight hours. The charge point is in the front bumper, below the right-hand headlight.
The Ford Transit Custom PHEV will build on the success of today's plug-in hybrid Transit Custom. It's likely to use the same 1.0-litre three-cylinder Ecoboost turbocharged petrol engine, which powers a generator to charge the batteries, rather than being connected directly to the front wheels.
The current Ford Transit Custom PHEV has an EV range of around 35 miles. Expect the new Ford Transit Custom to have larger batteries, boosting the electric range to 50 miles or more. It will ensure the combined driving range, including a full tank of fuel, is well over 300 miles. 
The new Ford Transit Custom diesel will utilise the existing EcoBlue diesel engines, but in updated form. They currently produce from 105PS to 185PS. Ford may update them with 48V mild hybrid technology, helping to further improve efficiency. 
The new Ford Transit Custom is likely to have a payload similar to the 1,450kg maximum of today's model. It has confirmed the new Ford E-Transit Custom will have an 1,100kg payload, making it almost a match for the diesel versions and better than any of its electric rivals.
The 2023 Ford Transit Custom will be offered in standard and long-wheelbase options, plus regular and high-roof body styles. Expect load volumes from 5.8 to 9.0 cubic metres, while double cab versions will offer seating for five people.
When will the new Ford Transit Custom be launched?
Production of the new Ford E-Transit Custom begins in autumn 2023. This means the first models may arrive by the end of the year, but volume deliveries won't get underway until early 2024.
Will there be a new Ford Transit Custom camper van in 2023?
A new Transit Custom van is on the way in 2023 and a new camper van verision called the Nugged is expected from Ford and Westfalia in late-2023 or early 2024. 
Why will the new Volkswagen Transporter look similar to the Ford Transit Custom?
Volkswagen has done a deal with Ford to rebadge a version of the new Ford Transit Custom as the Volkswagen Transporter. The new models will be built in the same Turkish factory. It also means there will be an electric version of the new Volkswagen Transporter.
Before you step into a showroom, read our in depth guide to all the new cars coming in the next 12 months and beyond – some are well worth the wait.
Read more
Ask HJ
Will the UK get a new SsangYong Musso model in 2022?
I am reliably informed that the 2021 SsangYong Musso pick-up will get an upgrade this year. Is this correct or will the UK miss out on the new model?
The SsangYong Musso is getting a mild update in mid-2022 with more power, a new front-end design and some updates to the dashboard layout. The updated Musso should reach showrooms in June or July.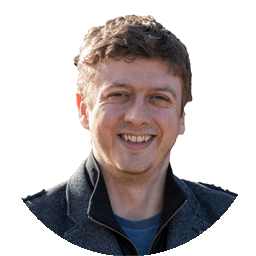 More Questions
Ask HJ
Can you recommend a used small van with good mpg?
We need a small van for driving to customers' homes to complete surveys/quotes across the west country, and occasionally moving goods between territories (so a car derived van won't work). We are looking for three to five years old, alright on a dual carriageway and, most importantly, great on fuel. What can you recommend?
Ford Transit Connect would be my recommendation. It is comfortable, well equipped as standard and easy to drive. According to Real MPG, all of its diesel engines return 40+mpg: https://vans.honestjohn.co.uk/realmpg/ford/transit-connect-2014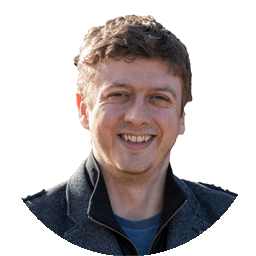 More Questions