Volkswagen Caddy 2010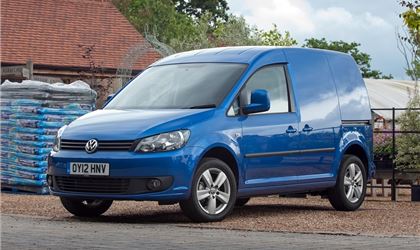 C20 1.9 TDi 104
reviewed by Unsungwyn on 1 June 2016
2
Tax/Insurance/Warranty costs
3
Cost of maintenance and repairs
5
How you rate the manufacturer
Sturdy, cool, multi-use van with car dynamics
I use my caddy as if it were a car. It drives well, feels solid on the road and is a cool little runaround.

I don't use the caddy as a workhorse instead I have insulated and carpeted the rear and have also set up a temporary bed that I use occasionally to camp somewhere at random, I am 5'8" and can lay down comfortably. The Transporter is still the king of cool vans, but the trusty Caddy is a awesome small alternative that can fit in car size spaces when parking for example whereas the Transporter can't.

I have been involved in a head on collision in a Caddy I previously owned and I came out unscaved and the cockpit untouched showing the vans robustness and build quality.

Expense wise the Caddy is expensive to buy in comparison to its rivals such as the Ford Transit Connect but I do think the Caddy is a far better built van and holds its value a lot better too. Insurance is quite a lot higher on the Caddy than other similar sized vans and road tax is roughly around £260 for the year, however it is much cheaper on the newer 1.6 TDi models.

The 1.9 TDi engine pulls well and is quite happy to cruise around town and on country roads. I feel as though it is happiest when crushing at 50-60 mph as it does tend to rev a lot more at 70+ mph. However I have covered many 100 miles on the motorway and is just as comfy as most cars. I was expecting better MPG figures when I originally bought it (40-45 mpg).

Reliability has been very good with only one issue of a leaking rubber pipe from the radiator. I have had to replace the clutch at around 70,000 miles, due to the dreaded 'clutch judder' from the dual mass flywheel (as you pull away the whole van judders) so watch out for this if your looking to buy (requires a clutch replacement).

Being a VW the Caddy has a strong following to modify. Many other VW model parts fit the Caddy such as alloys, seats, Touran bumpers etc. As well as many companies specialising in modifying the Caddys due to its increased fan base.
reviewed by SLO76 on 12 April 2016
reviewed by Ed1119 on 4 April 2016
Write your review
About this van
| | |
| --- | --- |
| Price | £13,050–£20,905 |
| MPG | 32.1–61.4 mpg |
| Real MPG | 89.3% |
Just reviewed...