Citroen Dispatch (2016 on)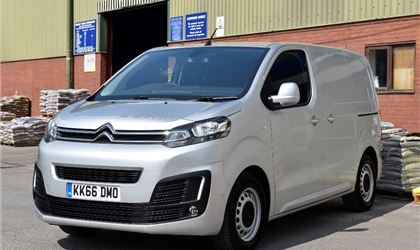 Enterprise 1.5 MWB
reviewed by James Roger Coulson on 31 December 2020
5
Tax/Insurance/Warranty costs
4
Cost of maintenance and repairs
4
Experience at the dealership
5
How you rate the manufacturer
I Love This Van
Well this is the 3rd generation of this van and I owned a mark 1 and mark 2.
O.k so we can find fault in anything and when you get a new van there are usually a few things that are different.

Obviously it is brand new but this model feels much better built than is predecessors. The back doors are still quite light as they were on the other models.
The interior is really nice and looks quality although some reviews say it seems cheap quality ( obviously driving a different van).

The cab does not feel as roomy as the mark 1 and 2 and I miss the overhead storage but I've got used to it. There is as some reviews have said a lack of useable storage space but it does have some just a bit random and small in my opinion.

In a nutshell I absolutely love this van. It has a lot of kit for a reasonable price. It really is a very good quality van for the price
My friend has a Transporter and although you can't deny the quality I really couldn't justify the extra thousands for a work van I couldn't see why it was worth an extra £7k seriously couldn't.

If you like this platform or the previous models you will love it.
reviewed by James Roger Coulson on 31 December 2020
reviewed by gaswaves on 28 April 2019
reviewed by gaswaves on 1 April 2019
Write your review
About this van
Just reviewed...