Citroen Nemo Multispace (2009 - 2015)
reviewed by conor1 on 24 September 2013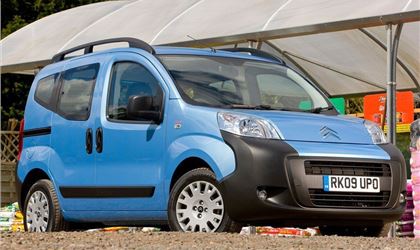 1.4 petrol
reviewed by Wee Williel on 15 February 2011
4
Tax/Insurance/Warranty costs
3
Cost of maintenance and repairs
3
Experience at the dealership
1
How you rate the manufacturer
Disappointing in several ways.
Good points include practicality (ie sliding rear doors and relatively easily removable rear seats) Reasonable fuel and insurance costs. Useful for transporting mobilty aids including small (Little Gem) electric scooter, but in all respects far inferior to my previous Citroen Xsara Picasso 1.6 Desire.
Bad points include very hard ride (feel every indentation in road surface) and poor engine performance for a 1.4. Nowhere near as good as 1.4 in a previous Nissan Note we regrettably got rid of. Drivers height adjustable seat useless for a driver with 'short' inside leg measurement (ie 27") as adjustment lever is pressed downwards on every exit from the vehicle, being located on the continental right hand side of the vehicle and requiring daily height adjustment to correct driving position. Both Citroen (France) and Citroen (UK) absolutely not the least interested when I informed them of this design fault. Not what one would expect from a major international motor manufacturer. On the basis of this experience, definately the last Citroen I will ever purchase.
Write your review
About this van
Just reviewed...