Citroen Dispatch (2007 - 2016)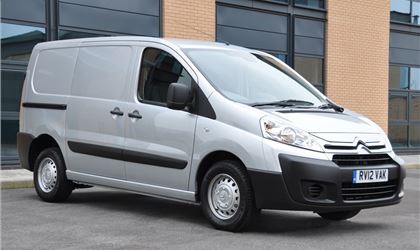 2.0 HDi 900
reviewed by Cyd on 29 June 2016
5
Tax/Insurance/Warranty costs
5
Cost of maintenance and repairs
4
How you rate the manufacturer
Excellent for tradesman with kids!
I had my Dispatch for 7 years and did about 60,000 miles in it. Over that time I had few problems (but see below) and it proved reliable and cost efficient. I was a self employed electrician and the van was loaded constantly with about 300Kg of 'kit' and often much more when transporting materials to a job.
Mine was a 2.0 Hdi which I purchased privately at 3 years old with about 33,000 miles on. I had it about 2 years before having the engine 'chipped' to 136hp (a la 307s etc). This made a huge difference to the way it drove. Low and mid range was massively improved - roundabouts that previously required 2nd could now be taken easily in third. Hills became a lot less bother.
I almost always ran it on 'super' diesel from about year 3 (we had a competitive Shell station near us open up). This too improved the way the van ran. Overall I used to get about 36 to 38 mpg, which I thought was good driven loaded and with my lead right foot, lol.
I found the twin sliding side doors a real bonus. Similarly the ability to carry two passengers.
The heater was effective in the winter.

I serviced it more frequently than the official service schedule called for. Especially oil changes, which I did every 6 months. I believe this contributed to smooth running, no oil burning or leaks. Brake fluid was changed bi-annually.

I also used turbo cleaner bi annually from about 45,000 miles and this definitely helped the running.
Front bake pads lasted about 30,000 and front tyres about 22,000. Both I considered fair.
Mine needed new front discs with its third set of pads. Again fair enough.
It needed a new battery at 5 years old, but hey it's a diesel doing lots of short journeys!

Problems:
The seats are cheap. The side seams of the drivers seat split from all the ingress and egress.
Door locks on many PSA cars have plastic lock barrels. very poor quality. Keep them lubricated annually.
The door locks make breaking into the van very easy. I removed the locks on the sliding side doors.
I had a front road spring break, but this is becoming a common problem in the UK these days.

Overall, this was a great van for a self employed tradesman. Big enough to be useful, small enough to go on the drive without being an eyesore.
Cost effective to run and reliable. I sold it to a band who wanted to use it to tour round Europe - it's still on the road, so must have survived that ordeal too!

A friend who's a decorator and kitchen fitter had one too for about 5 years. He was pleased with his.
reviewed by jfbblackbird2006 on 8 June 2014
Write your review
About this van
| | |
| --- | --- |
| Price | £16,885–£23,917 |
| MPG | 37.2–44.1 mpg |
| Real MPG | 91.3% |
Just reviewed...