Citroen Berlingo Multispace (2008 - 2018)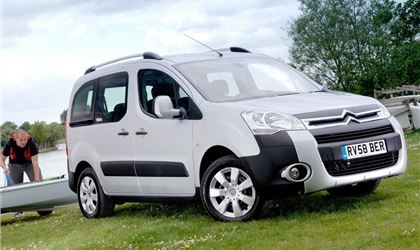 1.6 BlueHDi 120 Flair Start+Stop 5dr Small MPV
reviewed by Anonymous on 28 July 2018
3
Tax/Insurance/Warranty costs
2
Cost of maintenance and repairs
5
Experience at the dealership
4
How you rate the manufacturer
Comfortable and handles well.
This is my third Berlingo, and certainly the best of the bunch. The extra BHP does make a considerable difference especially for overtaking on country roads.
The six speed gearbox is notchy, and does take a little getting used to, but is no real problem.
Fuel consumption average is 46mpg on mostly country roads and dual carriageway.
The car is comfortable and handles and corners well for quite a tall vehicle.
Brakes are very good and extremely effective.
The touchscreen works well although it is not as intuitive as it could have been.
I initially had some misgivings about Start & Stop, but the system works fine.

Stuff I like.
Loads of room for dogs, fishing tackle, kitchen sink etc
Cheap to run.
Comfortable on a long run
Cruise control, auto wipers, auto headlights.

Stuff I don't like.
The radio cannot be turned off, only muted.
No CD player, only a USB port in the passenger footwell which is a really stupid location. Also the media centre does not recognise the drive on start up and so the USB memory stick needs to be unplugged and plugged back in again every journey. PIA
Smallest glove box in the world. Aptly named because that is about all that would fit.
Rear visibility for parking is poor.

Will I be buying another ? No, not this time.
reviewed by Ian Garratt on 28 November 2017
reviewed by tonyz on 30 June 2017
reviewed by Colin Agnew on 6 February 2017
reviewed by sep on 26 March 2016
reviewed by Anonymous on 29 August 2012
reviewed by tonyz on 18 June 2012
reviewed by 1994 on 9 June 2012
reviewed by billyjay on 11 October 2011
Write your review
About this van
Just reviewed...