Mercedes-Benz Vito (2003 - 2015)
reviewed by Anonymous on 2 May 2019
reviewed by Anonymous on 27 February 2016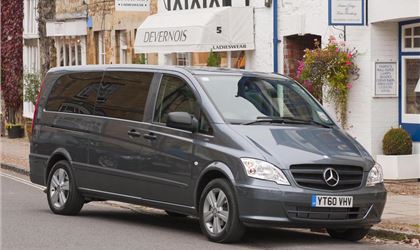 109 CDi Compact
reviewed by Darth Floorhopper on 22 January 2015
2
Tax/Insurance/Warranty costs
1
Cost of maintenance and repairs
3
Experience at the dealership
2
How you rate the manufacturer
Expected so much, delivered so little.
This van was such a dissapointment I'm not sure where to start. I had never had a Mercedes of any description and was expecting to get a high quality, well made and well designed van. Rust was the first problem to raise its ugly head. At only around four and a half years old little bubbles started to appear all around the van. Disaponting, but not the end of the world. Well, the next few years was spent chasing the rust that ended up ravaging the whole body, the only unefected areas being the plastic front wings! Other shortcomings soon appeared to take my mind off the rust issues. The six speed box was ridiculously low geared, even in 6th! This meant cruising on the motorway was an unrelaxing noisy affair, not to mention the poor economy. The height adjuster on the seat is a long handle right next to the seat cushion, so every time I got out I ended up pushing down the lever so had to pump it back up every day. The fuel filler cap broke as passengers caught it as they got out and eventually it gave up. The gear change was awful especially when cold, the suspension clonked from day one and could never be resolved, the door check straps kept dying and eventually one of them could not be changed as one of the bolts had rusted in and couldn't be removed! The drivers window mechanism broke and was hideously expensive to get fixed. The bulbs in the heater panel kept blowing on a regular basis. Eventually the traction and stability control system failed, and that was it, we parted company. I had had a Toyota Hiace before this, and quite frankly, the Vito didn't even come close.
Write your review
About this van
| | |
| --- | --- |
| Price | £17,855–£35,595 |
| MPG | 32.8–40.9 mpg |
| Real MPG | 86.3% |
Just reviewed...