Mercedes-Benz Vito (2003 - 2015)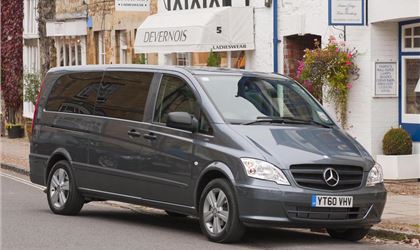 Vito 120 CDI Auto
reviewed by Anonymous on 2 May 2019
4
Tax/Insurance/Warranty costs
4
Cost of maintenance and repairs
1
Experience at the dealership
4
How you rate the manufacturer
Simply the best van in the world....
I bought this lhd van new in 2009 and I have covered 140k kms in the meantime, low miles as I also have a car so I use her only for long trips.

I have never owned a van before so I did not really know what to expect, I previously ran a BMW Tourer with a bike trailer behind as I travel round Race Tracks in Europe. The van was the best thing I ever bought.

I fitted all possible options so it has cruise control, auto box and the 3 litre turbo diesel engine with 205 horses, and my use is very lightweight cos I transport my motorbikes so never more than about 500 kilos (2 bikes).

The Vito is great. Over the almost 10 years she has never let me down nor caused any real problems, once the drivers door window stuck and was fixed in warranty in about 10 minutes. She flies, drives really well and pulls with zero effort and when I fitted a car trailer and collected a car even that weight failed to slow her down.

I drive quite frequently between the UK and Italy and France and I love to drive the Vito! I have fitted a good satnav cum stereo and she is a really good place to sit. AND even the fuel consumption is ok if I keep the revs down.

Great van, and I am in great difficulty to find any equivalent today with the 3L engine!
reviewed by Anonymous on 27 February 2016
reviewed by Darth Floorhopper on 22 January 2015
Write your review
About this van
| | |
| --- | --- |
| Price | £17,855–£35,595 |
| MPG | 32.8–40.9 mpg |
| Real MPG | 86.4% |
Just reviewed...