How Nissan vans keep Red Bull F1 on track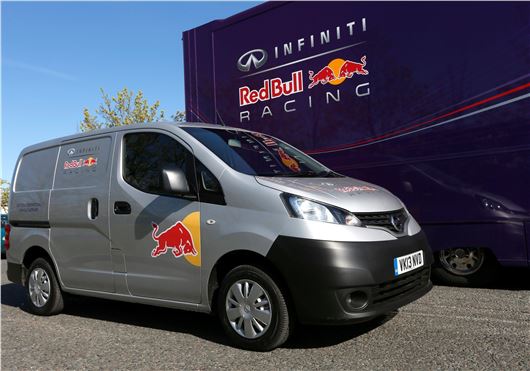 Published 02 October 2013
With just a pair of cars and 19 Grand Prix to attend you'd be forgiven for thinking the logistics behind an F1 team are simple – a truck and a trailer ought to do the job. But there's a lot more going on – staff, crews, hospitality, tools and spares have to be transported to each and every race – and that's not to mention the effort that goes into development at the factory.
Infinti Red Bull Racing looks set to take the title this year and that's thanks, in no small part, to the fleet of commercial vehicles it uses to transport everything from nuts and bolts to VIPs – and the light commercial vehicles are all provided by Nissan – the team has various Nissan vans in the UK, including larger NV400s for moving parts and Primastar minibuses for moving people, as well as NV200 vans and Navara pickups.
The Infiniti Red Bull Technology Centre is on the outskirts of Milton Keynes and it's a truly impressive facility. It's not just one building, there are several, with space-age machines for baking carbon fibre, machining and milling metals, making moulds and assembling everything into the final car.
Many parts are produced at the Technology Centre in rooms that are evocative of NASA labs, albeit with Red Bull fridges in every corner. Even screws are made, rather than bought, but the materials themselves must be transported to the centre and that requires commercial vehicles.
Furthermore, not everything is done on site. Various components are produced elsewhere in the UK and across Europe – more than 50 suppliers are involved. The logistics behind process typically involves some kind of Nissan van and each commercial vehicle used by the team covers around 30,000 miles per year.
The fleet supports race meetings, too – minibuses transport personnel to tracks and shift components and tools, whether directly to the meeting or to be taken further by air or by sea. It's perhaps surprising to think that many of the parts on the F1 cars seen on track have at some point been moved around in a Nissan van, and it goes to show just how important a part vans and other LCVs play in the running of any business.
Comments
Author

John Slavin
Latest