Cheap van tyre buying advice
Looking for cheap van tyres? This Honest John Vans guide will help you find the van tyres you need for the best price.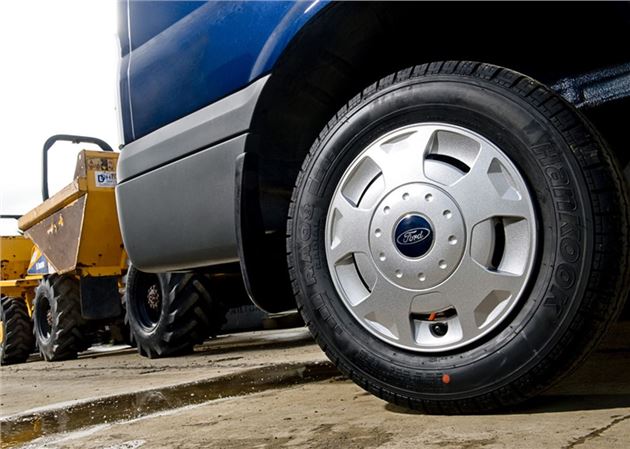 Can I fit larger wheels and tyres to my van?
Yes, but only within the van manufacturer's official guidelines. Some drivers will fit larger wheels to improve the all-road handling of their van, while others will simply do so to improve the aesthetic look of their vehicle by swapping steel wheels with alloys. Whatever the reason for upsizing, it's important to note that the van's fuel economy and ride comfort may suffer.
Changing the wheel size may require the van's speedometer and electronic safety systems to be recalibrated, while some insurers will increase the premiums to reflect the additional cost of the new wheels and tyres.
Never change your van's wheel size without consulting with a qualified specialist beforehand. Not only could it adversely affect the suspension and steering characteristics of the vehicle, but it may also impede its braking performance.
How can I get cheap van tyres?
It has never been easier to buy tyres for your van, with the established high street names competing with online retailers and mobile tyre fitters for your hard earned cash.
KwikFit*, ATSEuromaster*, Halfords Autocentres and National Tyres* can all be found online and some will arrange for the tyres to be fitted at your home or workplace.
In addition, there are online-only tyre retailers who can either deliver the tyres to an address of your choice for fitment elsewhere or also quote for a mobile fitment service. Retailers such as Blackcircles.com*, Tyre-shopper.co.uk and Tyresonthedrive.com all offer a wide choice of tyres and fitment options.
If you want to compare lots of tyre and fitting costs then Motokiki.com* might work better for you. It's been built by some of the people who originally set up Confused.com and compares prices from a wide range of tyre suppliers and manufacturers.
Do I need winter tyres?
Drivers who travel to rural or remote locations on a regular basis may want to consider upgrading to winter tyres, which improve vehicle handling in cold conditions and reduce stopping distances on slippery roads.
The rubber compound on a standard tyre tends to harden when the temperature drops below 7°C, which reduces grip. A winter tyre will remain supple at lower temperatures to improve handling, while additional grooves in the tread will generate more heat and disperse slush and water more quickly.
You should always fit winter tyres as a set of four. While you might think they will only work on the driven wheels, using only two cold weather tyres can destabilise your van in difficult conditions
Winter tyres do not wear out any faster or slower than standard tyres, but some businesses tend to replace the winter wheels in the spring and store them before they're needed again in the autumn.
Important: Always speak with your insurance provider before using winter tyres on your van. Most insurers are happy for winter tyres to be fitted to the vehicle, as long as it's according to the manufacturer's guidelines, but some may try to charge an additional fee for adjusting the policy document.
Can I get a puncture repaired?
Punctures are common for van drivers, with a loose nail or lump of building site material piercing the tyre and allowing air to escape. A slow puncture may be difficult to spot, with the tyre looking relatively healthy from a distance, but the internal tyre damage may increase the risk of a blowout. That's why it is important to get into the habit of making weekly vehicle checks.
Most tyre suppliers will offer some form of repair service. Some firms will provide a mobile service that will come to your home or workplace, while others will insist on the vehicle visiting their workshop. Most firms will quickly identify the puncture and look to plug it with fresh rubber before re-inflating the tyre.
Don't be shocked or offended if the firm tries to sell you a completely new tyre - the laws that govern tyre repairs is strict and a repair can only be carried out if the puncture is within the centre three-quarters of the tread. And even then, the damage may be deemed too significant to rectify.
How much does a tyre repair cost?
Most companies that offer a tyre repair generally do so for a fixed cost regardless of the tyre size, but it is always worth shopping around to check prices nearby. The prices below are shown as a guide and may vary depending on the nature of the repair and if it is a mobile or on-site service.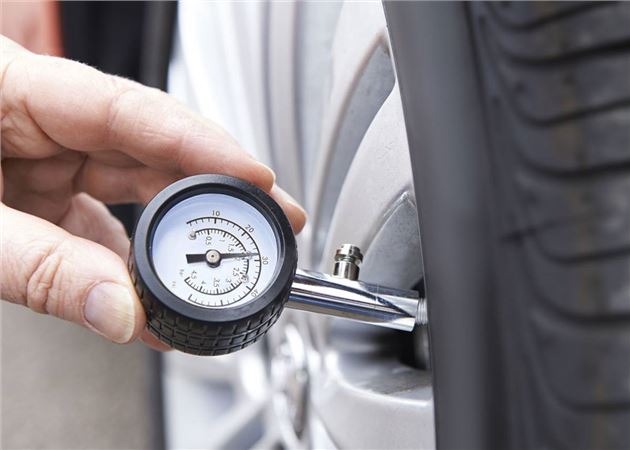 Tyre 
maintenance 

advice

Van tyres are tough but they can still develop damage from running on harsh surfaces. Look out for bruises, scuff marks and cuts. Any deformation on the sidewall or circumference should be investigated by a qualified specialist and as it may indicate serious internal damage to the tyre. 

"Remember to look all around the tyre tread and on both sidewalls. The inner sidewall is just as vulnerable to damage against kerbs, rocks and building rubble and the sides of ruts," says Michelin's Brian Porteous.
"Develop a feel for vibration, pull and tyre noise when you are driving and use these signs as an early warning that something may be wrong."
"Develop a feel for vibration, pull and tyre noise when you are driving and use these signs as an early warning that something may be wrong.
"Wheels can be damaged by impacts and abnormal loading, so check those too for scratches, cracks and deformation.  If you have been on site or off road, always check tyres before returning to the road."
Van drivers should also pay attention to tread depths. Simply leaving a check to your next MoT date may risk substantial problems developing in the meantime, particularly if the tread is close to the minimum depth of 1.6mm.
"Most modern tyres will now include an inbuilt tread depth indicator, which is next to the central rib on the tread," says Andrew Reitzner at Maxxis Tyres. "If the adjacent rib is worn down to a point where it is level with the indicator, the tyre will need to be immediately inspected and replaced. This simple yet crucial check should be completed regularly to ensure van tyres are both safe and road legal.
"Carrying out regular pressure and visual checks is the easiest way to check for any damage or defects. Van drivers need to look out for tread and sidewall cracking, bulges and/or abnormal wear," adds Reitzner.
A tyre must have at least 1.6mm of tread
Van tyres need to have a minimum tread depth of at least 1.6mmm across the central three quarters of the entire circumference.
One of the easiest ways to check your van's tyre tread is with one the older-style 20p pieces. Insert the outer rim of the coin into the tread and if the outer rim is exposed, the tread is below the legal minimum. Or you can use a tread gauge, which cost just a few pounds to buy.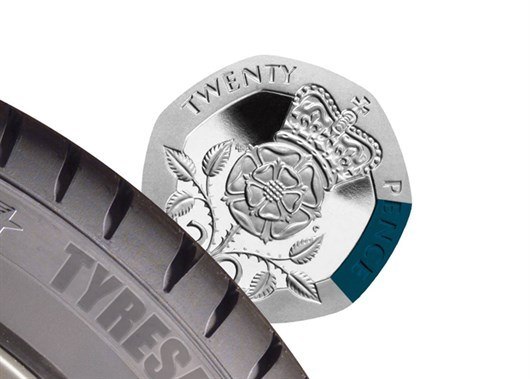 Checking tyre pressures
Only a correctly-inflated tyre will provide the maximum level of grip and performance. Overinflated tyres will have an adverse impact on the vehicle's handling and increase wear, while underinflated tyres requires more effort to keep rolling, which in turn uses more fuel.
Check the owner's manual to identify the correct tyre pressures. They will also be shown on a plate or sticker on the van, inside the door or by the fuel cap. They will usually be shown in PSI and then (BAR) in brackets.
Use a handheld pressure gauge or a portable tyre inflator to measure existing pressure. This can be done with an inflator at a fuel station via handheld pressure gauge.
Check the pressures when the tyres are cold. The PSI will increase as you drive and the tyres heat up, which could give you a misleading reading. 
If you're using an automatic device you simply set the tyre to the desired pressure and it will inflate until the correct reading has been achieved - and don't forget to replace the dustcaps afterwards.
Converting tyre pressure from BAR to PSI
| | | | | | | | | | |
| --- | --- | --- | --- | --- | --- | --- | --- | --- | --- |
| BAR | PSI | BAR | PSI | BAR | PSI | BAR | PSI | BAR | PSI |
| 1.30 bar | 17 psi | 1.90 bar | 27 psi | 2.60 bar | 37 psi | 3.25 bar | 47 psi | 3.95 bar | 57 psi |
| 1.35 bar | 18 psi | 1.95 bar | 28 psi | 2.65 bar | 38 psi | 3.30 bar | 48 psi | 4.00 bar | 58 psi |
| 1.40 bar | 19 psi | 2.00 bar | 29 psi | 2.70 bar | 39 psi | 3.40 bar | 49 psi | 4.10 bar | 59 psi |
| 1.45 bar | 20 psi | 2.10 bar | 30 psi | 2.75 bar | 40 psi | 3.50 bar | 50 psi | 4.15 bar | 60 psi |
| 1.50 bar | 21 psi | 2.15 bar | 31 psi | 2.80 bar | 41 psi | 3.55 bar | 51 psi | 4.50 bar | 65 psi |
| 1.55 bar | 22 psi | 2.20 bar | 32 psi | 2.90 bar | 42 psi | 3.60 bar | 52 psi | 4.80 bar | 70 psi |
| 1.60 bar | 23 psi | 2.25 bar | 33 psi | 3.00 bar | 43 psi | 3.70 bar | 53 psi | 5.20 bar | 75 psi |
| 1.70 bar | 24 psi | 2.30 bar | 34 psi | 3.05 bar | 44 psi | 3.75 bar | 54 psi | 5.50 bar | 80 psi |
| 1.75 bar | 25 psi | 2.40 bar | 35 psi | 3.10 bar | 45 psi | 3.80 bar | 55 psi | 5.85 bar | 85 psi |
| 1.80 bar | 26 psi | 2.50 bar | 36 psi | 3.20 bar | 46 psi | 3.90 bar | 56 psi | 6.20 bar | 90 psi |
Best tyre inflators
* Sometimes we show a link with a * next to it. It means that it is an affiliate link and as a result helps HonestJohn.co.uk stay free to use. It's tracked to us and if you go through it, it can sometimes result in a payment or benefit to the site.