MINI Clubvan - can it really deliver?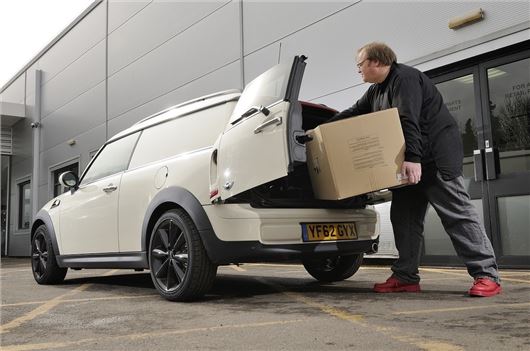 Published 01 August 2013
When the MINI Clubvan joined the commercial vehicle set, the joke was that it was aimed at the the florists and bakers of the nation. So we decided to see if it was capable of delivering something a little more substantial than flowers and croissants...
The idea was to get in touch with my local MINI dealer and offer my services as a delivery driver for the day using one of its new Clubvans. We have a bit of a soft spot for this peculiarly English breed of commercial vehicle, the panelled-in car-derived van. But it's one, which our man David Ross reckons is a dying breed.
It's easy to understand why - the sheer volume of goods transported by road has increased enormously in recent years so, when offered the huge payload of a purpose-built small van for similar money to an estate car with its back windows painted, you can see why the market has moved in this direction.
But MINI thinks differently. And almost concurrently with the ending of the iconic Vauxhall Astravan, it launched the Clubvan. It's a premium car-derived vehicle, that combines MINI-driving fun with a fully lined and caged load area, split rear doors, plus that controversial - and sometimes useful - driver's side Clubdoor. Okay, so the last feature was designed to help passengers get in and out, but in van configuration, it should be able to serve as a useful means of grabbing bits and pieces from the load area without opening the cargo doors. That's the idea, anyway.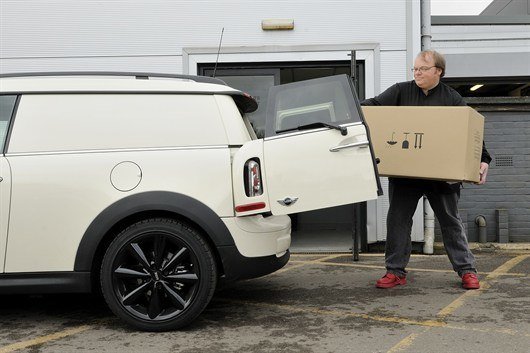 And that's why we're here at Wollaston MINI at 9.00am, clogging up the service and parts department's car park, waiting for the go-ahead from its logistics manager. As we wait to be despatched on the first job of the day, back doors open, a BMW 760Li glides to a halt alongside. The driver pops his head out of the window and asks, 'are these MINIs any good?'
It's an easy - and difficult - question to ask. Easy because they're great fun to drive. And we know because back in May, we drove to Florence and back in one - the return leg taken in a single journey. Difficult, because as a van, I'm not yet sure, as that was a one-up trip, the only payload being the luggage. We chose the easy answer. 'Ah,' he says. 'I'm thinking of buying a dozen for my pharmacist deliery business - we need to replace our Peugeot 206s.'
On that basis, the Clubvan, we reckon, could work very well indeed.
Time for the first delivery, and it's a box of servicing parts for a garage on the other side of the county. The guys in despatch have carefully packaged it up for me, with instructions not to rush. The first thing that strikes me about loading up the MINI is that although the split rear doors look fun, they're actually serving a rather small opening. Taller drivers will have to bend down in order to get their payload in - and if it's heavy, that might not be very practical.
Once in, we lash it down for safety and head off. It's clear that in buying a Clubvan, MINI expect that you're not going to forego your luxuries. At least you'd think so looking at our example - the plain white paint job contrasts with the leather interior and sat-nav system, while we wonder how long it will be before the beautiful 17-inch gloss black alloys are going to take a kerbing or two.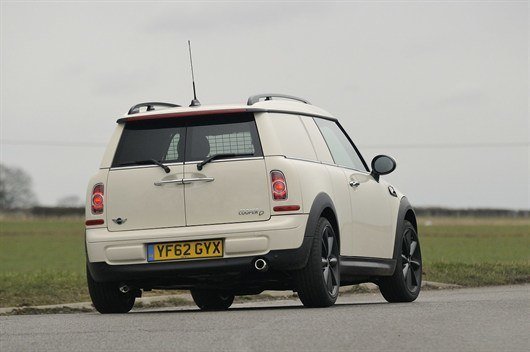 Still, as a way of delivering parts cross-country, there's little to touch a MINI Clubvan. The steering is light and direct, while the gearchange is delightfully accurate and chunky. Meanwhile the handling and performance are top notch. In short, if you don't enjoy driving one of these on the open road, then there really is something wrong with you.
We arrive at the first drop-off, and our recipient says, 'we weren't expecting you so soon!'. He then glances at the Clubvan and asks, 'any good?' As before, it's an easy question to answer easily. 'Yeah it's great fun to drive'. That skirts around the as yet unanswered issue of whether this is a good van or not.
We'd only been given one parcel for this trip, so headed back towards Northampton. Again, we avoid the motorway and use the back lanes instead. A quick check of the trip computer confirms we're pushing 60mpg. Back on the susprisingly country roads - and now with no payload - we once again enjoy this very sportingly set-up van. The real fun is in the corners. It's ultra-responsive and has masses of grip, meaning that you can confidently attack your favourite road. Just like any other MINI.
And despite being a 'mere' 1.6-litres and 110PS, the MINI Clubvan also feels refreshingly quick in a straight line, easily matching the perkiness of the 2.0-litre Cooper SD road car. No wonder we nicknamed it 'Britain's fastest van' when driving back from Italy earlier this year.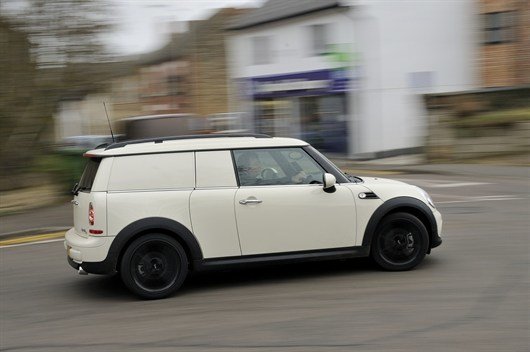 Time for another run and now we're heading into the centre of town. Compared with larger, more unweildy vans, the Clubvan is a delight - you can zip from lane to lane and squeeze through all but the smallest of gaps. It crashes a bit over potholes, but as we're riding on such large wheels and have sports suspension, it's a specification issue, not one of overall competence. Most city businesses would be much better served on standard suspension and smaller wheels. Shame they don't offer steel ones as they do on the MINI First and One models.
Throughout the day, it's hard not to warm to the MINI Clubvan. As a driving tool, we'd already fallen for it long before we decided to take it delivery driving for the local dealership. Its driving credentials are a given and never failed to disappoint during the day.
As as a delivery van, it works surprisingly well, too. Forget the Clubdoor - it's a gimmick that's been carried over from the estate car and one that we struggled to find a reason for in a van. Unless you've packed it tightly to the roof, whatever you have loaded may well have slid away from the clubdoor, meaning you'll need to open the back doors anyway. Then there's the load area itself - at 1150mm long and 840mm wide for a total volume of 0.9m3, it's not exactly massive.
Other issues? Well the load opening is inconveniently shaped and it seriously limits what you'll fit in. Okay, so it'll be the perfect high-speed courier vehicle, but just don't give it to a driver with back problems. The stooping needed to load and unload may well be the final straw.
But with those provisos, our Clubvan stood up to a day at the delivery coalface admirably. And more importantly, had us looking forward to doing it again the next day. Florists and bakers across the country will rejoice at the news - especially as if they really need to pull out the stops and give the MINI a proper work-out, it will be more than up to the challenge.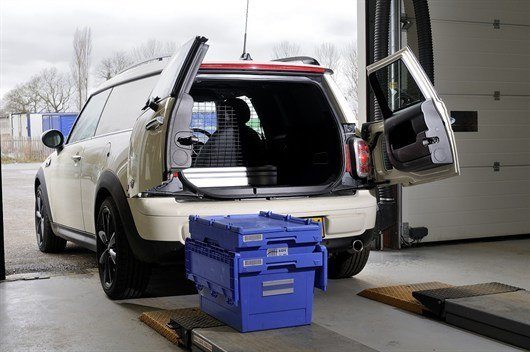 Comments
Author

Keith Adams
Latest