Plenty up top: a guide to choosing the right roof bars for your van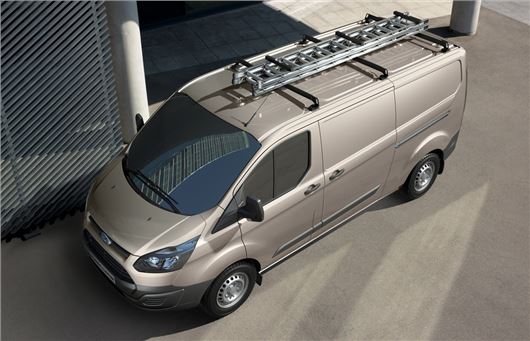 Published 01 December 2014
The trend towards downsizing means that some van owners are sacrificing size in favour of increased fuel efficiency and reduced running costs. For those people – or anyone that needs more flexibility from their van – a good set of roof bars can vastly improve loading flexibility.

If you're new to the world of van roof bars, this short guide will help you find what you need.

Before you start

Make a list of anything you may need your bars to carry: ladders, pipes, wood planks, sheet glass – the list goes on. Will any of this stuff be especially heavy? And is any of it specialist equipment, or unusual in shape or size?   

Essentially, before you begin to consider what roof bars or racking system to get, you must envisage the maximum burden you'll place upon it  - a specific maximum weight, if possible – so that you know what type of system to go for.
Types of roof bars

There are a few options to consider, from basic modular roof bars catering for light occasional use, to large roof racks and systems specific to certain loads. You should always seek an expert's advice if your needs are very specific.

The most basic roof bars are lightweight, flexible and designed to be fitted easily by most. They're usually made of steel, although more expensive aluminium bars are becoming more popular owing to their increased strength, lower weight and resistance to corrosion. Roof racks are more susbstantial, built for bulkier or heavier loads and are therefore more expensive. They too come in aluminium.

All manner of accessories are available to customise your roof bars, too, from simple straps to pipe tube holders, clamps, load stops and even aerodynamic reflectors that reduce the drag of your bars and improve efficiency.Some vans - such as the Ford Transit Custom - are available with an integrated roof rack. The system features three bars which are located in recesses in the roof panel. So when not in use, the cross bars can be folded down, reducing drag and fuel consumption. This also keeps the vehicle height under two metres for access through car park height restrictions. It's something we expect to see on more new vans in the future.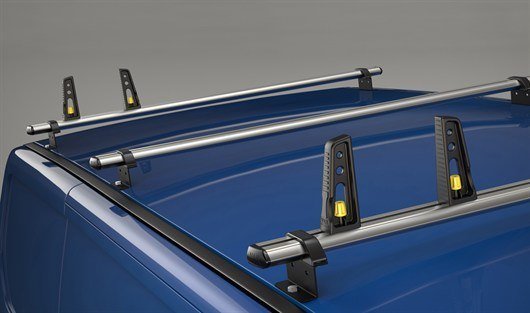 The ULTI Bar by Van Guard

Buying your roof bars

If the demands you'll place on your bars are light (if they're just for ladders, for example) then you'll be able to pick up a good set of fit-them-yourself bars for a reasonable price – under £200, no problem. There are plenty of these available online, but whatever you buy should offer the following qualities:

- They should fit your particular van (obviously)
- They should be light, durable and resistant to corrosion from rain (many are steel with a resistant coating, like zinc, for this purpose)
- They should have a range of accessories available specific to common items (load stops and ladder clamps, for example)  
- They should be crash tested and safety certified
- They should be aerodynamically designed to reduce drag and wind noise, and so they're not too detrimental to fuel efficiency
- They should be easy to fit

If you're looking to save time, or concerned about your particular DIY skills, you can have someone fit them for you. Most retailers will do this.

Fitting your roof bars

Fitting roof bars shouldn't be too difficult, but it's clearly important to get it right. Not only could a badly fitted set of bars cause damage to both your van and your cargo, it could also get you into trouble with the law. Here's what you should do:  

- Read the instructions and follow them carefully
- Get someone else to help you, especially if you're climbing a ladder to fit them
- Fit your bars loosely at first so they're lined up properly, then tighten them up
- Use the correct tools for the job, and don't replace any of the supplied fittings unless they're like-for-like from the manufacturer
- Never make any alterations, or you'll void your warranty and potentially make your bars unsafe. If there's a specific accessory you need, check it's available for your particular bars or rack before buying

Using your roof bars

- Never exceed the load capacity of your van
- Always load your cargo as per the manufacturer's instructions
- Ensure that your load is evenly distributed and secured down properly, using ratchet straps, load stops, clamps or eye bolts.
- Check the fittings of your roof bars on a regular basis to make sure nothing is coming loose
- Always replace worn or broken parts – brackets and fixings in particular. A part that comes loose on the move can potentially be fatal
With thanks to Van Guard
Comments
Author

Mark Nichol
Latest
Save 12% on GAP Insurance
Use HJ21 to save on an ALA policy
See offer