New Transit proves how far vans have come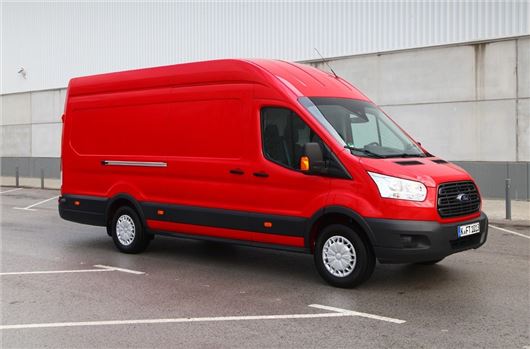 Published 10 February 2014
The launch of the new Transit last week was certainly a big affair. Ford had taken over a warehouse near Barcelona airport and inside recreated a small street complete with shops, road works and even a construction site. The idea was to show how versatile the new Transit is. It was clear a lot of time and money had been invested in the event and after the world's journalists had attended, Ford dealers were next.
It shouldn't be a surprise of course. The Transit is a big seller for Ford and while it may not make the same headlines as some of Ford's other new launches like the UK-bound Mustang, it's a very important model. It's Ford's third best selling vehicle after the Fiesta and Focus - in fact in 2013 the Transit family outsold the BMW 3 Series. It sells over four times more than its next four competitors combined
The Transit story is indeed an interesting one. It's very much a British model - coming about due to competition between Ford of Britain and Ford of Germany to develop a small van. Ford of Britain won. Launched in 1965, in the UK it filled a gap between smaller vans like the Commer FC and larger HGVs - but didn't require a special licence. It was an instant success and so much so that the name Transit has become a brand in its own right and a byword for any medium to large van. if you've ever hired a van it's usually described as a 'Transit-sized or equivalent'.
We're now on the sixth generation Transit but the formula has remained unchanged over the years. It's still practical, versatile, robust and good to drive. There's pretty much a Transit for any requirement and there are more than 450 model variants of the latest model. Don't be surprised to see Ford building its own campervan version soon like the Volkswagen California.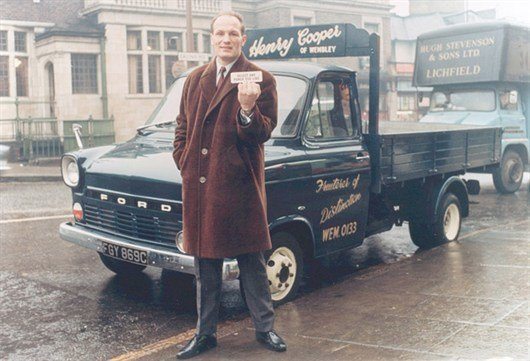 If the Transit is good enough for Henry Cooper...
I've always had a soft spot for the Transit. I ended up driving various Transit's for different jobs the late 90s and early 2000s. They were mainy third generation models but I do remember getting a job at a paint firm and the excitement of having a brand new fourth generation medium wheelbase high roof model. The other driver who worked there was very jealous as he still had an old Renault Master.
At the time that Transit was seen as very sophisticated compared to a lot of other vans. I recall having an LDV for a few days when the Transit was off the road (it had a fight with a forklift and didn't win). It was an LDV Convoy and felt atrociously old fashioned compared to the Transit. Hardy surprising considering it was based on a design from 1974. Needless to say I was very happy to get back into my Transit.
Driving the sixth generation model last week highlighted how far the Transit has come. Not just from the first generation model of the 1960s but from that fourth generation model from 2000. The latest Transit comes with features like Bluetooth, electric windows, an eight-way adjustable driver's seat, stability control and remote central dead locking - all as standard. In 2001 I thought my Transit was posh for having an integrated cassette player with RDS.
But it's how refinement has improved that's so impressive. As a driver you no longer feel like you're there merely as ballast in the front. The seats are supportive, there's plenty of room and it's a relaxing vehicle on the motorway. The engines are far smoother and less audible too. It's fair to say that the Transit has never been so car-like. While it's still a proper commercial vehicle designed to do a job - as the operator you no longer feel like a second class citizen.
Comments
Author

David Ross
Latest