Mercedes-Benz announces Citan details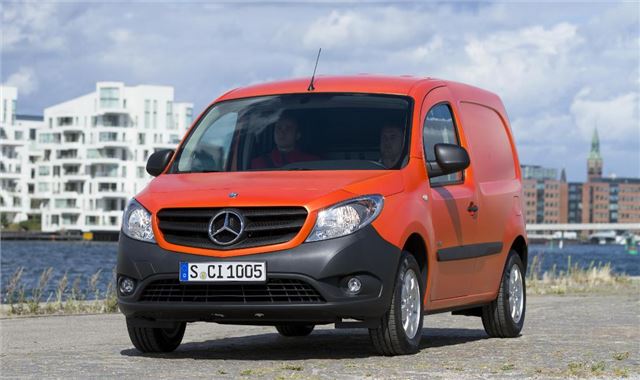 The new small van from Mercedes-Benz, called the Citan, will be in dealerships from early 2013. There are three lengths and three variants, with a choice of four engines - three diesel and one petrol. All of the diesels have the same 1.5-litre capacity, but with a range of power outputs.
The entry level 108CDI, with 75PS and 180Nm, and the 109CDI, with 90PS and 200Nm, will be offered from launch. They'll be joined in summer next year by a 111CDI with 110PS and 240Nm, and a 112 petrol, with 114PS and 190Nm.
The two lower powered diesel models have five-speed manual gearboxes while the larger diesel and the petrol engine both come with a six-speed. The diesel engines have service intervals of 25,000 miles, while the cam belt needs replacing every 125,000 miles. The most efficient diesel engine, the 109 CDI BlueEfficiency, has official fuel economy from 65.7mpg with emissions of 112g/km, although that figure varies depending on the configuration and length. Maximum torque is available from 1750rpm regardless of which diesel engine is fitted.
There are three model variants on offer – panel van, Dualiner and Traveliner – based on three basic lengths. The basic panel van has two seats and is offered in compact, long and extra long forms, with payloads of approximately 500kg, 650kg and 800kg, respectively. Corresponding volumes are 2.4m3, 3.1m3 and 3.8m3, respectively. There's a partition between the cabin and the load area, and space between the wheel arches is 1219mm.
The Dualiner has space for five occupants, with a folding rear bench and glazed sliding doors. It's based on the Extra Long variant and has a 2.4m3 load compartment. Depending on specification the bench can be folded to offer a combination of space for one, two, or three rear passengers. The front passenger seat can be folded, too, making it possible to carry particularly long objects.
The final variant is the Traveliner – it's similar to the Dualiner, with space for five and a folding rear bench, but is fully glazed and is geared towards comfort, with options like folding picnic tables. Regardless of variant, all models get a generous amount of stowage, including a storage compartment in the roof, large door bins and a big glovebox.
Standard equipment includes electric mirrors, height and reach adjustable steering, remote central locking, CD-player and Bluetooth. There are numerous optional extras, too, including storage baskets, stowage trays, and towbars. Many accessories can be retrofitted, too, so can be purchased after the van has been ordered. 
Comments