Geneva Motor Show 2013: Volkswagen E-Co-Motion concept vehicle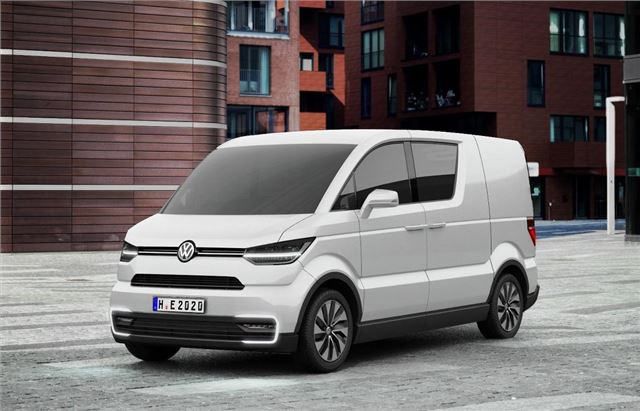 It's not all GTis and mega-mile economy cars on Volkswagen's stand at the Geneva Motor Show. There's also this, the all-electric Volkswagen E-Co-Motion concept van. It may not be as exciting, but it's every bit as worthy. 
Electric vans don't come along very often from major manufacturers, so this one from Volkswagen deserves to cause a bit of a stir. 
Volkswagen's thinking is that cities are packed, yet are very dependent on lorries and vans to serve the businesses that are in the centre. These stop-start short journeys are well suited to electric traction and as cities start to penalise commercial vehicles with higher emissions (like London's Low Emission Zone), there could be tax benefits for owners too.
The electric drive unit is mounted to the rear axle together with a single-speed planetary gearbox to achieve large wheel turning angles at the front axle and thereby the manoeuvrability that is so important for city operation. As a result, its turning circle is 8.95 metres, which would be unique in this vehicle class. The continuous power output of the compact drive unit is an energy-saving 50 kW / 68 PS. The drive unit's maximum power is 85 kW / 115 PS, while its maximum torque of 270 Nm enables good acceleration even in heavily loaded vehicles.
Although it was designed for city deliveries on city streets, the electronics of the e-Co-Motion concept do not limit its top speed until 120 km/h. This permits driving on city motorways and short intercity routes. A three-stage modular battery concept for the traction battery optimally fulfils the different driving range requirements of customers. A battery with a capacity of 20 kWh could be installed for driving ranges of around 100 km, while a battery with 30 kWh would enable a 150 km driving range. Finally, a battery with 40 kWh storage capacity is planned for the top driving range of 200 km. 
This is still being labelled as a 'concept vehicle', but many of these features are likely to be seen on production vehicles in the future.
Comments