Prices for new Toyota ProAce revealed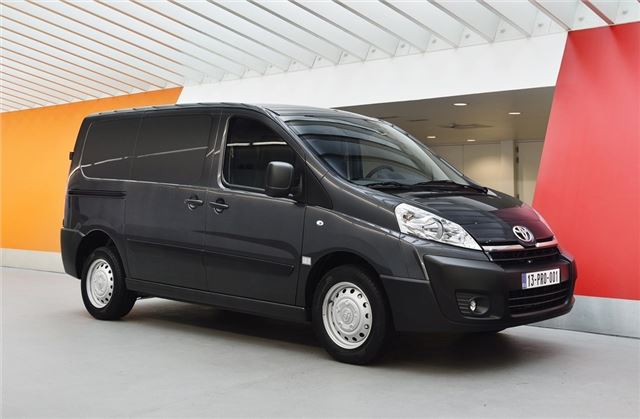 Toyota has announced prices for its new ProAce van which officially goes on sale on July 1. The cheapest version is priced at £22,300 including VAT which gets you the standard wheelbase and standard height van with the 90PS 1.6-litre diesel engine.
The ProAce replaces the long-running Hiace as Toyota's medium-sized van but unlike before it's not the Japanese firm's own model. Instead the ProAce is the same van as the Citroen Dispatch, Peugeot Expert and Fiat Scudo.
It uses the same diesel engines as its counterparts with three choices - a 1.6-litre with 90PS and 180Nm of torque, a 2.0-litre with 128PS and 320Nm while the top of the range version is the same 2.0-litre but with 163PS and 340Nm. The 1.6D has a five-speed gearbox while the more powerful 2.0D gets a six-speed. Economy is decent with the 2.0D achieving a claimed 44.1mpg with the standard roof.
There are two wheelbase versions and two roof heights with all but one model able to carry a maximum payload of 1200kg.
Alongside the standard panel van there is also a crew cab version which can seat up to six people. This comes with the 2.0D with 128PS and a long wheelbase as standard. Total load space for the standard L1H1 van is 5m3 while the long wheelbase L2H1 version increases this to 6m3. The L2H2 can carry up to 7m3.
Just one trim level is offered which includes 16-inch alloy wheels with wheel covers, fog lights, heated electric mirrors, air conditioning, Bluetooth, electric windows and a choice of a single front passenger seat or a two-seat bench. Two sliding side doors are standard and buyers can choose plain or glazed double steel rear doors. If fitted, the rear windows are heated and have a wash-wipe. In terms of safety there are driver and front passenger airbags plus vehicle stability control.
A ladder-type bulkhead is fitted as standard, with a steel ladder bulkhead in the crew van. A steel bulkhead with or without a glazed window section can be specified as an option on the panel van.
MODEL
WHEELBASE/HEIGHT
PAYLOAD
ENGINE
OTR PRICE
(inc. VAT)
Panel Van
L1H1
1,000kg
2.0D 128PS
£23,200
Panel Van
L1H1
1,200kg
1.6D 90PS
£22,300
Panel Van
L1H1
1,200kg
2.0D 128PS
£23,700
Panel Van
L1H1
1,200kg
2.0D 163PS
£24,400
Panel Van
L2H1
1,200kg
1.6D 90PS
£23,000
Panel Van
L2H1
1,200kg
2.0D 128PS
£24,400
Panel Van
L2H1
1,200kg
2.0D 163PS
£25,100
Panel Van
L2H2
1,200kg
2.0D 128PS
£25,800
Panel Van
L2H2
1,200kg
2.0D 163PS
£26,500
Crew Van
L2H1
1,200kg
2.0D 128PS
£27,800
Comments