British company designs flat pack truck for developing world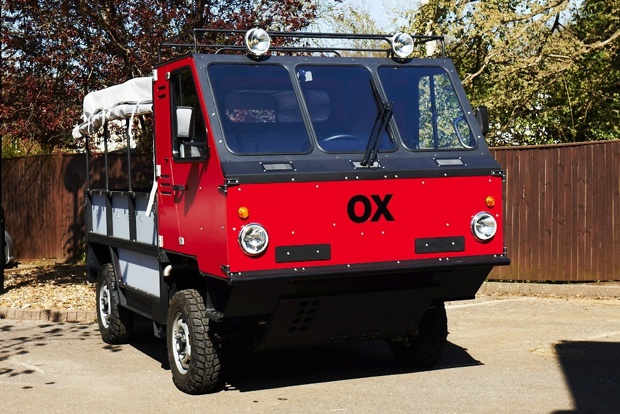 A British company has come up with a novel solution to transport problems faced in the developing world – by designing a flat-pack truck. Called the 'OX,' it can be shipped to Africa in cargo containers for assembly without specialised tools or skills. Construction from start to finish takes three workers approximately 11.5 hours.
Despite the vehicles simplicity it is robust enough to wade through 75cm of water and to cope with the rutted, rough, potholed roads of deepest Africa. It has a maximum payload of two tonnes, which is twice that of the average pickup truck. It can carry 13 people, 44 gallon-capacity drums or three Euro pallets.
Additionally it features a power take-off, meaning it can pump water, power a saw or run a generator – useful in rural terrain, which the OX is designed to cope with. Ground clearance is high and there are short front and rear overhangs to help with climbing and descending steep hills. Power comes from a 2.2-litre diesel engine linked to a manual transmission.
The driving force behind GVT, the company behind the vehicle and the OX itself is Sir Torquil Norman, founder of the Norman Trust. "...OX became a dream three years ago and is now a realistic ambition with a working prototype that has already completed its initial testing programme," he said.
So far £1m has been raised but in order to take the project to production stage a further £3m is needed. "Our priority now is to raise the funding to complete the testing and take the project to fruition.  Our aim is that the OX will be purchased by charities, aid organisations and development programmes, rather than private individuals.  My dream is to one day see an OX in every village in Africa," concludes Sir Torquil.