Renault launches the Twizy Cargo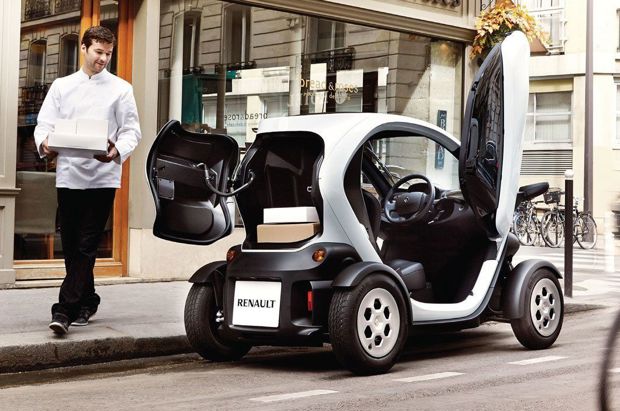 We had to check it wasn't April Fools' day when this news came in but it seems Renault is serious - it is launching a Twizy Cargo. On sale from July, the dimunitive electric car, which we've road tested in its standard guise, has been converted for business use with the rear seat removed and replaced by a cargo bay with a lockable door.
Not that you're going to get much in the back with just 180 litres of space and a maximum payload of 75kg but it could be useful for city-based firms who offer services like IT support or as an alternative to the pizza-delivery scooter. It's also ideal as on-site runabout for large depots or warehouses. If you want to get noticed, the Twizy Cargo will certainly do that.
Powered by an electric motor backed up by a lithium ion battery, the Twizy Cargo has a real world range of about 50 miles and can be charged using a standard three pin plug socket. A full charge takes around three and a half hours and costs about a £1. It has the same 17PS as the standard Twizy which is nippy enough away from the lights with similar performance to a 125cc scooter, making it ideal for busy city work.
As it's fully electric there are no CO2 emissions, no annual VED and it's also exempt from the central London Congestion Charge. The gullwing doors make getting in and out easy, even in tight spaces, plus it can be parked nose into parallel spaces.
It's priced at £6421 excluding VAT while battery hire starts from £36 a month depending on the mileage and length of contract. However, the VAT on the battery hire can also be claimed back.
| | |
| --- | --- |
| Top speed | 56 mph |
| Range | 62 miles (NEDC). Real world conditions circa 50 miles |
| Power | 17hp |
| Boot capacity | 180 litres |
| Boot dimensions | 550mm (d) x 500mm (l) x 950mm (h) |
| Max load | 75 kg |
| Vehicle dimensions | 2338 x 1237 x 1454mm |
| Unladen weight | 375kg |
| Kerb weight | 474kg |