Ford Transit Custom Sportvan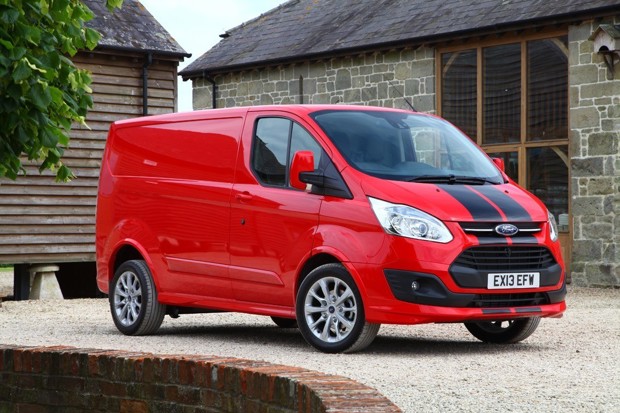 Vans don't have to be dull or slow, something which the first Ford Transit Sportvan, launched in 2007, proved. This new version, based on the excellent new Transit Custom, is unlikely to be the choice of the local Post Office (even if it does come in the right shade of red as shown in our pictures) but for van owners wanting something that stands out and has some genuine poke, the new Transit Custom Sportvan is spot on.
It uses the same 2.2 TDCi engine as the rest of the Transit Custom range but power has been boosted to 155PS. That's the same power as the old Mondeo ST TDCi and with 385Nm of torque it's not exactly slow, even when fully laden. In fact it's properly quick, helped by a great six-speed manual gearbox with nice positive shifts. There's no official 0-62mph time but unofficially you're looking at around 12 seconds.
The strong engine remains refined though, even when you push it, with great power across the rev range. That torque peaks at just 1600rpm so it's great in town, but it's even better on bigger roads, where you can really shift along, leaving it in sixth gear and letting the pulling power do all the work. 
Yet despite this, economy is more than respectable with a claimed average of 42.2mpg, if you go for the optional engine start/stop system. Refinement is much improved over the old Sportvan too, so while it's fast, the new model is not frantic.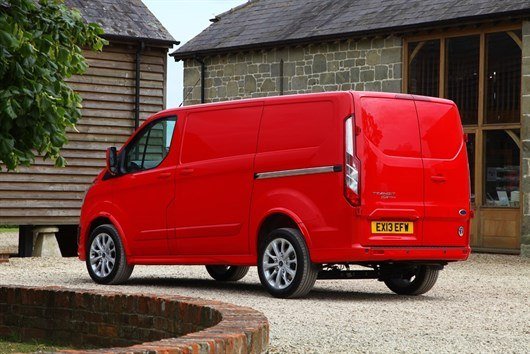 In fact its car-like refinement is mightily impressive. The Sportvan uses the same suspension and damper settings as the standard Transit Custom, a van we've already been impressed by. It works so well in the rest of the Transit Custom range that there's been no need to alter it for the Sportvan. It does have bigger wheels, the 18-inch alloys looks great but with low(ish) profile 235/50 tyres, the ride is noticeably firmer. However it's not uncomfortable and the advantage is better grip in corners.
There's no official 0-62mph time but unofficially you're looking at around 12 seconds.
And the Sportvan is great in corners. It handles even better than the standard Transit Custom, with responsive and precise steering making country lanes huge fun in what, by rights, should be a cumbersome and heavy vehicle - this is a van after all. From behind the wheel it's very easy to forget that, such is the quality of the Transit.
Not only does it ride well, it's quiet and on the motorway and at 70mph there's little in the way of road or wind noise. There are plenty of cars out there that aren't as good as this. And there are plenty of cars that don't look as good either. The Sportvan gets a bespoke body kit that's fully colour coded along with body-coloured mirrors, bumpers and wheelarch extensions.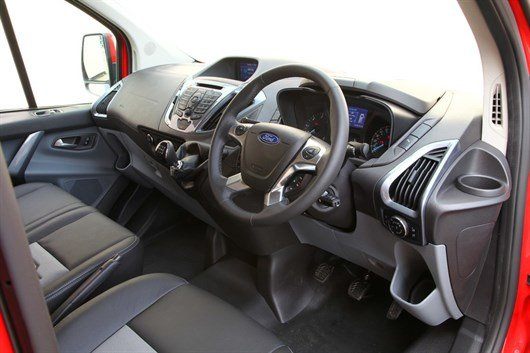 As it's a Sportvan it also comes with the requisite contrasting twin strips on the bonnet that flow down across the grille and lower bumper spoiler. Three paint colours are available - red, white or black - all with contrasting stripes. There's certainly no mistaking this for a lesser Transit Custom. So is it over the top? Well it's not a van for shrinking violets, but if you want to make a statement with a quality one-tonne van, this could well be for you.
The inside gets the same sports treatment with part leather seats with a pewter coloured fabric and black leather bolsters. There's also chrome trim on the air vents and around the stereo while the instrument cluster is the same as the Ford Focus with clear dials and an excellent trip computer system with a colour display. It's the best van cabin around at the moment, both in terms of comfort and quality. The term 'car-like' is often overused when refering to vans, but that's not the case here - the Transit Custom feels just like a Focus behind the wheel.
The Transit Sportvan only comes as a short wheelbase with a 2.9 tonne gross vehicle weight. It's priced at £22,445 without VAT or £26,271 on the road and comes very well equipped for that money with electric windows and mirrors, parking sensors, air conditioning, a high quality DAB radio, Bluetooth and Ford's clever SYNC system.
It may not have mass appeal, but the Sportvan is ideal as a top of the range model aimed at those who want something bold and a bit different from your run-of-the-mill van. The performance it offers is incredible for a van, yet it's still refined with a quality interior. The Sportvan shows that just because you drive a van, doesn't mean you have to sacrifice style or performance.
For the full Ford Transit Custom review click here.