Nissan launches revised NT400 Cabstar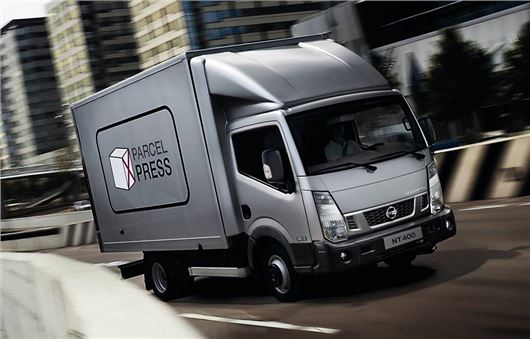 Published 28 February 2014
Nissan has launched the updated version of the Cabstar which is renamed the NT400 Cabstar and gets an improved payload, longer service intervals and a revamped interior.
Styling changes include a new front grille and redesigned clear glass headlamp clusters. The side indicator repeaters are now integrated into the door mirrors. There is a new dark metallic grey paint colour available replacing the light metallic blue. As before solid white, solid red and metallic silver are the other paint choices.
Inside there are new fabrics while a heated driver's seat is available as part of a winter pack that also includes heated and electrically adjusted side mirrors and a rear heater in double cab versions. New audio equipment includes USB and iPod connections with Bluetooth fitted for hands-free mobile phone use.
Other changes include easier to read instruments with a larger tachometer and speedometer with a new multifunctional trip computer display in between that shows average fuel consumption and a gear-shift advisory message among others. The centre console ashtray has been removed and replaced with a storage space.
The big changes come with the engines. The four-cylinder 2.5-litre common rail diesel now has a diesel particulate filter (complete with driver operated regeneration function), diesel oxidation catalyst, exhaust gas recirculation and on-board diagnostics.
It is available in three different versions. The base model has 121PS and 250Nm, or there's the mid-level 136PS and 270Nm engine. The top model has 145PS and replaces the old 3.0-litre diesel. It has an identical torque figure of 350Nm and despite its small size has the same performance but with 20 per cent better fuel economy and lower emissions.
Service intervals have been extended to 25,000 miles from the previous 18,500 miles. The low output engine is coupled to a five speed manual transmission and is available in NT400 Cabstar with 2.8t, 3.2t, 3.4t and 3.5t GVWs. The mid and high output versions have six speed manual transmissions and power NT400 Cabstar models with 3.5t and 4.5t GVWs.
There has been a significant 30kg weight reduction in 3.5t and 4.5t single cab versions, thanks to the removal of the spare wheel and jack. In place of the spare, a tyre repair kit - complete with compressor and sealant - is fitted behind the driver's seat although a full sized spare is still available as an option.
The updated NT400 Cabstar is available ex-factory with a choice of tipper, box and dropside bodies or as a chassis cab ready for conversions. To make the job of the specialist body builders as easy as possible, the NT400 Cabstar comes with a comprehensive range of connectors, electrical pre-equipment.
Connectors are fixed to the frame to facilitate the attachments of a new body to the chassis while new wiring harnesses are in place, linking the frame with the vehicle electrical system. The instrument panel has additional warning lamps within the dials and there are supplementary switches.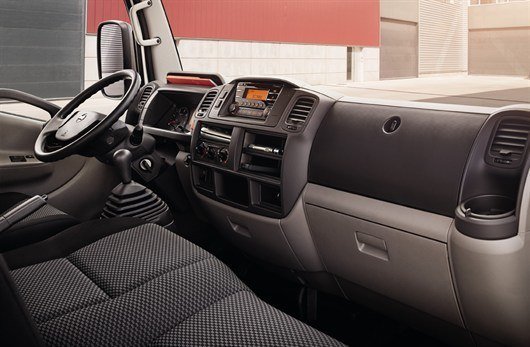 Comments
Author

David Ross
Latest