Volkswagen e-Load Up driven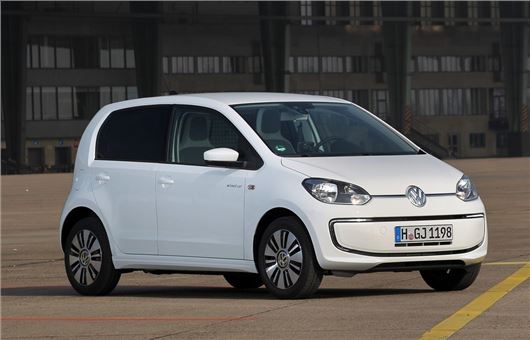 Published 20 March 2014
The little Up has been a huge success for Volkswagen, with its compact dimension, stylish design and excellent handling going down a storm with car buyers. However a van version wouldn't seem an obvious move. After all, the Up only has a small boot and even with the seats removed you'd hardly call it cavernous. But that hasn't stopped Volkswagen creating the e-Load Up.
As the same suggests, it's powered solely by an electric motor – using the same technology as the recently launched e-Up. It's currently just a concept, but all the signs point to it becoming a production reality in the not to distant future. If and when it does go on sale there is likely to be a conventional petrol-engined version as well as an all-electric model.

But it's the e-Load Up that is the most intriguing. It uses the same electric motor as the passenger e-Up which went on sale in the UK in January. That means 82PS from the compact motor and an impressive 210Nm of torque. 

The e-Up is actually the quickest model in the Up range and the e-Load Up feels even more sprightly with no rear seats. In fact, the electric motor is extremely quick, with plenty of torque available up to 2800rpm, which makes it ideal for nipping in and out of busy traffic. From 0-37mph takes less than 5.0 seconds helped by the single speed gearbox. You just put it in D and away you go.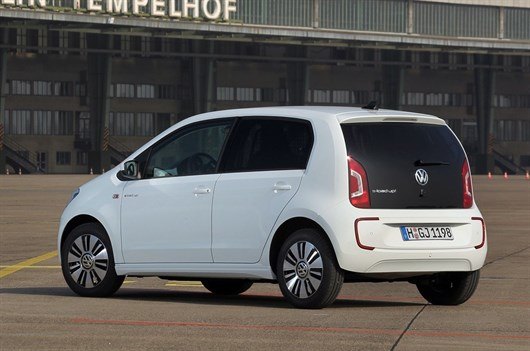 The performance is certainly impressive and the e-Load Up is also fun to drive. It feels agile yet stable and has a tiny turning circle so is ideal for tight spaces. Even with a load in the back, it's strong and pulls well. That's not to say the e Load Up is only good in town – it's equally as impressive at higher speeds and continues to perform well at 50mph and 60mph with plenty of power in reserve.

The fact the e Load Up is so easy to drive will appeal to drivers who have to battle with busy traffic all day, as will its sprightly pace. The lack of noise – aside from a faint whir from the electric motor – also adds to the feeling of refinement, which should make for a (potentially) less stressful working day. The maximum range is 100 miles but obviously this is a best case scenario, realistically you're looking at around 80 miles but that's still plenty for a day's work in a busy town or city.

One unusual feature which might take some getting used to is the engine braking system. There are in fact four regenerative braking modes, using them means the battery is recharged whenever you coast or brake. The idea is you're preserving the battery and ultimately your range. In B, the most effective, when you come off the accelerator it's as if you're straight on the brakes. It sounds odd but once you get used to it, it's actually useful as you can almost drive the e-Load Up using just the accelerator pedal. Of course if you just leave it in D and it acts like a conventional automatic.
The lack of noise – aside from a faint whir from the electric motor – also adds to the feeling of refinement which should make for a (potentially) less stressful working day.
But how does the e Load Up rate as a van? Well, regardless of what engine is powering it, the Load Up has 1m3 of carrying space – the same as a Ford Fiesta van which is one of few rivals in the small car-derived van market along with the Vauxhall Corsavan. The boot opening is slightly narrow at the base due to positioning of the lights and there's a significant load lip – good if you don't want things sliding about but not so helpful if you've got heavy or awkward objects to transport. The lithium ion batteries don't impact on load space, as they're situated in the chassis, just in front of the rear axle.
The load area is well finished though with a solid floor complete with a high grip covering. Under the load floor there's even room for a tyre repair kit although there's no spare wheel. The van we drove came with a mesh bulkhead, which was well fitted with no squeaks or rattles on the move. Even though this is currently a concept, it feels very much like a finished vehicle. In fact the only real change needed to make it a commercial vehicle would be for the glass in the rear windows to be replaced by metal panels.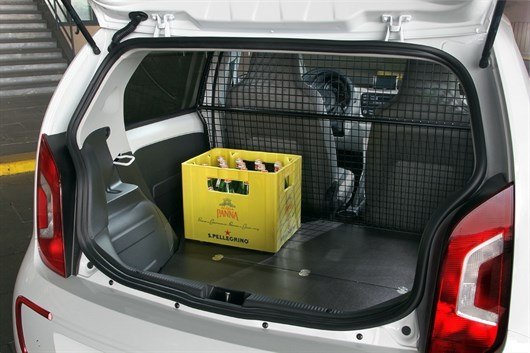 So who is it going to appeal to? Well you could see it being popular with any city or busy town based business. Pizza deliveries, florists and motor parts factors all spring to mind as ideal customers for the Load Up along with courier work and inter-site postal deliveries. For pharmacies that offer a local prescription delivery service it would be ideal. The maximum payload is 306kg – not great and even a MINI Clubvan has 500kg – but given its potential work, weight is unlikely to be much of an issue.
For businesses that have to go into the London congestion charge zone, the e-Load Up would, if it were launched, be one of only two vans to qualify for exemption from the daily charge. The other is the Renault Kangoo Z.E. It's unlikely a company would rely solely on the e-Load Up but rather use it to supplement a larger fleet of vans.
As it's still a concept, prices are only an estimate at the moment but going on the price of the e-Up, Volkswagen has indicated that the e-Load Up would be slightly less - around £16,000 (excluding VAT) after the government grant for electric vans which gives you 20 per cent off the cost of the van up to £8000. That is of course a lot for a small van like this - a Kangoo ZE starts at £12,995 although you do have to lease the battery. With the e-Load Up it would be included.
Charging takes six hours from a standard wallbox - that's from flat to 100 per cent. But if a company has access to a Combined Charging System (CCS) charging station, the battery can be boosted from zero to 80 per cent in just 30 minutes.
Whether the Load Up, in electric or petrol form, would come to the UK remains to be seen. It's certainly likely to become a production reality and Volkswagen is also working on an e-Caddy which could be introduced when the long awaited all-new Caddy is launched next year. We think the Load Up would be an attractive alternative to the likes of the Fiesta Van and would surprise many with its load size and practicality.
Comments
Author

David Ross
Latest