CV Show 2014: Isuzu offers two new D-Max conversions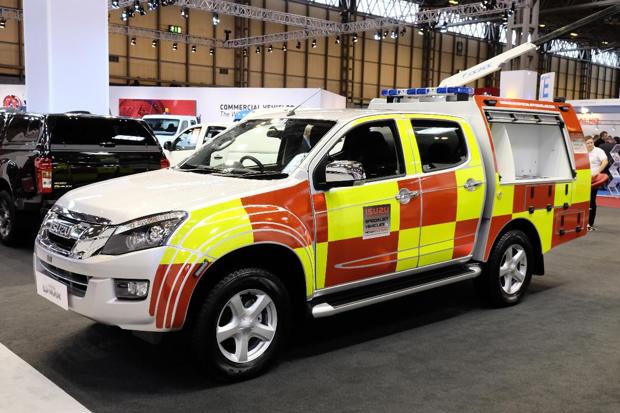 Isuzu has revealed two new conversions for the D-Max pick up at the 2014 Commercial Vehicle Show in Birmingham. One is a fire response vehicle and the other is fitted with a cherry picker which has been developed for the utility industry, or for tree surgeons. Both of the conversions are built by specialists but will be offered directly through Isuzu Fleet Services.
The D-MAX Brigade Response Vehicle (BRV) has been designed to complement other fire response vehicles. It has a four occupant cabin and is fitted with high-pressure water tanks with a capacity of 310 litres. The tanks are linked to a 55-metre hosepipe with an electric reel.
The BRV also features side and rear lockers with roller shutters for storing equipment, plus a high-intensity LED spotlight and emergency response lighting on the front and rear bumpers, front wings and roof.
Isuzu is also offering a conversion fitted with a mobile elevated working platform (MEWP), more commonly called a cherry picker. It's based on the single cab D-Max and features a telescopic boom with a platform. The platform is designed to support 225kg, the approximate weight of two workers and their equipment.
The boom can be rotated 360 degrees and has a maximum height of 13.2 metres, with an outreach of 6.5 metres. The boom can be controlled from the work platform or from the bed of the D-Max itself. All the wiring and hydraulics systems are enclosed within the boom to keep them out of harm's way, plus there are hydraulic A-frame stabilisers.
Both of the conversions feature all-wheel drive as standard and are powered by 2.5-litre diesel engine with 163PS. Isuzu Fleet Services also offers business customers the ability to fit out vehicles to their specific needs, with numerous bed conversions on offer.