New Renault Trafic and Vauxhall Vivaro revealed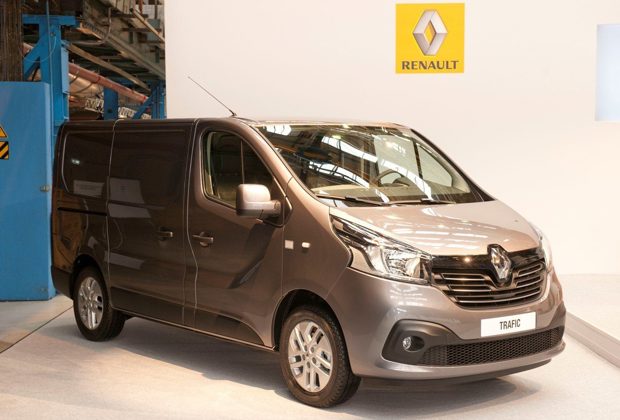 Renault and Vauxhall have revealed details of the all-new Trafic and Vivaro medium-sized vans at preview in the Netherlands. Prices are expected to start at £18,500 and the new vans will reach showrooms in September 2014. Dimensions and performance figures for both vans are largely the same, although the new vehicles get updated styling and new efficient engines.
Four engines will be available, kicking off with the entry-level 90PS 1.6-litre turbo diesel that produces 260Nm of torque at 1500rm and offers official combined cycle economy of 43.5mpg and CO2 emissions of 170g/km. The same engine is also offered in a higher state of tune, with 115PS and 300Nm of torque, but the same emissions and economy.
Also demonstrated at the event was an all-new twin-turbocharged version of the 1.6-litre diesel with stop/start, offered with either 120PS or 140PS. The former is the most efficient engine available in the Trafic or Vivaro, with emissions of 155g/km and official economy of 47.1mpg. Peak torque is 320Nm at 1500rpm.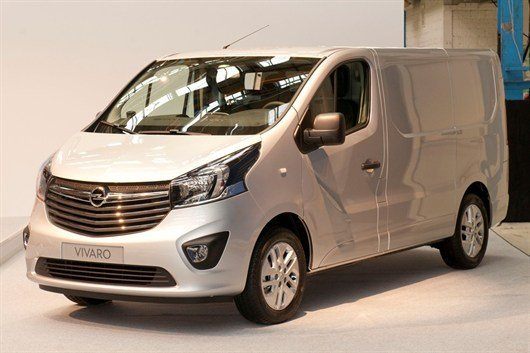 In top 140PS form the twin-turbo (or BiTurbo) diesel produces 340Nm of torque and has official economy of 46.3mpg, with emissions are 160g/km. All of the engines come with a six-speed manual transmission as standard. Engines are all chain-cam, which helps towards lower maintenance costs. Oil change intervals are 25,000 miles or every two years, whichever comes first.
We got the chance to try out the host of practical new touches, such as a built-in tablet and mobile phone cradles suited to all sizes of device, a laptop storage bin and plenty of cubby holes. Effort has clearly been put into making the new vans more car-like, with a comfortable seat offering a good level of adjustment, plus a simple but attractively-styled centre stack with an easy-to-use radio system. In another useful car-like touch, the glove compartment is air conditioned to keep snacks cold. 
It's not quite as plush as a car of course, but that's no bad thing - the materials chosen are extremely solid and durable, so should stand up well to tough conditions. There are also useful driver assistance technologies more commonly found on cars, such as hill-start assist and a reversing camera, plus an effective and clever wide angle mirror in the passenger sun visor to help with visibility at oblique junctions.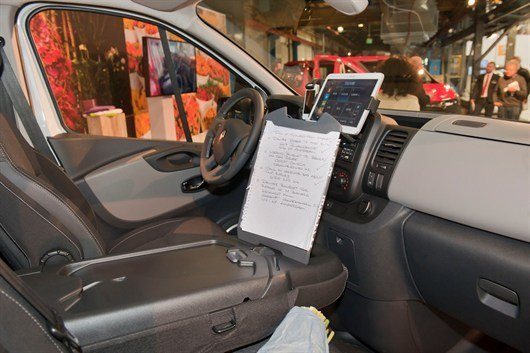 The joint preview event allowed us to compare the new Vivaro and Trafic side by side, but differences are more or less cosmetic. Cabin layouts are similar, as are the interior touches like a built in clip board and wide angle mirror. Fit and finish is the same regardless of manufacturer, too, which is as you would expect for two vehicles so fundamentally simililar. 
The Trafic and Vivaro are offered in two lengths (L1 and L2) and two heights (H1 and H2), with load volumes of between 5.2m3 and 8.6m3. L1 and L2 crew cab versions are offered too, with respective load volumes of 3.2m3 and 4.0m3. Thanks to a slightly increased wheelbase the L1 model is now capable of carrying three Euro pallets. Maximum permitted payload weight ranges from 1079kg to 1281kg, depending on size and engine choice.
In the load area there's a simple-to use through-hatch that allows the loading of planks or pipes up to 3.75m in the shorter L1 variant, with 40cm of extra load length in the longer L2. The hatch extends under the front seats and is very easy to operate intuitively, although it's heavily sprung and might trap fingers. There's also a system that allows you to secure one door, leaving visible tail lights and a visible numberplate with the other door partially open - useful for carrying the occasional oversized load. 
The cross-section of the load area is identical to the previous versions, meaning shelving kits and other conversions from the previous Vivaro and Trafic will fit in the new versions with no modification. Renault and Vauxhall also offer a platform cab variant for conversion to, for example, a flatbed.