New Renault Trafic prices revealed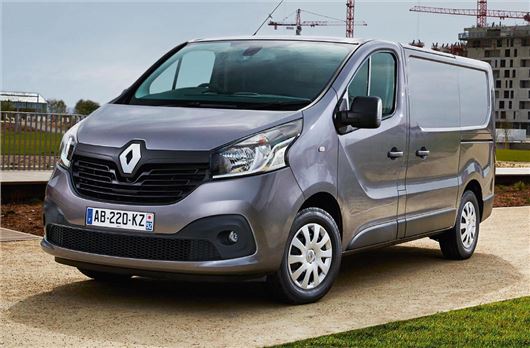 Published 28 May 2014
Renault has revealed prices for its new Trafic which is available to order now. The entry-level model is priced at £18,245, excluding VAT, which gets you the SL27 dCi 90 standard panel van model. First deliveries are due in September.
No less than 72 versions of the Trafic will be available and alongside the standard panel van there are crew van, platform can and passenger versions. Three trim levels are available with the entry-level Business expected to be the most popular.
It comes with a height adjustable driver's seat with armrest, left side loading door, DAB radio, electric front windows, electric heated door mirrors, a full steel bulkhead and remote central locking. All models also come with ESC stability control which includes hill start assist.
The Business+ adds a fold down centre passenger seat with removable A4 clipboard, laptop storage, and smartphone dock. Other extras includes air conditioning, body coloured front bumper, door rail and tail light column, as well as rear parking sensors.
At the top of the range is the Sport model which comes with 17-inch alloy wheels, automatic lights and wipers, Bluetooth, a leather steering wheel, lidded upper dashboard storage, metallic paint, a seven-inch touchscreen MediaNav multimedia and navigation system, cruise control and front fog lights.
The new Trafic comes in ten paint colours, including six metallic. New for 2014 are Bamboo Green, Copper Brown and Magma Red.
The engine line-up consists of four diesel options - all powered by a 1.6-litre dCi with either a single or twin turbo. The dCi 90 is only in the entry-level Business trim, with the dCi 115, plus ENERGY dCi 120 and 140, available on every model. Stop & Start is standard on the ENERGY dCi 120 and dCi 140 models.
Version
 BASIC PRICE
 VAT
 TOTAL RETAIL PRICE
 OTR PRICE
PANEL VAN
 
 
 
 

BUSINESS SWB LOW ROOF
SL27 dCi 90
£18,245.00
£3,649.00
£21,894.00
£22,779.00
SL27 dCi 115
£18,745.00
£3,749.00
£22,494.00
£23,379.00
SL27 ENERGY dCi 120
£19,345.00
£3,869.00
£23,214.00
£24,099.00
SL27 ENERGY dCi 140
£19,945.00
£3,989.00
£23,934.00
£24,819.00
SL29 dCi 115
£19,245.00
£3,849.00
£23,094.00
£23,979.00
SL29 ENERGY dCi 120
£19,845.00
£3,969.00
£23,814.00
£24,699.00
SL29 ENERGY dCi 140
£20,445.00
£4,089.00
£24,534.00
£25,419.00

BUSINESS SWB HIGH ROOF
SH29 ENERGY dCi 120
£20,845.00
£4,169.00
£25,014.00
£25,899.00
SH29 ENERGY dCi 140
£21,445.00
£4,289.00
£25,734.00
£26,619.00

BUSINESS LWB LOW ROOF
LL29 dCi 115  
£19,945.00
£3,989.00
£23,934.00
£24,819.00
LL29 ENERGY dCi 120
£20,545.00
£4,109.00
£24,654.00
£25,539.00
LL29 ENERGY dCi 140
£21,145.00
£4,229.00
£25,374.00
£26,259.00

BUSINESS LWB HIGH ROOF
LH29 ENERGY dCi 120
£21,545.00
£4,309.00
£25,854.00
£26,739.00
LH29 ENERGY dCi 140
£22,145.00
£4,429.00
£26,574.00
£27,459.00

BUSINESS+ SWB LOW ROOF
SL27 dCi 115
£19,845.00
£3,969.00
£23,814.00
£24,699.00
SL27 ENERGY dCi 120
£20,445.00
£4,089.00
£24,534.00
£25,419.00
SL27 ENERGY dCi 140
£21,045.00
£4,209.00
£25,254.00
£26,139.00

BUSINESS+ LWB LOW ROOF
LL29 dCi 115
£21,045.00
£4,209.00
£25,254.00
£26,139.00
LL29 ENERGY dCi 120
£21,645.00
£4,329.00
£25,974.00
£26,859.00
LL29 ENERGY dCi 140
£22,245.00
£4,449.00
£26,694.00
£27,579.00

SPORT SWB LOW ROOF
SL27 dCi 115
£21,045.00
£4,209.00
£25,254.00
£26,139.00
SL27 ENERGY dCi 120
£21,645.00
£4,329.00
£25,974.00
£26,859.00
SL27 ENERGY dCi 140
£22,245.00
£4,449.00
£26,694.00
£27,579.00
SPORT LWB LOW ROOF
LL29 dCi 115
£22,245.00
£4,449.00
£26,694.00
£27,579.00
LL29 ENERGY dCi 120
£22,845.00
£4,569.00
£27,414.00
£28,299.00
LL29 ENERGY dCi 140
£23,445.00
£4,689.00
£28,134.00
£29,019.00

CREW VAN
 
 
 
 

BUSINESS SWB LOW ROOF - 6 SEATS
SL27 dCi 90
£20,395.00
£4,079.00
£24,474.00
£25,359.00
SL27 dCi 115
£20,895.00
£4,179.00
£25,074.00
£25,959.00
SL27 ENERGY dCi 120
£21,495.00
£4,299.00
£25,794.00
£26,679.00
SL27 ENERGY dCi 140
£22,095.00
£4,419.00
£26,514.00
£27,399.00
SL29 dCi 115
£21,395.00
£4,279.00
£25,674.00
£26,559.00
SL29 ENERGY dCi 120
£21,995.00
£4,399.00
£26,394.00
£27,279.00
SL29 ENERGY dCi 140
£22,595.00
£4,519.00
£27,114.00
£27,999.00

BUSINESS LWB LOW ROOF - 6 SEATS
LL29 dCi 115
£22,095.00
£4,419.00
£26,514.00
£27,399.00
LL29 ENERGY dCi 120
£22,695.00
£4,539.00
£27,234.00
£28,119.00
LL29 ENERGY dCi 140
£23,295.00
£4,659.00
£27,954.00
£28,839.00

BUSINESS+ SWB LOW ROOF - 6 SEATS
SL27 dCi 115
£21,995.00
£4,399.00
£26,394.00
£27,279.00
SL27 ENERGY dCi 120
£22,595.00
£4,519.00
£27,114.00
£27,999.00
SL27 ENERGY dCi 140
£23,195.00
£4,639.00
£27,834.00
£28,719.00

BUSINESS+ LWB LOOW ROOF - 6 SEATS
LL29 dCi 115
£23,195.00
£4,639.00
£27,834.00
£28,719.00
LL29 ENERGY dCi 120
£23,795.00
£4,759.00
£28,554.00
£29,439.00
LL29 ENERGY dCi 140
£24,395.00
£4,879.00
£29,274.00
£30,159.00

SPORT SWB LOW ROOF - 6 SEATS
SL27 dCi 115
£23,195.00
£4,639.00
£27,834.00
£28,719.00
SL27 ENERGY dCi 120
£23,795.00
£4,759.00
£28,554.00
£29,439.00
SL27 ENERGY dCi 140
£24,395.00
£4,879.00
£29,274.00
£30,159.00

SPORT LWB LOW ROOF - 6 SEATS
LL29 dCi 115
£24,395.00
£4,879.00
£29,274.00
£30,159.00
LL29 ENERGY dCi 120
£24,995.00
£4,999.00
£29,994.00
£30,879.00
LL29 ENERGY dCi 140
£25,595.00
£5,119.00
£30,714.00
£31,599.00

PLATFORM CAB
 
 
 
 

BUSINESS LWB LOOF ROOF
LL29 ENERGY dCi 120
£20,195.00
£4,039.00
£24,234.00
£25,119.00
LL29 ENERGY dCi 140
£20,795.00
£4,159.00
£24,954.00
£25,839.00
Comments
Author

David Ross
Latest