Citroen announces pricing for revised Relay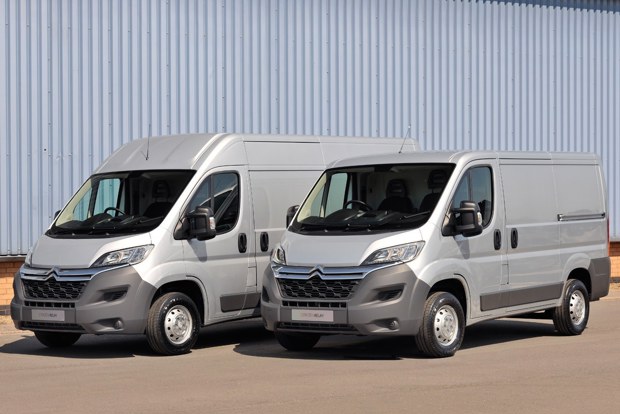 Citroen has announced the prices for the revised Relay van. The entry level short wheelbase, standard roof van starts at £19,405 + VAT and order books are now open, with deliveries starting on 1 July. 
The new Citroen Relay gets updated exterior styling, with a new front end, updated chevron grille and daytime running lights fitted as standard. Citroen has also incorporated a new multi-piece front bumper to minimise repair costs in the event of an accident; however, as with the previous model, the headlights are fitted close to the windscreen to protect them from casual knocks.  
The cabin has been improved too, with new seat trims and a revised dashboard layout, which can incorporate a five-inch colour LCD screen for the audio system and optional reversing camera. As with many new vans, the Relay incorporates the 'mobile office' theme, with 10 storage areas, which includes a dash-mounted document clip, large door bins and a 22-litre overhead storage compartment. Citroën's Teletrac telematics is also fitted as standard.
Other changes are more subtle – the doors and chassis have been strengthened to better stand up to long term usage, plus suspension and braking have been revised to increase stopping power and reduce cabin noise.
As before there will be three heights and four lengths on offer, with gross vehicle weights ranging from 3.3 to 4.0 tonnes. Load volumes range from 8m3 up to 17m3 on the largest L4H3 version. Citroen expects the Relay 30 L1H1 HDi 110 and Relay 35 L3H2 HDi 130 to make up the mainstay of sales. All vans will be powered by a 2.2-litre diesel engine, with the choice of four outputs that range from 110PS to 150PS.
The most frugal van in the range is the Relay 30 L1H1 e-HDi 130 Airdream, with a claimed fuel economy of 42.8mpg and 175g/km of CO2, while the chassis cab range remains the least efficient, with the entry level model returning 31.7mpg and 234g/km of CO2.
Servicing intervals for the Relay is now two years or 30,000 miles (whichever comes first) for normal operations and all vans are offered with the choice of a two year/ unlimited mileage or three year/100,000 miles warranty.
Citroen Relay prices
L1H1 (short wheelbase, standard roof van, 8.0 m3 load volume, 2670mm load length, 1662mm internal load height, 1870mm load width, 1422mm between wheel arches)
Model

Price
+ VAT

30 L1H1 HDi 110 6-speed manual

£19,405 (£23,286 INC VAT)   

30 L1H1 HDi 110 6speed manual Enterprise

£20,205 (£24,246 INC VAT)       

30 L1H1 e-HDi 130 Airdream 6-speed manual

£20,405 (£24,486 INC VAT)       

33 L1H1 HDi 110 6-speed manual

£21,205 (£25,446 INC VAT)       

33 L1H1 HDi 110 6-speed manual Enterprise

£22,005 (£26,406 INC VAT)      

33 L1H1 HDi 130 6-speed manual

£22,005 (£26,406 INC VAT)      

33 L1H1 HDi 130 6-speed manual Enterprise

£22,805 (£27,366 INC VAT)       

L2H1 (medium wheelbase, standard roof van, 10.0 m3 load volume, 3120mm load length,1662mm internal load height, 1870mm load width, 1422mm between wheel arches)

35 L2H1 HDi 130 6-speed manual

£23,605 (£28,326 INC VAT) 

35 L2H1 HDi 130 6-speed manual Enterprise

£24,405 (£29,286 INC VAT)   

L2H2 (medium wheelbase, high roof van, 11.5 m3 load volume, 3120mm load length,1932mm internal load height, 1870mm load width, 1422mm between wheel arches)

33 L2H2 HDi 110 6-speed manual

£22,805 (£27,366 INC VAT)   

33 L2H2 HDi 110 6-speed manual Enterprise

£23,605 (£28,326 INC VAT)   

33 L2H2 HDi 130 6-speed manual

£23,605 (£28,326 INC VAT)   

33 L2H2 HDi 130 6-speed manual Enterprise

£24,405 (£29,286 INC VAT)   

35 L2H2 HDi 130 6-speed manual

£24,405 (£29,286 INC VAT)   

35 L2H2 HDi 130 6-speed manual Enterprise

£25,205 (£30,246 INC VAT)   

40 Heavy L2H2 HDi 130 6-speed manual

£25,375 (£30,450 INC VAT)