Iveco unveils Vision concept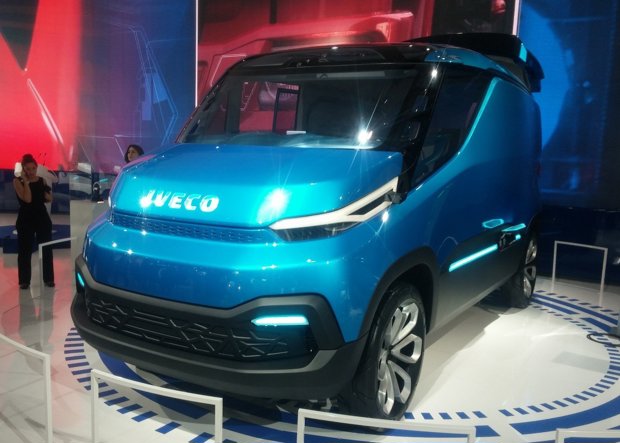 Iveco has unveiled its plans for future van design, with the launch of the Vision concept at the Commercial Vehicle Show in Germany. Ultra efficient, the new-generation van is packed with high tech kit and features a dual energy system, which uses an electric motor in the urban environment before switching to a hybrid system for the open road.
Designed with delivery drivers in mind, the Vision features a smart load space, with a series of sensors that detect movement of parcels or large items in the back. Should the load move, flexible bags will be triggered to restrict movement and hold the load in place. Parcels will also be electronically tagged as they enter the vehicle, thus saving time and improving accuracy.
Although still very much in the prototype stage, the Vision concept should pave the way for future development of the Iveco Daily range with lower CO2 emissions and improved fuel economy. The hybrid system is linked to a four-cylinder 2.3-litre diesel engine, with the battery stored behind the rear axle. Iveco tell us the Vision is capable of detecting its local environment and automatically switching to the most efficient powertrain.
The cabin is focused on technology with integrated touchscreen tablet and "see-through" front pillars to improve visibility. There's also a parking camera displayed on a panoramic screen on top of the windscreen to help make parking easier.
Other highlights include adaptive LED lighting, a photovoltaic roof, that will use sunlight to generate battery power, and GPS tracking. The Vision can also adjust its tyre pressure, according to the weight of the load it's carrying.
Obviously, the Vision is very much a prototype and no details are available in regards to powertrain outputs or economy ratings. But the technology behind the Vision is expected to be slowl integrated in to the Iveco Daily range from 2016 onwards.