Volkswagen shapes new Transporter with Tristar concept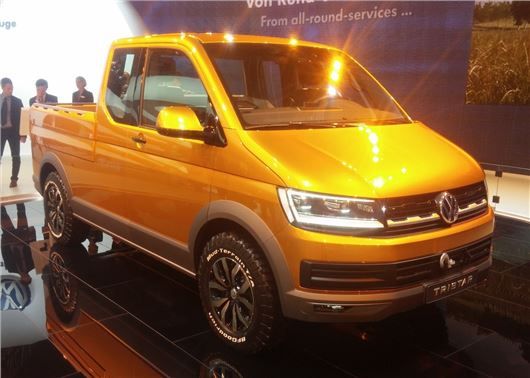 Published 23 September 2014
Volkswagen has unveiled the Tristar concept at the Commercial Vehicle Show in Germany. The pick-up styled van previews the design and technology that will be employed in the all-new T6 Transporter, which will be launched in 2015. 
The Tristar concept uses the Transporter's familiar lines, with an angular bonnet and upright cab, but beefs up the look with new bumpers, LED lights and grille. Cargo can be distributed on two separate levels, with a hardwearing floor and a spacious, dust-proof and watertight drawer located beneath.
As well as providing a waterproof pick-up load bay, the Tristar can also be transformed in to a flatbed, thanks to adjustable sidewalls that can be fully lowered.
The cabin embraces the 'mobile office' theme, with inbuilt video conferencing and a 20-inch tablet table situated in the rear of the cab. Both of the front seats in Tristar can be adjusted, which lets the driver and passenger swivel them to work off the large touchscreen table.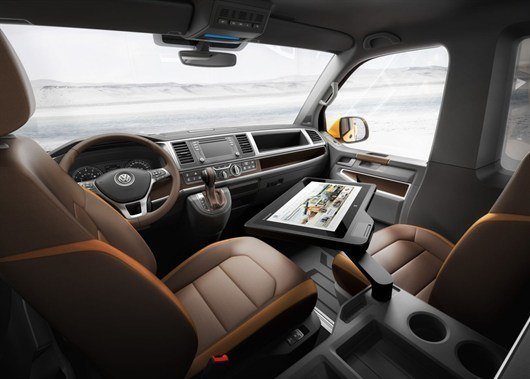 The dashboard is almost identical to that found in the current generation T5 Transporter – which is no bad thing – but Volkswagen has increased the use of soft touch materials to give the interior a more upmarket feel. There's even an espresso machine installed for those who need a regular caffeine kick.
The four-wheel drive Tristar is powered by a 204PS 2.0-litre diesel engine, with a seven speed DSG gearbox that will carry the concept to a top speed of 115mph. As well as getting an additional 30mm ground clearance, the concept is fitted with 17-inch alloy wheels and rugged off-road tyres. Volkswagen claims that the Tristar is built for hardcore off-roading, using an updated 4Motion powertrain, with improved traction and power delivery between the four-wheels.
Unfortunately, the concept will never make it into production, but its creation does give an insight into the development of the new T6 Transporter. Industry insiders tell us the new van, which will be launched in 2015, will lose the pick-up load bay, but keep the rugged exterior styling and high tech cabin.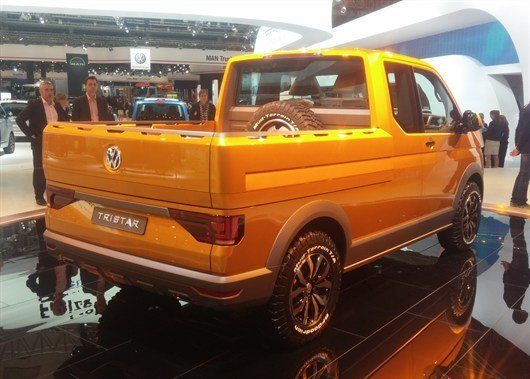 Comments
Author

Dan Powell
Latest