Mercedes-Benz Vito Sport-X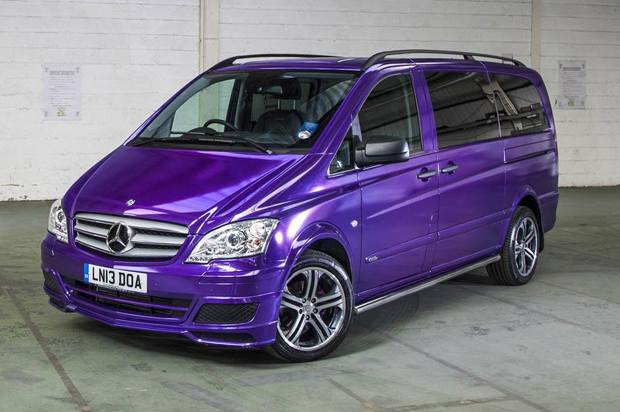 The Mercedes-Benz Vito may be due for replacement next year with a revamped model but the outgoing version still has plenty of appeal. Especially so in Sport-X trim. The Sport-X occupies a peculiar niche, in that it can at once be a regular panel van and a passable sporty MPV with up to six seats.
There's only really this and the Volkswagen Transporter Sportline that can be both a proper commercial vehicle and, potentially, day-to-day family transport. Vans this overtly sporty are rare indeed, and while the Transit Sportvan is the most famous, this Brabus-styled Vito Sport-X is perhaps even more visually striking.

Standing at the peak of Mercedes-Benz's van range – peak in the sense of panache and performance, if not outright space – the Vito Sport-X is possibly the most ludicrous production van on sale from a major manufacturer.

You get just one engine choice - a 3.0-litre V6 turbo diesel with 224PS and 440Nm, driving the rear wheels and enough to get this peacock of a van to 62mph in a decidedly non-lairy 9.1 seconds. It does feel faster than that because there's so much torque, and it all comes in one big lump from just 1400rpm up to 2800rpm.
Unless you regularly drive very slowly and with nothing in your Sport-X, you'll frequently be sailing well below the 30mpg mark – its official fuel economy rating is just 32.5mpg. Although given the power and performance that's not too bad. As a comparison the Transporter Sportline with its 2.0 BiTDI 180PS engine will average a claimed 37.2mpg.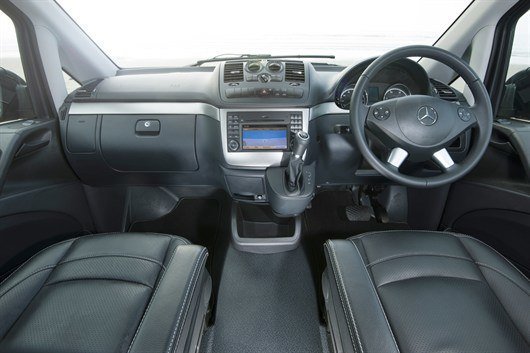 Available as a panel van or dualiner, the latter comes with five seats, each shrouded majestically in black quilted leather, while a six-seat setup is optional.

The sporty exterior flatters to deceive somewhat though, because the interior is all hard, scratchy plastics and last-generation Mercedes-Benz switchgear. Aside from those leather seats, the cabin in no way matches the flash of the Brabus-pimped body. No doubt the next generation Vito Sport-X will address these issues.

All Brabus's work comprises is 18-inch two-tone alloy wheels and a deep front spoiler, although combined with the Brabus badging, xenon headlamps and chrome effect skirts, it makes a bigger visual impact than the sum of its parts. If you're plasterer by day, resident crunk DJ by night, this could be the van for you.

The ride quality is passable rather than truly comfortable, because it's quite softly sprung and tends to bounce over the road rather more than it should. Add to that the particular ride-hardening qualities of big wheels and low profile tyres, and pillowy luxury this isn't, although when it settles on a motorway it makes for a relatively comfortable long-distance tourer. That quality is aided by the standard issue five-speed automatic gearbox.
If you're a plasterer by day, but resident crunk DJ by night, then the Vito Sport-X could be the van for you.
As is the scourge of many vans, the driving position sets the driver a little too close to the pedals, yet too far away from the top of the wheel. Plus, as this is essentially a big, plastic-lined cave, the engine produces a sound far from the smooth V6 hum you might expect – it's more like an amplified version of every other diesel van.

It's not unpleasant, but it's a million miles from sporty. But let's not get too critical, because the Sport-X is as characterful as vans come, with the sort of flexibility that will, ultimately, ensure your weekends are forever spent doing favours for friends that are buying furniture, getting rid of things, or going on adventures – the official accessories list includes a huge roof box and a bike rack, in an attempt to give this van a wider appeal than the traditional van market.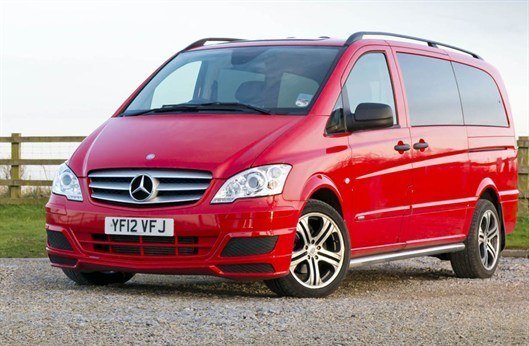 The only real thorn in the side of its flexibility is, sadly, quite a painful one. In the dualiner the rear seats are extremely heavy. The three-seat rear bench is split into a single and a double, and while both sections are easily removed from their anchors, they're not as easily shifted.
Folded up, the chairs are a perfect storm of uneven weight, unusual shape, sharp edges and acute heaviness. The doubler is certainly a job for two. Mercifully, those cumbersome rear seats can be folded forward without removing them.

Both the panel van and dualiner come in compact and long versions, with even the compact van offering a 3.36m2 cargo floor area and a 2.4m loading length. That's reduced to 1.4m in the dualiner, and the floor area shrinks to 1.88m2. Maximum payload ranges from 870kg to 1070kg.

Touches like optional heated seats, electric sliding rear doors and a rear parking camera make the Vito Sport-X feel quite splendiferous, although the bubble is burst somewhat by the obviously last-generation navigation system and archaic features like a multidisc CD changer.

But the real issue with the Sport-X is price. Out test car, equipped with options such as the £425 reversing camera and, perplexingly, £19 for an exterior VIN number plate, came in at £41,573 from a £35,595 starting point, though those numbers include VAT. Ultimately, though, for those looking to add a little showmanship to their business, and the ability to carry a crew of up to six, the Vito Sport-X is well worth considering.
For the full Mercedes-Benz Vito review click here