Driven: Volkswagen Amarok Ultimate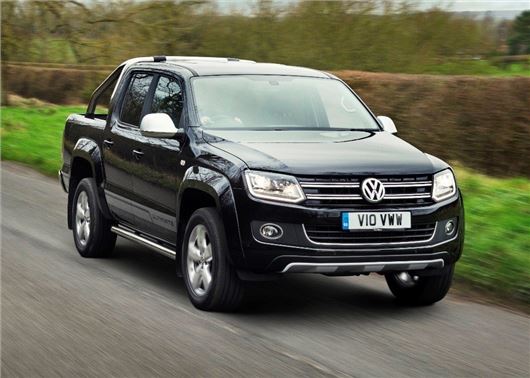 Published 16 February 2015
Volkswagen might have been a late arrival to the pick-up scene, but it has more than made up for lost time with its refined and capable Amarok. Launched back in 2011, the Volkswagen has established itself as one of the most upmarket pick-ups around, while its big and bold nature has made it a firm favourite with builders and farmers alike.
Volkswagen has now increased its pick-up appeal with a new special edition - the Amarok Ultimate - which is limited to just 500 examples and features a raft of high-spec upgrades, making it one of the most luxurious one-tonne pick-ups money can buy.
It could be argued that luxurious commercial vehicles are pointless. After all, aren't pick-ups designed for work? What's the point in kitting one out in luxury spec, if it's inevitably going to get damaged on a building site or have its interior ruined by a set of muddy work boots and overalls?
These all valid concerns, but high-spec pick-ups have found a new market in recent years and struck a cord with site managers, supervisors and property developers. As a result, the Amarok Ultimate gets some notable exterior improvements, with 19-inch alloy wheels, LED daytime running lights and a chrome exterior package.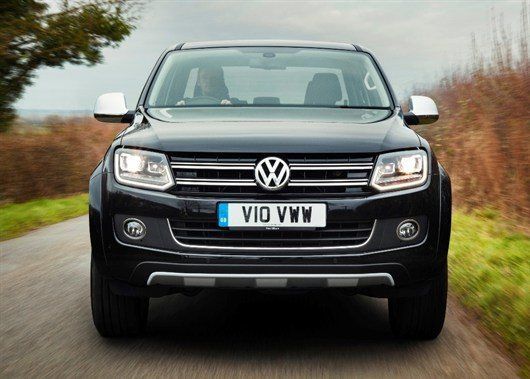 The standard Amarok is no shrinking violet, but this Ultimate edition adds some stylish improvements to the exterior, while the chrome rear bumpers providing extra protection from light scruffs and knocks. There's also a set of chrome bars in the load bay, which are useful for securing loose loads., although the shiny metal will be vulnerable to scratches and dents from shifting loads.
We also have some reservations about the full width rear window which will easily shatter if struck by a wayward piece of two by four. However, the loadbay is wide and features a durable protection cover, although we'd recommend fitting a lockable hard cover, which would protect valuables in the back.
The Volkswagen payload is large and will carry up to 1070kg, with 2.5 square metres.  As a result, it will carry a Euro pallet (sideways), along with tools, materials and large items of equipment. The cabin is also surprisingly durable too and the dashboard is covered in a layer of hardwearing plastic, while the deep door pockets and large centre box will ensure loose items will be stored without problem. 
The Amarok is a large vehicle for passengers too and the rear bench will have little trouble carrying three adults, while the leather seats will ensure they're comfortable at all times. Likewise, in the front, the leather heated seats are supportive and ideal for long trips, while the traditional Volkswagen switchgear and dials provide a reassuringly family feel to many of the controls.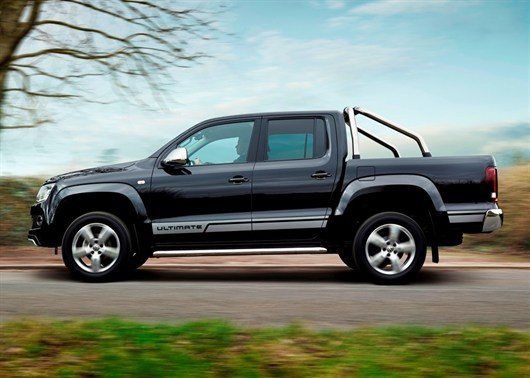 The Amarok is powered by the same 2.0 bi-turbo diesel that's found in the Transporter, which means it is smooth and packed with torque. The 180PS BiTDI unit will return 400Nm, from as a little as 1500rpm in manual form, while the six-speed auto provides a thumping 420Nm from 1750rpm. This means that - even with a full load - the Amarok is never short of pace. 
The six-speed manual version has selectable four-wheel drive, via a switch next to the gearbox, and feels surprisingly sure footed in two-wheel drive mode on the road. Sometimes pick-ups can be a little tail happy in the wet, but the Volkswagen keeps everything in check, while its mountain of torque ensures it will navigate steep inclines or rutted tracks with ease. The six-speed auomatic gets full time four-wheel drive, but this isn't as economical as the manual version, which returns a claimed 35.3mpg compared to the former's 33.2mpg. 
Off road the Amarok is capable with hill descent control and a centre differential lock that improves traction by directing power to the wheels with the best grip. The Amarok also has a low range of gears, which will pull it through heavy mud or snow. Indeed, the Volkswagen is an accomplished off-roader and will match most 4x4s, although we wouldn't recommend tacking anything too arduous with a full load in the back.
Although limited to just 500 examples, the Amarok Ultimate is one of the best pick-ups to emerge from Volkswagen's stable. Capable, practical and stylish, the Amarok Ultimate will find plenty of appeal with those who want a works' vehicle that will portray a rugged corporate image. Indeed, in Ultimate edition, the Volkswagen pick-up looks more accomplished than ever before, while its superb 4x4 running gear will ensure it will never disappoint when it comes to tackling the demands of off road driving.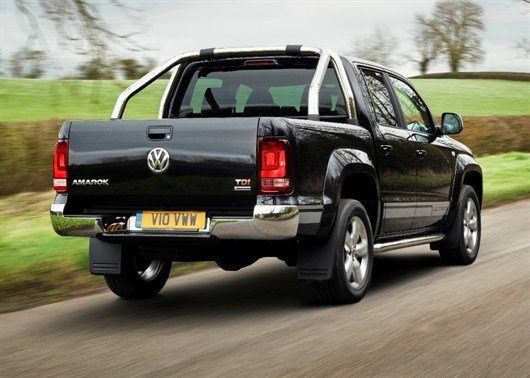 Comments
Author

Dan Powell
Latest