Volkswagen unveils new California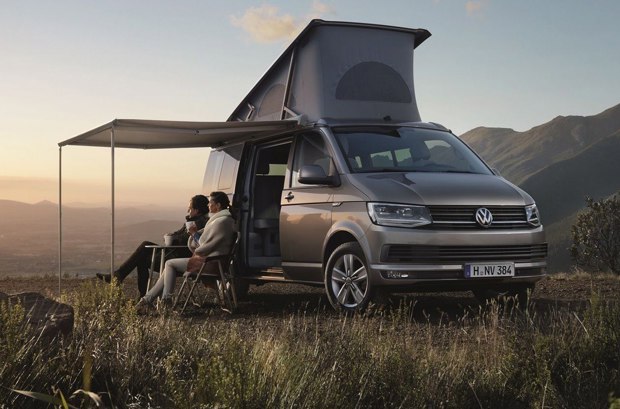 Volkswagen has unveiled the new California, based on the latest T6 Transporter. We say 'new' but it is in fact more a thorough revamp of the previous model.
There are no details on prices yet, but you can expect it to arrive towards the end of the year, just in time for wintry glamping adventures. At the same time, Mercedes-Benz is set to launch its first ever in-house camper, the V-Class based Marco Polo,
The revamped California is more economical, gets more safety and entertainment technology, plus Volkswagen is promising that it will be better to drive.
But there are no seismic shifts here, with a very similar look to its predecessor inside and out. Volkswagen claims that the new California retains the "legendary practicality and storage ingenuity" of its predecessor.
The more basic Beach model continues but the SE has been renamed Ocean. It comes with a fitted kitchen, a 42-litre fridge, twin gas hobs and a stainless steel sink. New features include LED lights for the pop up roof section and improved multi-function storage compartments in the main living part.
At launch engines include an entry level 2.0-litre TDI with 102PS and a 2.0-litre TSI petrol with exactly twice that output. Volkswagen has only added that there will be manual and DSG options, and four-wheel drive available, but you can bet your bottom tent peg that there'll be a 150PS 2.0-litre TDI on the engine list.
Safety is one area that Volkswagen claims big improvements in this time around, with the California now including a driver alert system, braking assist and automatic post-collision braking – all tech that features on Volkswagen's passenger cars.
Addtionally, the touchscreen infotainment system is much improved, again taken from Volkswagen's road cars – and one of the very best there is, in our experience.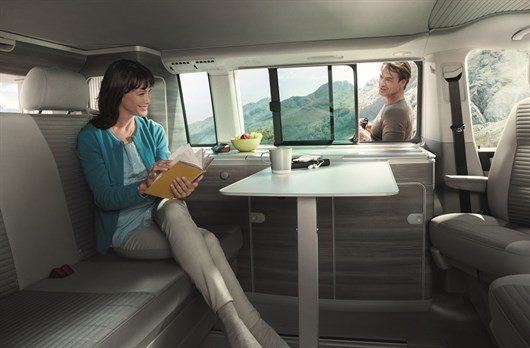 Click here to read our review of the current Volkswagen California.
And click here for our story on winter camping in one.