Driven: Volkswagen Caravelle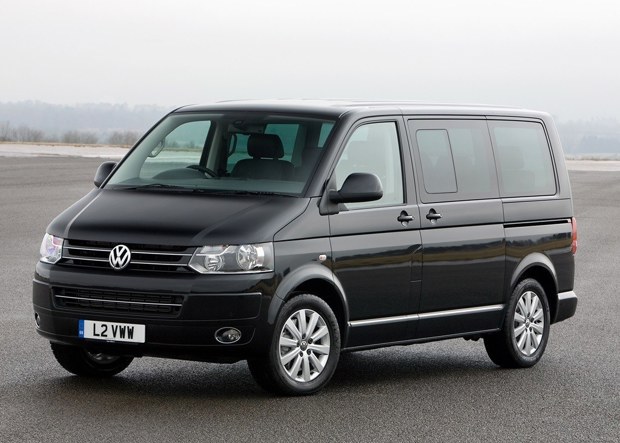 In the MPV space race there are few vehicles that can match the Volkswagen T5 Caravelle for sheer size or all-round ability. The Caravelle is effectively the heavyweight champion of the large MPV sector, combing large van-like dimensions with the driving characteristics and cabin quality of a luxurious family hatchback. 
Since its launch in 2010, the updated T5 Caravelle has become a favourite with taxi firms, airport shuttles, chauffeurs and families. And it's still going strong, despite the fact that it's about to be replaced with the new T6. In fact, if you are reading this on your laptop or phone at an airport, we challenge you to walk outside for a few moments without spotting at least one T5 Caravelle - it's that popular. 
Understanding the Caravelle's appeal isn't difficult. It's comfortable, easy to drive and can carry up to seven people in comfort. Climb into the cabin and you'll find a simple yet effective layout, with a raised driving position and clear van-like displays. It also has one of the best views of the road, thanks to the huge windscreen. Blind spots are also minimal, which means you can change lanes on the motorway without fear of clipping an unseen car.  
The Caravelle is offered with one diesel engine and the choice of two outputs - 140PS and 180PS - while the general options list covers everything from extended wheelbases, seven-speed DSG gearboxes and four-wheel drive. For most British buyers however the standard front-wheel drive Caravelle with 140PS is enough, with the 2.0-litre diesel producing 340Nm of torque that will provide all of the acceleration you'll ever need. The 0-62mph time takes a leisurely 14.2 seconds while official fuel economy is a reasonable 39.2mpg.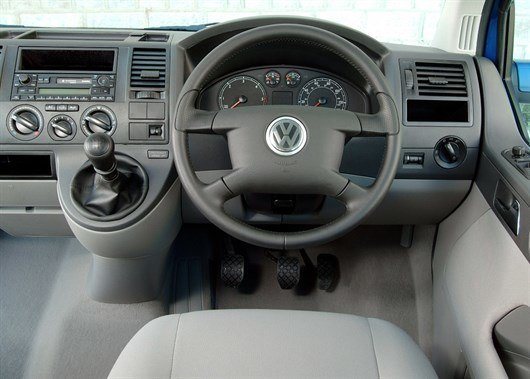 Obviously, the two tonne Caravelle is not built for speed, but it is still a lot of fun to drive. Almost all models get sports suspension and the firm set-up gives the T5 the same cornering ability and handling as any large family saloon. Admittedly, the steering is a tad vague, but the Volkswagen is an easy vehicle to acclimatise to and it's not afraid of the UK's bumpy A or B roads. 
Indeed, the Caravelle feels a lot smaller than its five meter length suggests, with an excellent turning ability and plenty of all-round grip. As a result it's an extremely rewarding MPV to drive, while its urban manners are good enough to make it a relaxing vehicle to navigate in traffic jams or cut through narrow streets. Hardly surprising perhaps that its customer base has stretched far beyond its posh taxi mandate, with families making up a large number of Caravelle buyers. 
The Volkswagen is surprisingly versatile too, with a smart rail seating system that allows the driver to tailor the cabin to fit their specific needs. For example, the second and third row of seats (and the multifunction table) can be moved forwards to maximise luggage space or backwards to offer more leg room. The T5 also has enough head and shoulder space to swing the proverbial cat.
There are some drawbacks though: the Caravelle's seats are not as easy to remove as Volkswagen claims. In fact, due to their bulky nature, you'll have to be an Olympic weightlifter to succeed in getting them out on your own, without pulling your back or giving yourself a hernia. And once they're out, you'll be hard pushed to find a space big enough to store them or indeed motivate yourself put them back in again.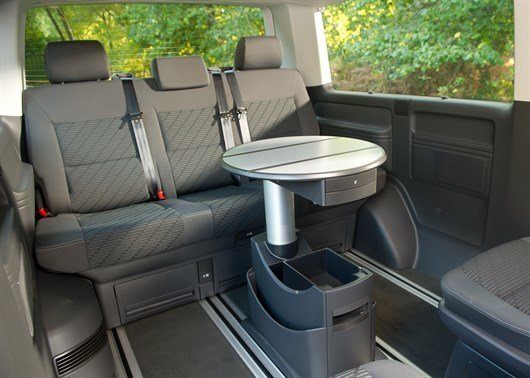 The Caravelle is also expensive. In fact, you'll need to part with £36,000 (including VAT) to get a base spec T5 model. In comparison the Hyundai i800 is more than £10,000 less, while the smaller Mercedes-Benz Vito undercuts its rival by a sizeable figure that will allow you to buy a Dacia Sandero and still have enough change to take a short holiday to the Maldives.  
Yet, despite its eye watering premiums, the Caravelle makes a compelling argument as a superb family car or people mover for professional drivers. The interior is a huge step up in quality over its rivals and the plush fixtures and comfortable and supportive seats wouldn't be out of place in any of the high class German executive saloons. 
However, for some, the sky high price tag will be more than enough to dismiss the Volkswagen before they've even set foot in a dealership. Which is a shame, because the Caravelle is brilliant at what it does and we have little hesitation in recommending it. What's more, with some of the best residual values in its class, the T5 also makes a lot of sense as a used purchase; although it's important to do your homework first… click here