Driven: Volkswagen Crafter Luton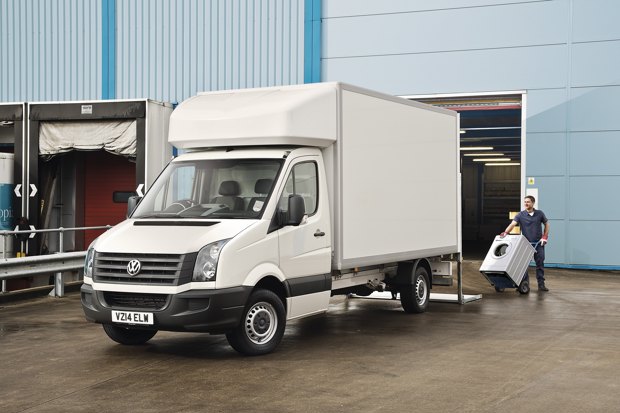 There are times when even the biggest panel vans on the market just don't offer enough load space. These situations require a chassis cab and a Luton body, just like Volkswagen's huge Crafter Luton body conversion.
The £33,380 (ex VAT) Crafter Luton starts life as a long wheelbase chassis cab - that's the front cab and the empty chassis at the back - before being converted into a Crafter Luton. On the back goes a purpose-built Luton 'box', which makes it more than four metres in length and two metres in height. Volkswagen works with a partner (a British bodybuilder called Ingimex) to offer these conversions and they are sold as part of Volkswagen's "Engineered To Go" range. 
The Crafter Luton delivers a whopping 17 cubic metres of cargo space, which makes it one of the largest vans you can drive on a standard licence without straying into large commercial vehicle territory. It's the perfect size for people moving house, delivering furniture or couriering large, heavy or cumbersome loads.
But be careful with those loads as the total of the van and its contents cannot add up to more than 3.5-tonnes and the van and Luton box already add up to more than two tonnes, leaving you with roughly one tonne to play with. Sounds a lot, but the Luton body is capable of carrying a lot - and pushing you over the weight limit quickly.
An electric tailift is an additional £2045, but necessary for getting heavy loads into the van and reducing the amount effort required for loading. You can load a number of items onto the tailift at once, minimising the need for entering the back of the van.
Standard Luton features include a four-tier load restraint system, a high-strength shutter and rear foot step. The bodies are capable of carrying substantial loads and feature a reinforced bottom plank to protect against movement of unsecured loads.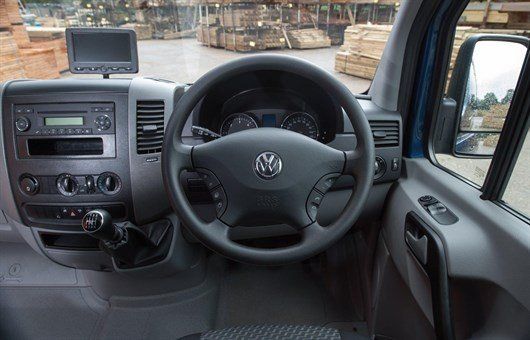 It's a top quality conversion, with no sign of the joins, a smooth finish and a quiet roller shutter. Inside you have plenty of lashing points and a useful non-slip floor. There's also the addition of a built-in swivel lamp, which is particularly useful if you're using the van at night. During the day, skylights in the roof keep the GRP-built box surprisingly light.
Under the bonnet is Volkswagen's 2.0-litre diesel engine with 136PS or 163PS on offer and up to 400Nm of torque. In 163PS form it's a gutsy performer, strong on acceleration and able to cruise for hours on the motorway at 60mph with ease - even with a full load. Both engines pass Euro 5 emissions regulations. 
The sheer size and aerodynamics aren't kind on the fuel economy. On paper it's capable of 33.6mpg, but fill it up and drive into a headwind and you'll be looking at between 20-25mpg. Despite its gargantuan size, it's actually pretty nimble to manoeuvre, thanks to a tight turning circle.
Visibility is a big issue, both when parking and when on the road, especially if you're not used to driving vehicle of this size and shape. The large mirrors give clear views down the side of the van, but the absence of reversing sensors or a reversing camera means you need to really have your wits about you when backing up - and ideally someone to guide you in.
Inside it's Crafter business as usual. That means a high quality interior (the Crafter is built alongside the Mercedes-Benz Sprinter), utilising robust and rugged materials. There's plenty of space up front for three (driver and two passengers) in comfort with stacks of head and legroom.
All chassis cab vans have a radio CD stereo with an aux-in, an SD card slot and Bluetooth hands-free telephone connectivity (simultaneous pairing for two devices). There is also cruise control, a driver's seat armrest while the driver's seat has height, reach and rake adjustment. Other kit includes a dual passenger seat with a storage box and folding tray in backrest along with electric windows making the Crafter comprehensively equipped for the money.
Click here for our full range review of the Crafter, including standard panel vans