CV Show 2016: 10 things you need to know about the Toyota Hilux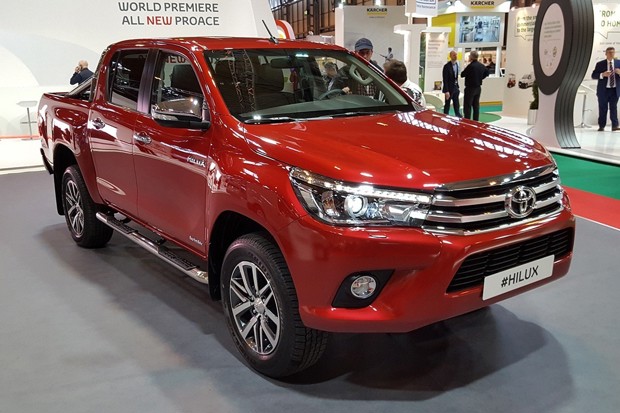 It's been a busy couple of years in the world of pick-ups. We've had a new Mitsubishi L200, a new Nissan Navara and now a new Toyota Hilux, a car famed for its rugged durability. All that extra choice is bound to be exciting if you want a new pick up – so here are 10 things you need to know about Toyota's new truck.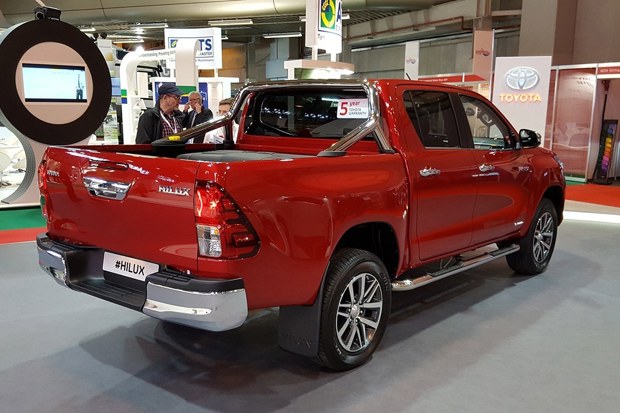 Single, Double and Extra cab variants will be available
Toyota is to produce three differnt cab variants of thew new Hilux. A single cab with two seats will form the entry point into the range. For a bit of additional space and some small, uncomfortable seats, there's an Extra cab, too.
But that's unlikely to do as well as the proper double cab, which has two extra doors and proper, comfortable back seats with enough space for adults to sit in comfort. We reckon this model will be the big seller in the UK.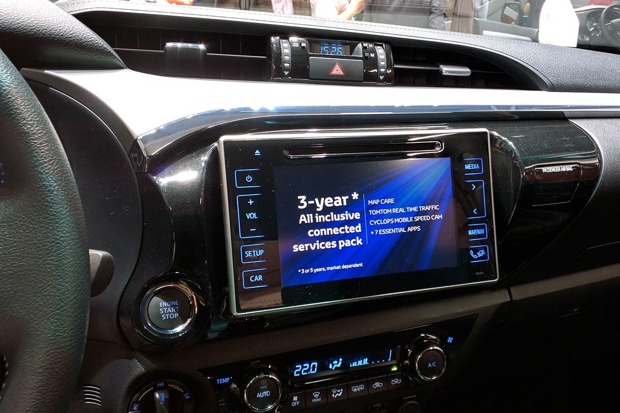 The cabin is plush and car-like
Inside, the Hilux is a much plusher than you might expect of a pick-up truck. The seat upholstery and materials manage to feel rugged without looking cheap and there's leather if you really want to go upmarket. In fact the dashboard layout and materials wouldn't look out of place in an SUV.
There are two cup holders, plus there is a double glove compartment with more than enough space for paperwork or even a small laptop. There's also a touchscreen system, available with navigation and a host of other functions more typical of a family car than a workhorse pick-up.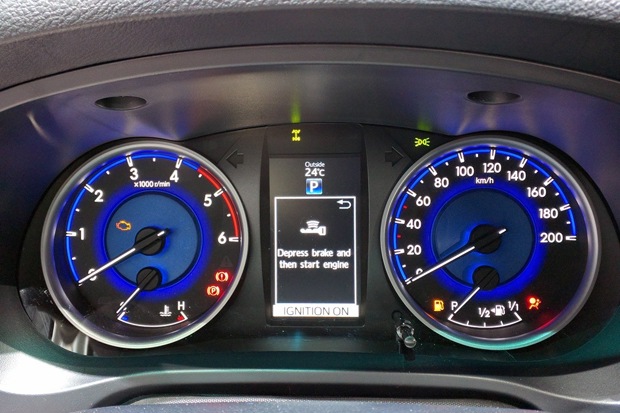 There's a new 2.4-litre diesel engine
The old 3.0-litre diesel engine previously offered in the Hilux has been ditched in favour of a new 2.4-litre engine. Despite being smaller, it produces more low-end torque – 400Nm from 1600-2000rpm – which makes it feel more responsive.
If you want the details, it's a 16-valve, 2393cc engine a variable nozzle turbocharger and an intercooler, producing peak power of 150PS at 3400rpm. Six-speed manual and six-speed auto transmissions are available and economy is expected to be 39.8mpg.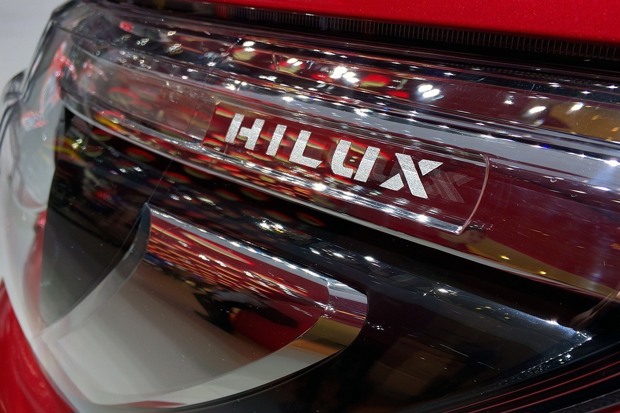 It'll tow 3.5 tonnes
If you think the Hilux isn't massive enough and you feel like making it extra-long, you'll be pleased to hear it has a towing capacity of 3500kg – the maximum any vehicle this side of a proper truck is permitted to tow.
Horseboxes, trailers and caravans will be no trouble at all – especially thanks to the improved torque output at low revs. This should make standing starts and hills far easier than they have ever been in a Hilux before.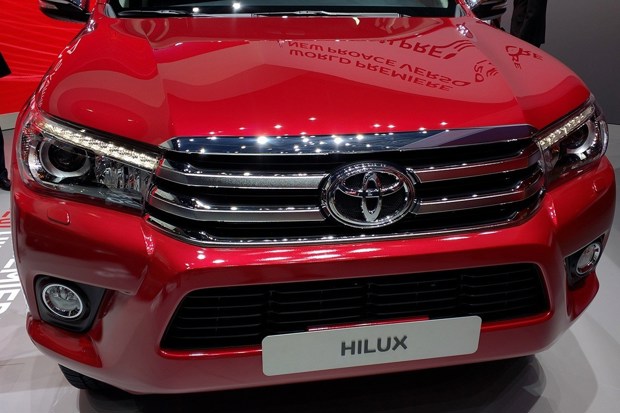 It has advanced safety gadgets
The Hilux is big and strong enough to hold its own in a crash, but these days it takes more than crumple zones, airbags and general heftiness to get a really good Euro NCAP safety rating. Active safety technologies are needed too.
Toyota knows this – so there's a pre-collision system, lane departure warning, automatic high beams and traffic sign assistance available on the Hilux. These all work of the same sensor box at the top of the windscreen, which has a camera and a laser mounted within.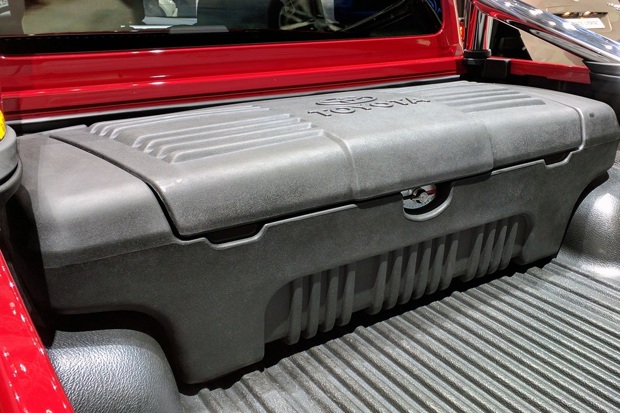 There are plenty of handy accessories
As you would expect there are plenty of accessories to tart up the Hilux, including a chrome rollover bar, along with a range of more practical and useful bits and pieces including load covers and a tool box that mounts in the bed.
As time goes on you can expect plenty more parts from sources other than Toyota, including brush guards, spotlights and a wider variety of bed modifications to suit different needs, whether on the farm, on a work site or on a city street trying to look cool.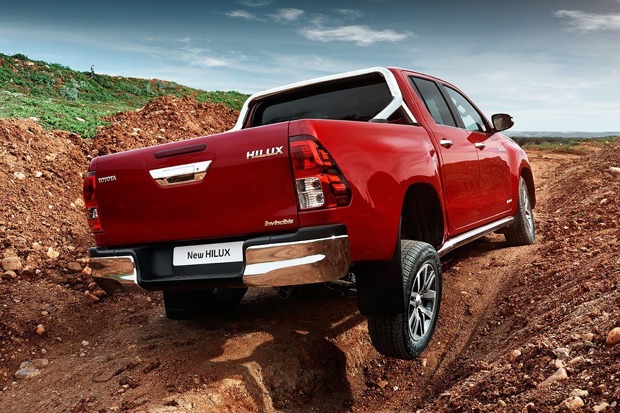 Off-road performance should be good
Chassis rigidity is up 20 per cent over the old Hilux, which should make for improve handling on the road – but off-road performance hasn't been forgotten. There is a switchable all-wheel drive system with low range, plus locking limited slip differentials for really tough stuff.
Unlike the latest Nissan Navara, the Hilux makes do with leaf springs at the rear, with twin shock absorbers. Since we haven't driven the new Hilux we can't comment on how well it competes with the Navara for comfort, though it'll have to be good to beat the Nissan.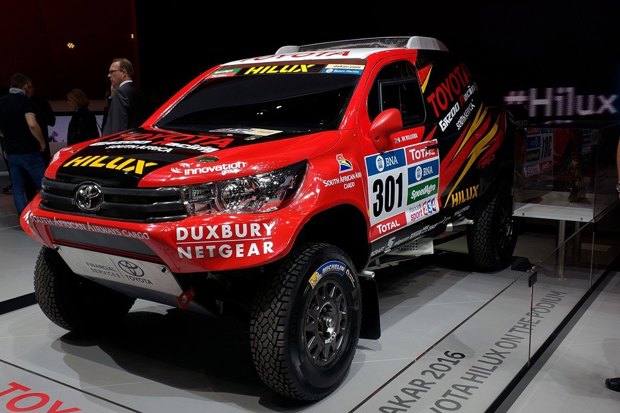 It's already proven itself in the Dakar rally
Toyota entered the Hilux into the 2016 Dakar rally. In fact, it entered three, though they weren't a lot like the one you'll be able to buy. Instead they were fitted with a mid-mounted V8, like that used in the Lexus RC-F, tuned to suit the tough off-road conditions.
The load bed was chopped down and various bits and pieces were carried over from earlier, competition-bred Hilux entries. In reality next to nothing is shared between the Dakar Hilux and the one coming to showrooms – but who cares? It looks cool.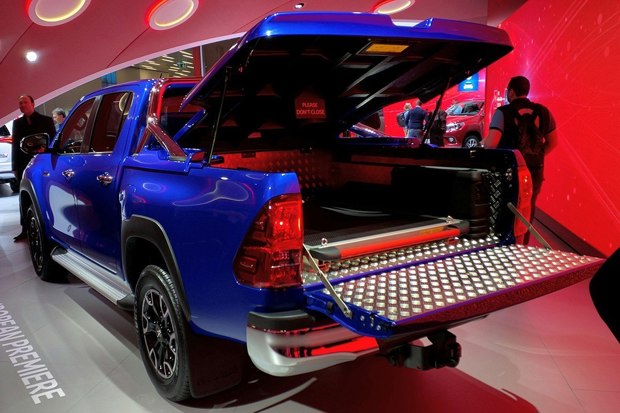 The load area is more useful than before
The latest Hilux has a wider bed than the outgoing model, up from 1544mm to 1645mm, plus there is a stronger tailgate with hinges designed to withstand heavier loads. The deck has also been strengthened to prevent damage caused when moving bulky, heavy items around.
Toyota hasn't confirmed payloads, but we expect the new Hilux to carry over a tonne. A redesigned, lower step means access to the bed when the tailgate is closed is a little easier and there have been some more minor changes, including a new position for the antenna to help with clearance when attaching some accessories like spotlamps, rollover bars or load area covers.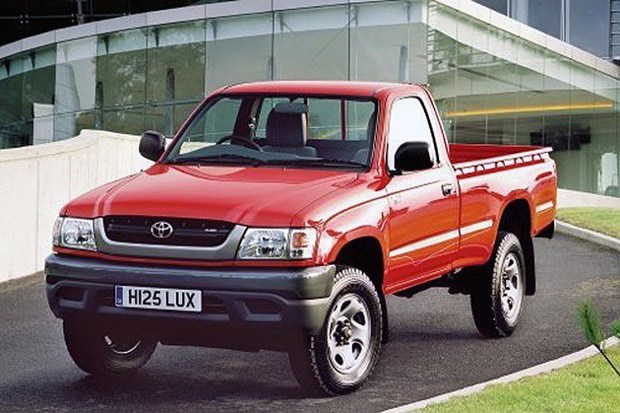 It's the eight-generation Hilux
Believe it or not, Toyota has been making the Hilux since 1968. Since then there have been eight generations of the car including this one. Early models aren't likely to look very familiar to British buyers, but the fourth generation was fairly popular in the UK during the 1980s.
Since then, battered, bruised, dented and yet somehow still functional examples of the Hilux have become a common sight. Toyota's workhorse has developed a well-deserved reputation for being rugged, capable and reliable – something that will help with sales of the latest model.