CV Show 2016: Electric Citroen Dispatch confirmed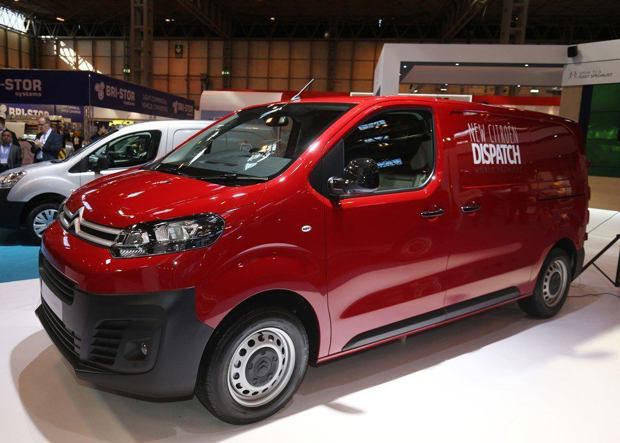 Citroen has confirmed that an electric Dispatch van is on the way. The plug-in panel van could reach the UK by 2017, offered alongside the standard diesel range that will arrive in showrooms in September from £17,495 (excluding VAT).
The electric Dispatch van was confirmed at the CV Show 2016 by Citroen's head of light commercial vehicle division, David McQueen.
"An electric van will definitely happen," said McQueen. "The Dispatch uses a new modular platform that makes it quite simple for us to adapt it to a plug-in powertrain. We are already working on this. It will certainly happen."
The news comes as Citroen confirms the pricing and specs for the diesel models, which will go on sale in June and reach showrooms in September. The all-diesel line-up spans seven engines, split between 1.6 and more powerful 2.0-litre units. It's claimed that the 1.6 115PS engine will return 55.3mpg. Most powertrains are linked to a six-speed manual gearbox as standard, but the powerful 2.0-litre with 180PS will be aligned with a six-speed automatic.
Prices for the entry-level 95PS 1.6 diesel will start at £17,495, while the 115PS unit will start from £18,295. The range topping 180PS unit will cost more than £22,000 in base trim and all models get twin-sliding doors as standard, along with full steel bulkhead and a full-size spare wheel.
The 47 model New Citroën Dispatch LCV range is as follows:
| | |
| --- | --- |
| New Citroën Dispatch X         | MRB Price* |
| New Dispatch Panel Van BlueHDi 95 manual XS 1000 X | £17,495 |
| New Dispatch Panel Van BlueHDi 95 S&S ETG6 XS 1000 X | £18,275 |
| New Dispatch Panel Van BlueHDi 115 S&S 6-speed manual XS 1000 X | £18,295 |
| New Dispatch Panel Van BlueHDi 120 S&S 6-speed manual XS 1400 X | £18,695 |
| New Dispatch Panel Van BlueHDi 150 S&S 6-speed manual XS 1400 X | £19,795 |
| New Dispatch Panel Van BlueHDi 180 S&S EAT6 XS 1300 X | £22,795 |
| New Dispatch Panel Van BlueHDi 95 manual M 1000 X | £18,195 |
| New Dispatch Panel Van BlueHDi 95 S&S ETG6 M 1000 X | £18,975 |
| New Dispatch Panel Van BlueHDi 115 S&S 6-speed manual M 1000 X | £18,995 |
| New Dispatch Panel Van BlueHDi 120 S&S 6-speed manual M 1400 X | £19,395 |
| New Dispatch Panel Van BlueHDi 150 S&S 6-speed manual M 1400 X | £20,495 |
| New Dispatch Panel Van BlueHDi 180 S&S EAT6 M 1250 X | £23,495 |
| New Dispatch Panel Van BlueHDi 95 manual XL 1200 X | £19,095 |
| New Dispatch Panel Van BlueHDi 95 S&S ETG6 XL 1200 X | £19,875 |
| New Dispatch Panel Van BlueHDi 120 S&S 6-speed manual XL 1400 X | £20,295 |
| New Dispatch Panel Van BlueHDi 150 S&S 6-speed manual XL 1400 X | £21,395 |
| New Dispatch Panel Van BlueHDi 180 S&S EAT6 XL 1250 X | £24,395 |
|   |   |
| New Citroën Dispatch Enterprise |   |
| New Dispatch Panel Van BlueHDi 95 manual XS 1000 Enterprise | £18,845 |
| New Dispatch Panel Van BlueHDi 95 S&S ETG6 XS 1000 Enterprise | £19,625 |
| New Dispatch Panel Van BlueHDi 115 S&S 6-speed manual XS 1000 Enterprise | £19,645 |
| New Dispatch Panel Van BlueHDi 120 S&S 6-speed manual XS 1400 Enterprise | £20,045 |
| New Dispatch Panel Van BlueHDi 150 S&S 6-speed manual XS 1400 Enterprise | £21,145 |
| New Dispatch Panel Van BlueHDi 180 S&S EAT6 XS 1300 Enterprise | £23,545 |
| New Dispatch Panel Van BlueHDi 95 manual M 1000 Enterprise | £19,545 |
| New Dispatch Panel Van BlueHDi 95 S&S ETG6 M 1000 Enterprise | £20,325 |
| New Dispatch Panel Van BlueHDi 115 S&S 6-speed manual M 1000 Enterprise | £20,345 |
| New Dispatch Panel Van BlueHDi 120 S&S 6-speed manual M 1400 Enterprise | £20,745 |
| New Dispatch Panel Van BlueHDi 150 S&S 6-speed manual M 1400 Enterprise | £21,845 |
| New Dispatch Panel Van BlueHDi 180 S&S EAT6 M 1250 Enterprise | £24,245 |
| New Dispatch Panel Van BlueHDi 95 manual XL 1200 Enterprise | £20,445 |
| New Dispatch Panel Van BlueHDi 95 S&S ETG6 XL 1200 Enterprise | £21,225 |
| New Dispatch Panel Van BlueHDi 120 S&S 6-speed manual XL 1400 Enterprise | £21,645 |
| New Dispatch Panel Van BlueHDi 150 S&S 6-speed manual XL 1400 Enterprise | £22,745 |
| New Dispatch Panel Van BlueHDi 180 S&S EAT6 XL 1250 Enterprise | £25,145 |
|   |   |
|  New Citroën Dispatch Enterprise Plus |   |
| New Dispatch Panel Van BlueHDi 120 S&S 6-speed manual XS 1400 Enterprise Plus | £21,645 |
| New Dispatch Panel Van BlueHDi 150 S&S 6-speed manual XS 1400 Enterprise Plus | £22,745 |
| New Dispatch Panel Van BlueHDi 180 S&S EAT6 XS 1300 Enterprise Plus | £25,145 |
| New Dispatch Panel Van BlueHDi 120 S&S 6-speed manual XS 1400 Enterprise Plus | £22,345 |
| New Dispatch Panel Van BlueHDi 150 S&S 6-speed manual M 1400 Enterprise Plus | £23,445 |
| New Dispatch Panel Van BlueHDi 180 S&S EAT6 M 1250 Enterprise Plus | £25,845 |
| New Dispatch Panel Van BlueHDi 120 S&S 6-speed manual XL 1400 Enterprise Plus | £23,045 |
| New Dispatch Panel Van BlueHDi 150 S&S 6-speed manual XL 1400 Enterprise Plus | £24,145 |
| New Dispatch Panel Van BlueHDi 180 S&S EAT6 XL 1250 Enterprise Plus | £26,545 |
|   |   |
| New Citroën Dispatch Chassis Cabs |   |
| New Dispatch Platform Cab BlueHDi 95 manual 1200 X | £17,425 |
| New Dispatch Platform Cab BlueHDi 120 S&S 6-speed manual 1400 X | £18,625 |
|   |   |
| New Citroën Dispatch Crew Vans |   |
| New Dispatch Crew Van BlueHDi 120 S&S 6-speed manual M 1400 Enterprise | £20,045 |
| New Dispatch Crew Van BlueHDi 120 S&S 6-speed manual XL 1400 Enterprise | £24,195 |
* Excluding VAT