Essential knowledge: New Citroen Dispatch and Peugeot Expert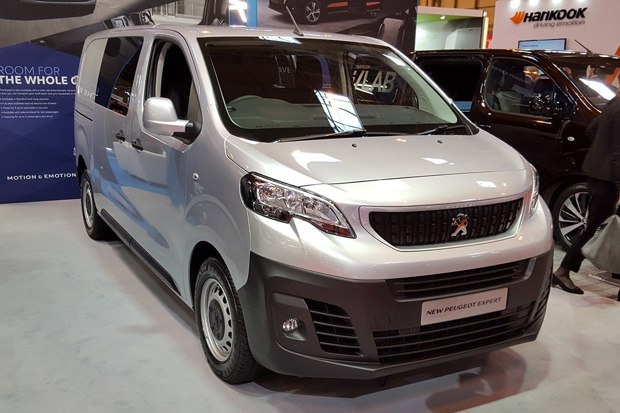 Peugeot and Citroen have unveiled the all-new Expert and Dispatch. The medium-sized vans get new engines, platforms and improved safety kit. As always, Honest John Vans got unrestricted access to the new vehicles.
Click through the gallery below to get all of the essential knowledge on the new vans.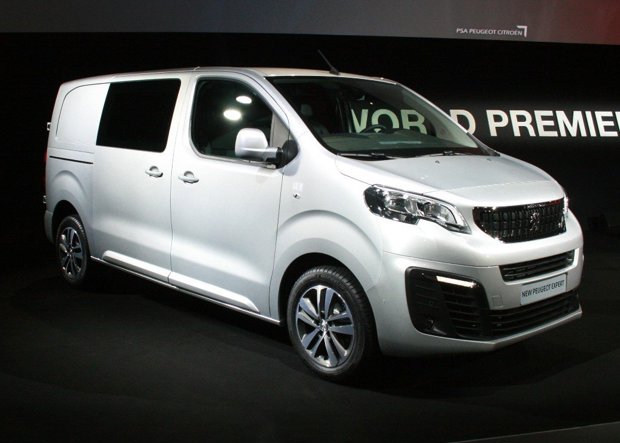 All-new platform and engines
Both the Dispatch and Expert (pictured) are born out of a collaboration between Citroen, Peugeot and Toyota. This means there will also be a new Proace in 2016. All of the vans are built in France and offered with the same range of diesel engines. 
Prices start from £17,495 and both the Dispatch and Expert are based on modified version of the Peugeot 308 modular platform. However, unlike the car, the vans get a high strength steel and construction to cut weight and increase their size. As a result the Dispatch/Expert is compact - smaller than the Ford Transit Custom - yet capable of carrying huge payloads.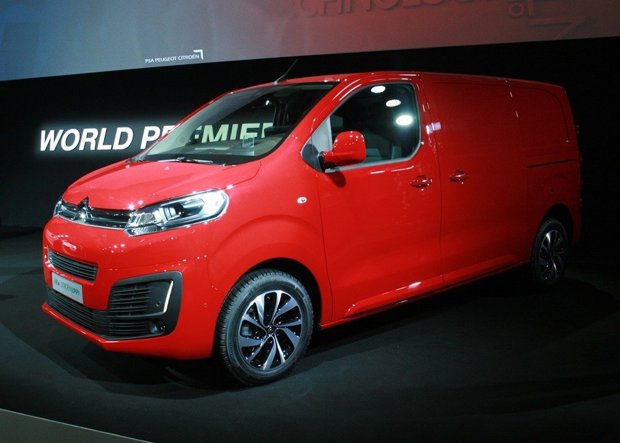 The names might change, but the van remains the same
The Citroen Dispatch (pictured) and Peugeot Expert might carry different badges, but they're effectively the same van underneath. We haven't seen the Toyota Proace in the metal. The styling does differ slightly, but you'd struggle to tell them apart from a distance. 
We've been told the decision to co-build the van is largely down to cost. However, as well as saving money, the trio of manufacturers have been able to achieve significant weight savings by redesigning chassis plus front and rear axles. As a result the new van weighs in at 150kg less than the outgoing model. 
Up to 55.3mpg from new 1.6 and 2.0 diesel engines
The all-diesel line-up spans seven engines, split between 1.6 and more powerful 2.0-litre units. It's claimed that the 1.6 115PS engine will return 55.3mpg, which is impressive when you consider than the leanest Transit Custom will only manage 47.1mpg. The T6 Transporter will only muster 47.9mpg. Although these are all claimed figures of course...
Most engines are linked to a six-speed manual gearbox as standard, but the powerful 2.0-litre with 180PS will be aligned with a six-speed automatic and return a claimed 46.3mpg. All will use AdBlue, which will cover roughly 9000 miles before it need replenishing via the exterior filling flap.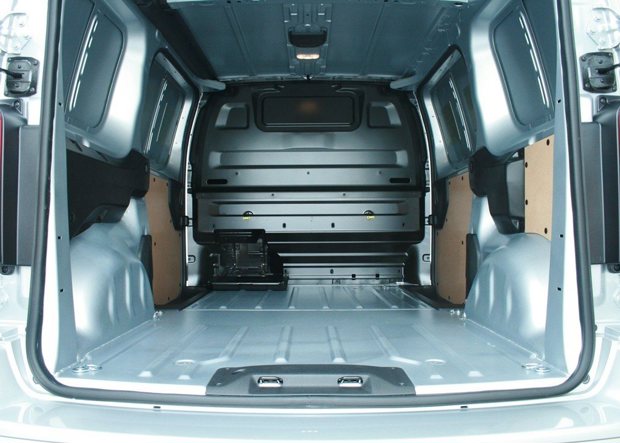 1400kg payload and 2.5 tonne towing capacity
Available in three load lengths, the Citroen Dispatch and Peugeot Expert will carry 1400kg and tow a maximum 2.5 tonnes when hooked up to a braked trailer. The maximum load length for compact versions will be 3.3 metres, but this will increase to more than 4.0 metres with the long wheelbase versions. 
All vans will carry three Euro pallets with ease. Like the Renault Trafic, the Dispatch and Expert get smart storage options, with a large hatch built into the bulkhead to maximise the full load length of the van.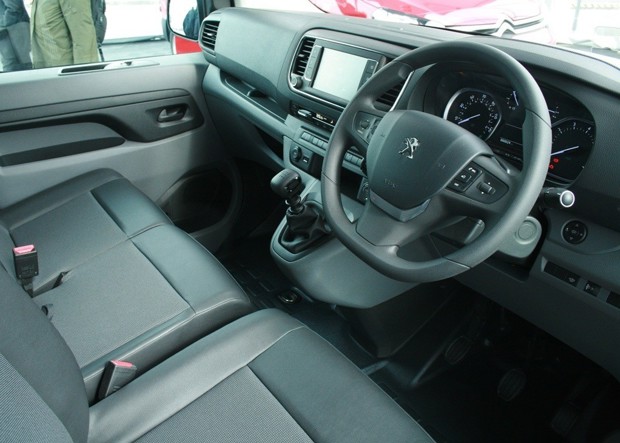 Car-like interior with lots more tech
The cabin gets more car-like features, with higher quality fit and finish throughout. Three seats will also be available in the front, with a the middle seat folding down as a makeshift laptop table. There is also a useful storage space under the middle seat to keep valuables out of sight. 
We are told that the new van provides 49 litres more in-cab storage over the outgoing Dispatch/Expert, with deeper door pockets and twin gloveboxes incorporated into the dashboard.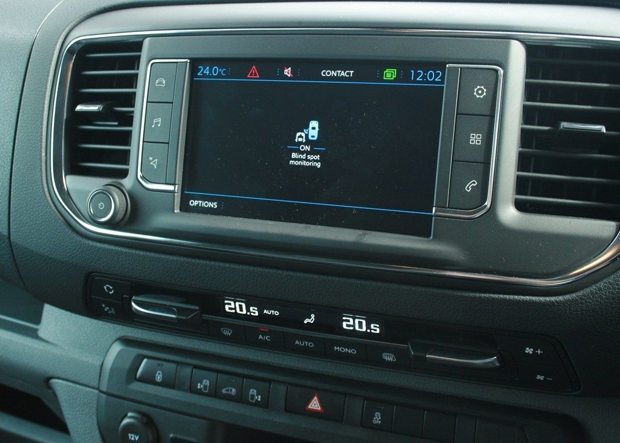 Improved in-cab connectivity
The in-cab tech gets a boost. A seven-inch touchscreen will be available as an option, with 3D navigation, voice recognition and media connectivity. The system is supplied by TomTom and will include free lifetime map updates and traffic alerts. You won't need to connect your phone for it to work either, with the system connecting automatically via a dedicated TomTom signal. 
An optional Alert Zone pack will also allow the system to detect road accidents, speed camera zones and adverse weather conditions. The system will also integrate Apple CarPlay and MirrorLink, which will display smartphone functions on the colour touchscreen.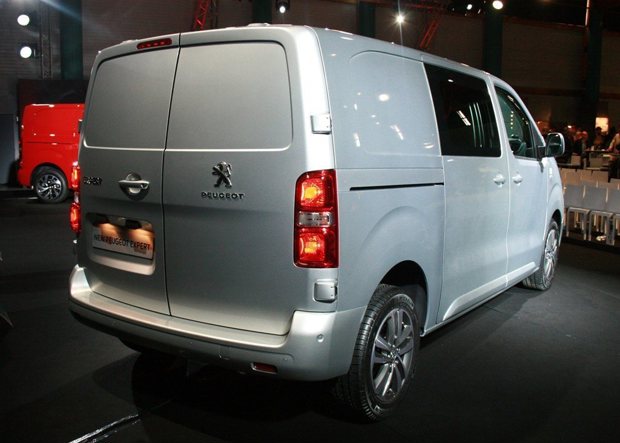 Improved handling
As well as a car-like interior, Citroen and Peugeot claim to have made significant gains in the van's handling and refinement. Soundproofing and thermal insulation is bolstered with the use of hardened foam in the body panels.
Owing to its car origins, the new vans have reduced body overhangs, which should make them more agile. The turning circle is a family car rivalling 11.3 metres and ride quality has been addressed, with better damping over pot holes or rough road conditions. All vans are limited to 1.9 metres in height, which means they should all easily fit into a city-centre multi-storey car park.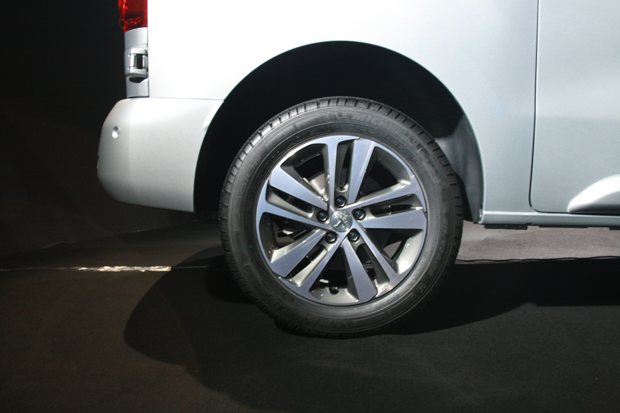 Four-wheel drive and grip control to be added to the range in 2017
The new platform could also get four-wheel drive, along with an enhanced grip control system for the front-wheel drive models. 
Potentially, this will give both the Expert and Dispatch all-road capability, while the 4x4 system and raised ride height should also give it added capability off-road. UK specs are still to be confirmed, but we have been told that all-wheel drive vans are a district possibility for the UK market.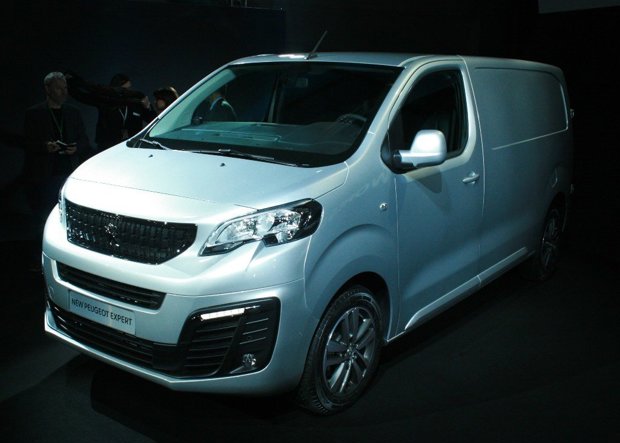 Improved safety kit and five star NCAP 
Both the Expert and Dispatch scored a maximum of five stars in the Euro NCAP tests. A host of additional kit will be on the options list, with lane departure warning and active cruise control. 
Autonomous braking will also be available, which will bring the van to an automatic halt if the in-built radar detects a potential impact when travelling under 30mph. The system will also dramatically reduce speed if it thinks an accident is likely at motorway speeds.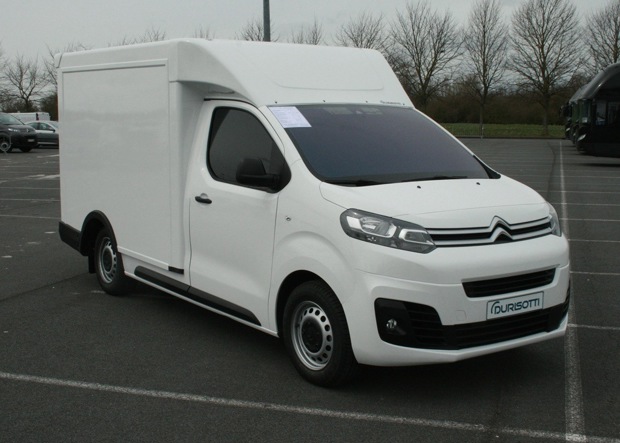 Large choice of bodystyles
The new vehicle line-ups will be available as vans, crew cabs, people carriers or flatbeds. The latter will give conversions companies the option to bespoke the Expert and Dispatch to match their exact needs. 
Crew cab models feature fixed bulkheads behind the additional seats, although the seats themselves can be folded when not in use to provide an enclosed 1.5m3 load area. People carrier versions will carry up to nine.