Driven: Volkswagen Amarok V6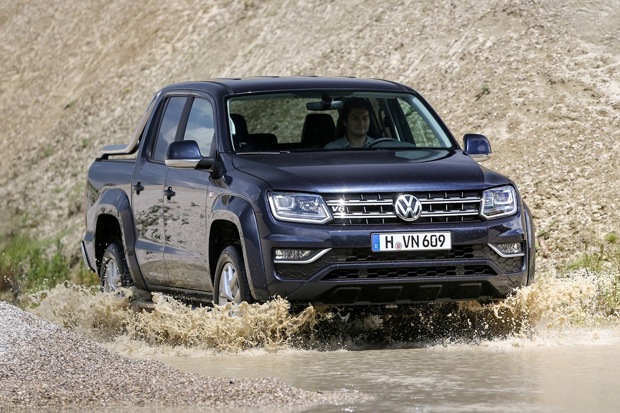 Car and commercial vehicle manufacturers these days seem to be on a mission to downsize their engines – but Volkswagen has gone the other way with the updated Amarok. Instead of shrinking its 2.0-litre diesel it has installed a 3.0-litre V6 diesel, delivering better performance and load-lugging ability without impacting economy.
Three versions of the V6 will be offered with power outputs of 163PS, 204PS or 224PS, the latter of which is tested here. Official economy for this variant is 36.2mpg, with emissions of 199g/km – figures that beat even the most frugal 160PS variant of the outgoing, four-cylinder Amarok, despite the power and torque advantage.
Peak torque for the 225PS engine is 550Nm, available from just 1500rpm. That means there is plenty of grunt for overtaking, climbing steep hills or towing. In fact, the Amarok has been given a hefty upgrade when it comes to towing capacity which, for a braked trailer, is up from 2.8 tonnes in the outgoing pick-up to 3.2 tonnes in the new V6-powered model. That means the Amarok is now capable of shifting 4.5 tonnes, when you factor in its one-tonne payload, although some drivers might have to install a tachograph if you plan to use Volkswagen's pick-up for business. 
From behind the wheel the V6 diesel sounds fairly subdued. It's evidently a diesel, with some audible clatter, but it's never intrusive and it even manages to sound quite characterful when accelerating up to speed. We only had the opportunity to try the new engine in conjunction with an eight-speed automatic gearbox, but a six-speed manual will be available too.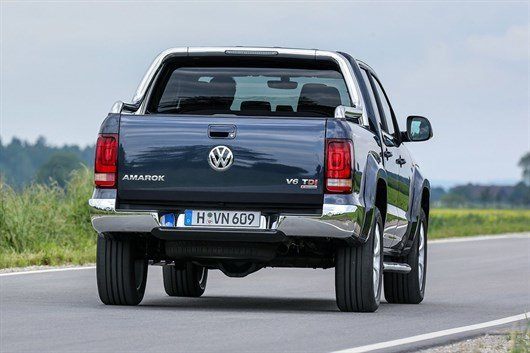 With the automatic transmission the Amarok is very smooth, changing up without any drama and kicking down quickly for overtakes or merging from slip roads. Drivers can choose a sport setting, which holds on to gears for longer, plus there are paddles for manually selecting gears. The auto works surprisingly well off-road too, where a manual transmission would be the default choice.
There's a button next to the gear selector to enable off-road mode, but aside from pushing that there is little for the driver to do. Hill descent control takes care of steep slopes, while the all-wheel drive system makes light work of rough, uneven or slippery surfaces. The Amarok can scale 45 degree inclines with a full load, while approach, departure and ramp angles are 29, 24 and 23 degrees, respectively.
We tested the Amarok over a steep and rutted off-road route - albeit in dry weather - and it was distinctly easy from the driver's seat. Farm tracks and fields will be no trouble at all, while on the road the Amarok is surprisingly quiet and refined. It corners neatly and the controls are well-weighted, while the suspension provides reasonable ride quality even when there is nothing in the load bed.
The bed is 1.55 metres long and 1.62 metres wide, giving a total area of 2.52m2. There is a lashing ring in each corner for securing loads while, depending on specification. Obviously there is a broad range of load covers in the accessory catalogue, including hard tops that enable bulkier objects or working dogs to be carried more easily and safely.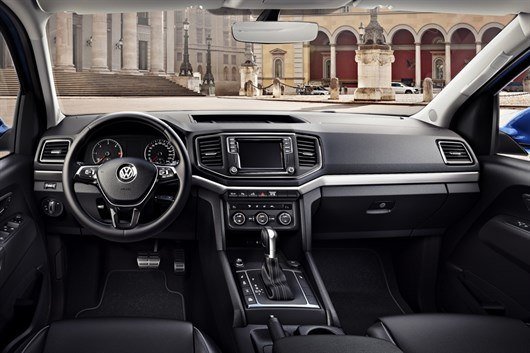 In the cabin the Amarok feels as car-like and sturdy as it ever has. The dashboard layout could just as well be seen in a Volkswagen Golf, but material quality is slightly less plush and more hardwearing. The updated Amarok is available with a new infotainment system which is also available in Volkswagen passenger cars and it's extremely slick, responsive and user-friendly.
This system comes with Bluetooth as standard, plus it can be linked up to smartphones via App Connect. This makes it possible to mirror many applications from a smartphone directly onto the in-car touchscreen, including audio services like Spotify and various navigation systems. It's user-friendly to set up and works with Android or Apple smart phones.
UK specifications are to be fully finalised, as are prices, but the trim levels are expected to follow the current structure of Startline, Trendline and Highline. Currently all models come with alloy wheels, air conditioning, all-around electric windows, ISOFIX child seat mounts and a 12v socket, all of which will come with the updated model, which goes on sale from September 2016.
The fact Volkswagen has gone with a larger, V6 diesel engine instead of downsizing might come as a surprise to some – but it has worked a charm. The updated Amarok is more capable, sounds better and has a better, more car-like cabin than before, yet it is no more expensive to run. Prices are to be confirmed, but should only increase slightly, making the refreshed Amarok a very attractive pick up indeed.