Driven: Mercedes-Benz Vito Sport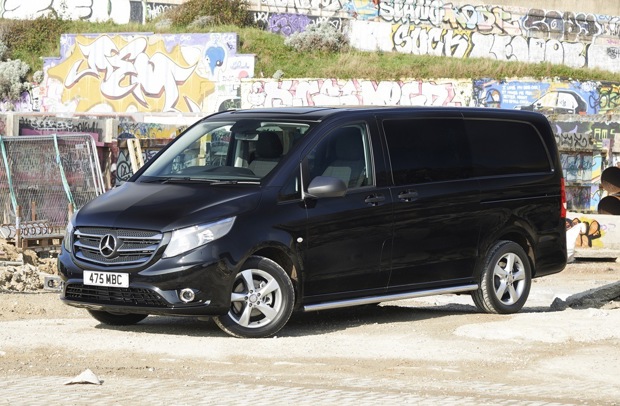 If you're after a van that's more than just a functional work tool, there are now more high-spec models than ever before from the Transporter Sportline to the Transit Custom Sportvan. And competing with those is the Sport version of the latest Mercedes-Benz Vito. 
The good looking Vito is well suited to a stylish makeover. It comes with a chrome grille, chrome sidebars, front fog lights, body coloured bumpers and five-spoke 17-inch alloy wheels - all of which make it stand out from the standard Vito. It's available in a wide choice of colours too, including Jupiter Red, but the Obsidian Black metallic of the van we tested - and pictured here - looks particularly sleek.
There are also plenty of versions. It comes as a standard panel or a crew van and there's either the Compact model or Long wheelbase - the latter pretty much essential if you're going for a crew van and still want some decent carrying space behind. The crew van option means you can also use the Vito Sport as a family car if you have young children as the rear seats have Isofix child mounting points and thanks to the big sliding side doors it's incredibly easy to get kids in and out. Just watch your shins on those chrome sidebars...
The trusty Mercedes-Benz 2.1-litre diesel powers the Vito Sport and it's very quiet, even when pushed hard, which you rarely need to do. It's certainly quieter and more refined than the 2.0 TDI engine used in the Transporter which makes the Vito feel that little bit more upmarket and more relaxed on the move.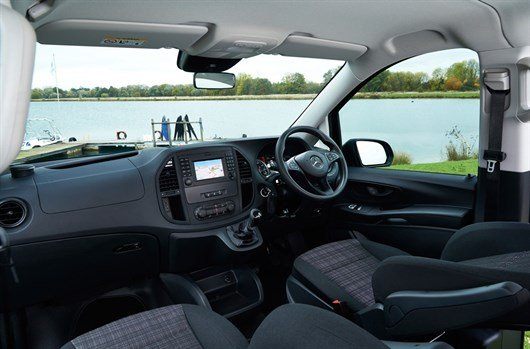 Two versions are available, the 116 BlueTec and the 119 BlueTec. With 163PS the 116 BlueTec has all the power you need, helped by 380Nm of torque. It's also good on fuel with the official figures saying it will average 47.1mpg. It comes with a slick six-speed gearbox, but if you want an automatic you have to opt for the more powerful 119 BlueTec.
The automatic is a the 7G-Tronic which is also used on Mercedes-Benz passenger cars. It works well enough in the Vito Sport and we prefer it to the DSG used by Volkswagen in the Transporter, but it's not without it's faults and can sometimes be slow to change down when you ask it to accelerate. Mercedes-Benz has started to replace this with a new 9G-Tronic on its cars although whether that gearbox makes it to this generation Vito remains to be seen.
The Vito Sport handles well, even if you opt for the Long model, thanks to nicely weighted steering and a good suspension set-up. While it may have Sport written on the back, the driving experience is more relaxed than anything else - it's a great vehicle for covering long motorway miles in. One criticism however is the foot operated parking brake which feels decidedly old fashioned, however the Vito does helpfully get a hill-hold function as part of the standard safety equipment.
Inside there are plenty of positives with a good quality and durable cabin with a modern steering wheel that echoes Mercedes-Benz cars and comes with multifunction buttons. The dials are nice and clear too and there's a good trip computer display between them. The Audio 15 stereo system looks very dated though and worse still is the lack of stowage - it could really do with more useful cubby holes for things like phones and wallets.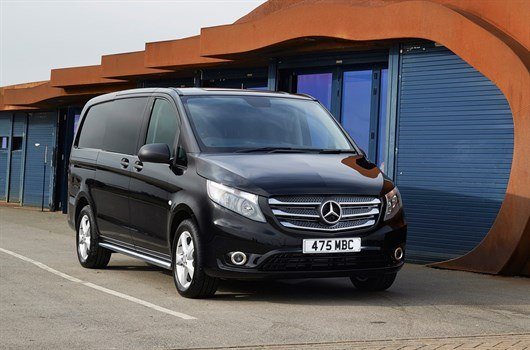 You do get a few extras over a standard Vito with Sport branded floor mats plus comfort driver and single passenger seats and at conditioning along with tinted glass. You can also choose the optional plug-in Becker MapPilot navigation system – that includes a fully-integrated navigation through the head unit.
The impressive thing about the Vito Sport is it's wide appeal. It's considerably cheaper than a V-Class and while not as plush, still makes for an upmarket people carrier as a crew van. It's also ideal as a family car, particularly if you've got older kids and do lots of activities. You can easily put several bikes in the back without worrying about bike carriers or removing wheels.
Prices start at £25,495 (without the VAT) for the 116 BlueTec Compact panel van. The new Transporter Sportline has yet to be launched, but a similarly powered Highine model will set you back £25,142 so there's little between them on paper. A Transit Custom Sportvan is £27,595. 
It may not quite have the overtly sporty look of the Transporter Sportline but the Vito is a quieter and nicer van to travel in, the crew van especially has lots of appeal. If you want a classy van to reflect your business, the Vito Sport ticks plenty of boxes. Mercedes-Benz is also working on a Sport X model, which is due later in 2016. Expect more power, a sportier look and extra equipment.