Mercedes-Benz to launch new X-Class pick-up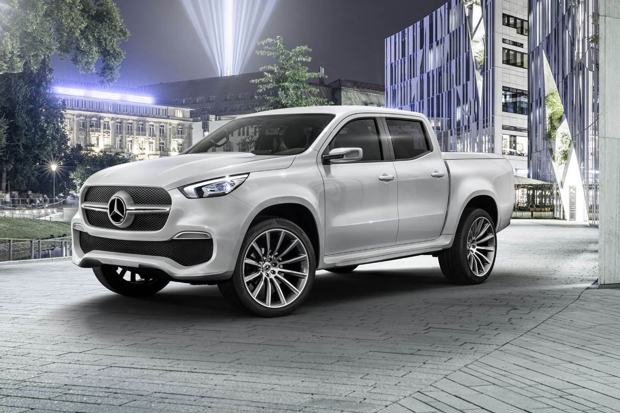 Mercedes-Benz is taking the pick-up all posh with its new X-Class, due in late 2017. At the moment it's just a concept, although the production X-Class isn't going to be a million miles away in terms of looks. 
There's no word on price but the X-Class, which is based on the same platform as the Nissan Navara, is being marketed as a 'premium pick-up' so you're unlikely to see any bog standard versions for a while at least.
Like many other pick-ups, Mercedes-Benz wants the X-Class to appeal to people who want a works vehicle that also doubles as everyday family transport.
So the brand has actually revealed two different concept versions of the X-Class. The white model shows the premium element of the X-Class while the second - labelled Powerful Adventurer and in a lovely shade of green - is designed to show that the X-Class will be tough and functional.
While there's plenty of Nissan Navara evident in the design, Mercedes-Benz has given the X-Class its distinctive front end design, complete with a massive three-pointed badge in the grille.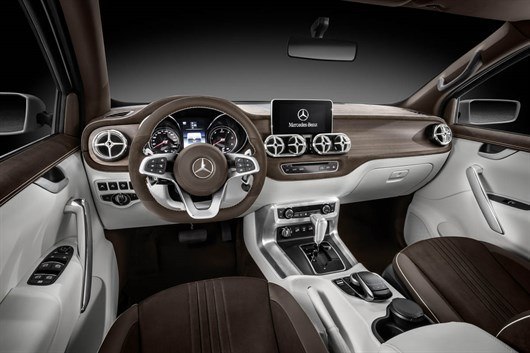 There's no final word on engines yet but we do know that all models will be 4x4 thanks to the 4Matic system that has two locking differentials and a low-range gearbox. Top versions will be powered by a Mercedes V6 diesel while entry-level models will get the 2.3-litre four-cylinder diesel used in the Nissan Navara and forthcoming Renault Alaskan.
The big V6 diesel is likely to be the same one used in Mercedes-Benz passenger cars. That means more than 250PS and a huge 620Nm of torque - more than alternatives like the 3.2 TDCi Ford Ranger and the Volkswagen Amarok 3.0 TDI. The X-Class will also have a towing capacity of 3.5 tonnes.
The interior of the X-Class looks very different from the Nissan Navara with lots of features taken from Mercedes-Benz cars including neat details like the circular air vents and the same steering wheel. Obviously the concept cars get exactly the kind of interiors you always get in concept cars - ones that look all fancy but will never make it into the production car.
It does however have a a high resolution central display while top models will get the same central controller and touchpad as many Mercedes-Benz cars.
The X-Class will further expand the Mercedes-Benz van range and will be its second commercial vehicle based on a Renault following the launch of the Citan - based on the Kangoo - in 2013.