Driverless vans take a step closer to reality with Volkswagen I.D Buzz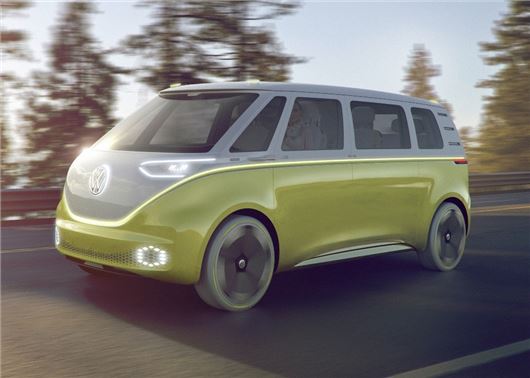 Published 10 January 2017
Volkswagen has unveiled its first, driverless, electric van at the Detroit Motor Show 2017. The concept van – called the I.D Buzz – will be capable of covering 372 miles on a single charge and use laser scanners and ultrasound sensors to drive itself. The I.D Buzz could make it to UK roads by 2025. 
There are no details about pricing or production dates for the I.D Buzz, but Volkswagen has pledged to sell one million electric vehicles by 2025; this means an electric mid-size panel van should become a reality. Volkswagen has already confirmed the eCrafter for 2017 and it's possible that some of the tech showcased in this prototype could make its way into an all-electric version of the Transporter T6. 
The all-wheel drive I.D Buzz is powered by two electric motors - one at the front and another at the back - with a combined 374PS. This means it will be capable of covering 0-62mph in a Golf GTI beating five seconds. 
There are no details on the battery tech, but it is thought that the van uses a high-voltage lithium-ion pack, which will charge from zero to 80 per cent in just 30 minutes. The maximum range from a single charge will be 372 miles.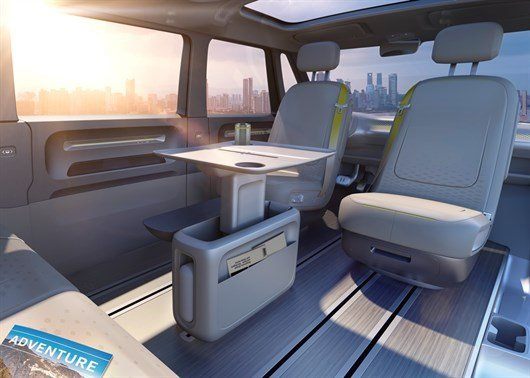 The tech behind the driverless I.D. Pilot system reads like something from a science fiction thriller, with the van's in-built computer using laser scanners, ultrasound sensors, cameras and radar to guide its way on the motorway and around busy city centres. The I.D Buzz will also automatically download the latest traffic data to avoid congestion and delays. 
The driver will be able to take control with a simple touch of the steering wheel, which will rise up from the dashboard. A head-up display will also show speed limits, 3D navigation commands and battery status.
Inside the I.D Buzz demonstrates what the next-gen Caravelle could look like, with six rail mounted seats that can be moved or taken out of the van completely. The additional front two seats will swivel round to face the rear passengers when the van is in driverless mode. A removable tablet computer will allow the occupants to adjust the air con or watch the latest films, via a wireless connection to the infotainment system. 
Obviously, the I.D Buzz is still very much in the prototype stage, but it's worth noting that Volkswagen is investing heavily in electric and driverless technology as it looks to put the bad PR of the diesel Emissions Scandal behind it. This means an electric, driverless range of vans and MPVs are extremely likely within the next 10 years.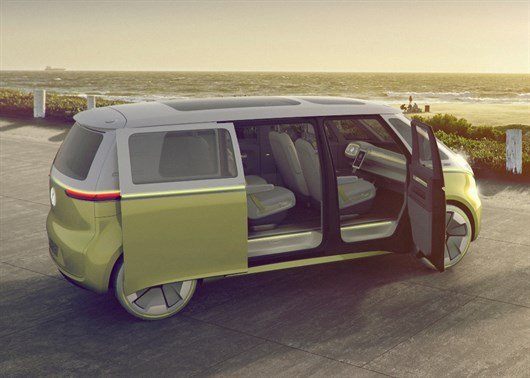 Comments
Author

Dan Powell
Latest