Autonomous delivery vehicle trials launched in Greenwich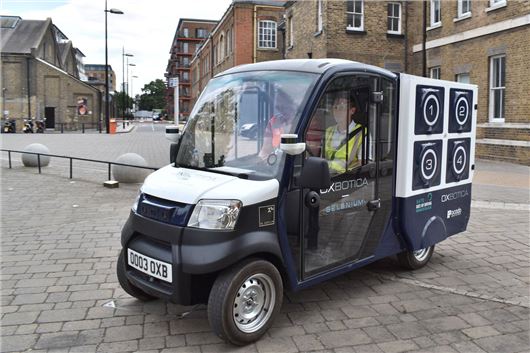 Published 29 June 2017
The GATEway Project - led by the Transport Research Laboratory (TRL) - has partnered with Ocado Technology (a division of Ocado, the world's largest online-only supermarket) to complete the UK's first trials of an autonomous CargoPod vehicle around Greenwich.
The trials saw the CargoPod - which can carry up to 128kg of groceries - delivering shopping orders to over 100 customers in a residential area. The research will focus on commercial opportunities for using autonomous vehicles, as well as how people react to this new kind of transport technology.
TRL is using the project to explore the public's perceptions of machines like the CargoPod, while Ocado is hoping to discover more about the logistics and practicalities of deploying self-driving vehicles as part of its online delivery service.
With London struggling with congestion and high levels of air pollution - and blame landing squarely at the foot of diesels - car manufacturers and designers have been working to find alternative solutions to NOx emitting vehicles.
Therefore, the study's findings will also help to shape what the future of transport could look like in cities like London, as they offer an emission free solution to diesel vehicles which are often used to transport goods.
Business Minister Claire Perry said, "The GATEway project takes us another step closer to seeing self-driving vehicles on UK roads, and has the potential to reduce congestion in urban areas while reducing emissions. Backed by government, this project firmly establishes the UK as a global centre for developing self-driving innovation."
Comments
Author

Georgia Petrie
Latest