Mercedes-Benz X-Class: prices, specs and release date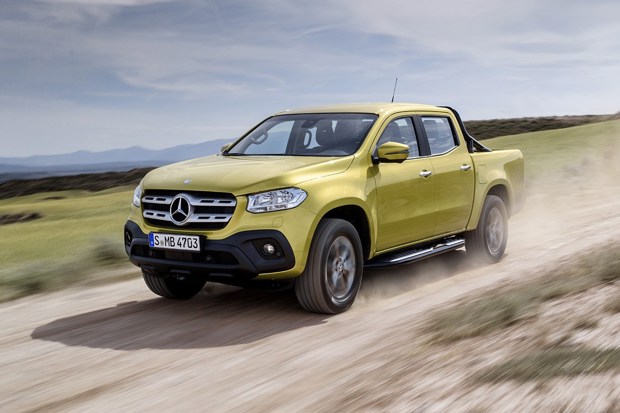 Mercedes-Benz has officially unveiled the X-Class pick-up 4x4. The one-tonne double cab workhorse will be based on the latest Nissan Navara and cost in the region of £33,000 (including VAT) when it reaches the UK in the autumn.
Designed to rival the Amarok, the all-new X-Class will get four-wheel drive as standard and boast a 3.5 tonne towing capacity, which is 400kg more than Volkswagen's pick-up. Under the bonnet the Mercedes-Benz will be offered with a four-cylinder 2.3-litre diesel, alongside a more powerful 258PS V6 diesel. 
The 2.3 unit - carried over from the Navara - will be the biggest-seller and offered with 163PS or 190PS. Mercedes-Benz hasn't released any official fuel economy figures for any of the X-Class engines, but we expect the 2.3 diesel to mirror the double cab Nissan's 44mpg. A six-speed transmission will be fitted as standard, while the 190PS and 258PS will get a seven-speed automatic as a payable an option. 
Built at the Nissan plant in Barcelona, Spain, the X-Class will mirror the size of the Navara, stretching 5340mm in length and 1920mm wide. The loadbed will be a similar size too, at 1587mm long and 1856mm wide.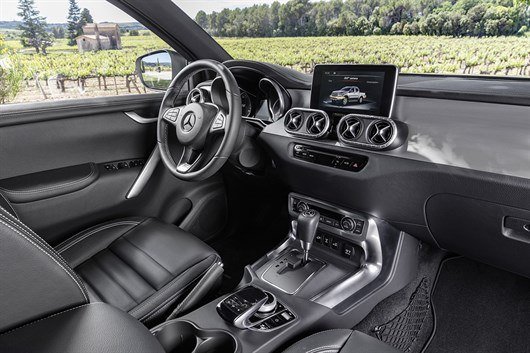 Like the Navara, the X-Class will use a ladder-type frame, with a rear multi-link solid axle, front independent wheel suspension and coil springs on both axles. At launch, a selectable four-wheel drive system will be fitted as standard, with the driver switching from two-wheel to four-wheel drive via an electronic rotary dial. 
Bodystyles will be limited to double cab only, with three trim levels - Pure, Progressive and Power. All versions will be capable of carrying payloads weighing up to 1042kg although Mercedes-Benz isn't hiding the fact that its pick-up is pitched at the higher end of the market, with Power models featuring leather seats, coloured roof lining, 19-inch alloy wheels and a 5.4 inch touchscreen infotainment system.
As with most pick-ups, a range of driver aids will be fitted as standard, with high and low gear ratios, along with automatic downhill speed control and selectable driving modes for on and off-road. A differential lock for the rear axle will also be available as an option. 
Pricing for the UK is still to be confirmed, but Mercedes-Benz has confirmed that the X-Class will start at €37,294 in Germany, which roughly equates to £33,000. Models should reach UK dealers in November, which means you can probably order one today.