Driven: Ford Transit Custom 2018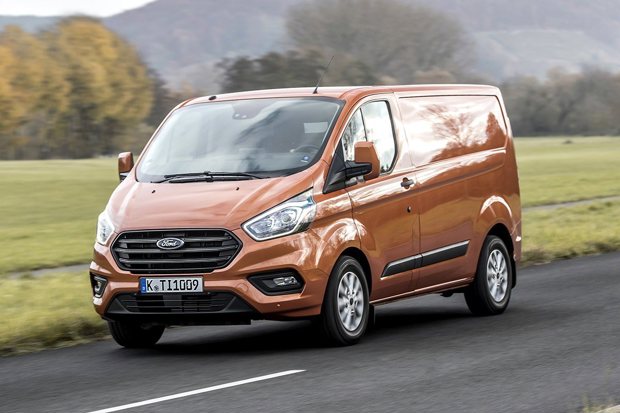 The Ford Transit Custom gets a mid-life nip and tuck for 2018, with lower CO2 emissions and better fuel economy. Admittedly, it might not look dramatically different, but peer under the metal and you'll discover that Ford's van is better and smarter than ever before.
Given its enviable status as the UK's best-selling van, it's perhaps understandable that Ford hasn't introduced sweeping changes to the 2018 Transit Custom. However, while the exterior alterations are subtle, they're also extremely effective. The front grille, for example, has been tweaked to improve airflow while the front panels and bumper are fitted in sections so it's cheaper and easier to repair damaged panels should the van get a scrape in a carpark or building site.
During its development, Ford invited Transit Custom owners to its Dunton development centre to find out what drivers wanted to see in the new van. At the top of the wish-list was storage: the cabin was considered by many to be too cramped and impractical. In response, Ford redesigned the interior, adding open bins to the dashboard, with room for clipboards and laptops so the driver can work when parked up.
The interior certainly looks and feels a significant step up from the old van; the quality of the plastics is high, but Ford hasn't compromised on durability, which means even the smallest bits of trim feel solid enough to survive an accidental wallop from a piece of two-by-four. The large glovebox also makes it easy to store A4 documents flat, so you don't have to worry about important bit of paper being blown around when you open the door on a windy day.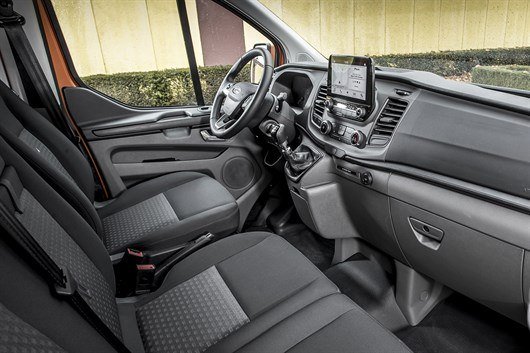 The cabin of the 2018 Transit Custom is one of the most-comfortable of any van on sale right now. The firm but supportive seats are perfect for long distance stints behind the wheel, while Ford's new - and optional - eight-inch touchscreen Sync 3 infotainment system makes it easy to follow navigation or receive hands-free phone calls. 
As well as more infotainment options, the van also gets better safety tech, with autonomous systems warning you if the van drifts out of its lane on the motorway. Adaptive cruise control and side wind stabilisation are also available, along with a smart tech that will warn you of approaching traffic when you're reversing out of a parking space or driveway. It's all very impressive, but we must point out that - at this stage - it isn't clear what will be fitted as standard and what tech will cost extra.
At the business end of things, van operators get the same load dimensions as before. This includes two roof heights and wheelbase options, while gross vehicle mass ranges from 2.6 to 3.4 tonnes. Payloads peak at 1450kg. All vans get a single side sliding door as standard and the rear doors can be locked in place at 90 degrees. The cargo area is illuminated with bright LED lights that make it painless to load and unload the van at night. 
On the road the Transit Custom feels almost identical to the old van, with stable but rewarding handling that's aided by light and responsive steering. On the motorway the refinement has been tweaked to lower engine noise to a distant hum, while vibrations through the steering wheel and pedals is minimal. This means a full day behind the wheel is a comfortable experience.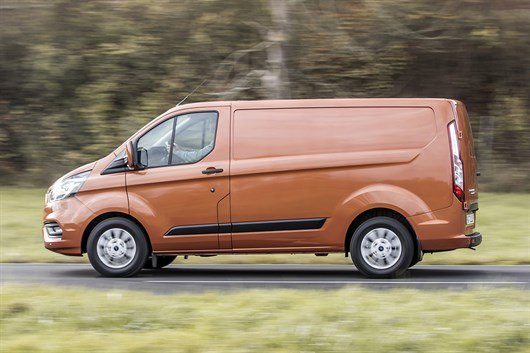 As before, power is provided from a Euro6 compliant 2.0-litre EcoBlue diesel engine. Outputs are105PS, 130PS or 170PS, while six-speed manual and automatic transmissions are available. The sweet spot in the range is the 130PS diesel automatic; its 385Nm of torque makes short work of one-tonne payloads and the SelectShift auto does a good job of distributing power, despite the odd ditherering moment on the upshift. 
Claimed economy for the 2.0 EcoBlue peaks at an advertised 49.6mpg, with148g/km of CO2 for the 105PS Econetic version, which uses low rolling resistance tyres and an acceleration control feature to reduce fuel flow. However, while the Econetic version makes sense for cost-conscious operators, it does feel underpowered when fully laden and requires a downshift or two when tackling a steep hill or over taking slow moving traffic. 
We'd recommend spending extra on the more powerful 130PS engine. Not only does it feel better to drive, with strong pulling power in the low gears, but it will also return an advertised 187g/km of CO2 and 39.2mpg when specified with a long wheelbase and high roof.
Impressive, practical and easy to use, the Ford Transit Custom raises its game for 2018 and remains the one to beat in the medium-size panel van market. Prices are still to be confirmed, but we expect the 2018 Transit Custom to remain excellent value with the range staring under £21,000 before VAT. 
Essential stats:
Prices expected to start from: £21,900, claimed economy: 49.6mpg (for Econetic), CO2 emissions: 148g/km, payload: up to 1450kg, towing capacity: up to 2.8 tonnes (braked), length: (L1) 4973mm - (L2) 5340mm, width: 2272mm, height: (H1) 2000mm - (H2) 2343mm, engine: 1996cc four-cylinder in-line turbodiesel, power output: 105PS, 130PS, 170PS.