Ford confirms high-performance Ranger Raptor for 2019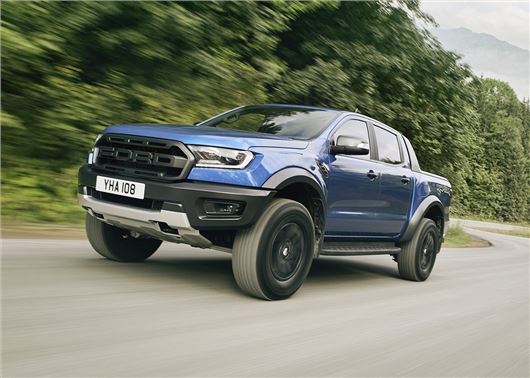 Published 21 August 2018
Ford is expanding its sports car range with the launch of the Ranger Raptor pick-up. Inspired by Ford's F-150 monster truck that's sold in the USA, the Raptor gets an uprated 213PS turbodiesel engine, racing suspension and a new 10-speed auto gearbox. It'll reach showrooms in June 2019.
Described by Ford as the 'bad-ass Ranger', the high performance pick-up is powered by a bi-turbo version of the 2.0‑litre EcoBlue diesel engine to deliver 213PS and 500Nm of torque. The Raptor will cover 0-62mph in less than 10 seconds and go toe-to-toe with the X-Class V6.
Ford's refusing to provide any details about pricing, but has confirmed that the Raptor will use the same 10-speed automatic transmission as the F-150. The turbodiesel engine and four-wheel drive system has six driving modes to cope with mud, gravel and snow. There's also be a bonkers Banja mode for high-speed off-road performance.
The reinforced chassis frame uses high-strength, low-alloy steels to cope with the punishment from off-road racing, while Fox shock absorbers with position sensitive damping should provide better control when travelling at speed off-road.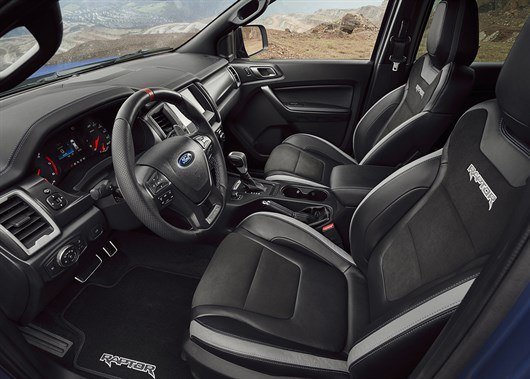 Due to its extreme nature, BF Goodrich has had to develop specialist tyres to cope with the additional power and sideways forces. The all-terrain 285/70 R17 tyres measure 838mm in diameter and 285mm wide, and use a tougher sidewall to provide better grip in wet, mud, sand and snow conditions.
Capable of carrying a payload weighing up to one-tonne, the Raptor's spec sheet will reflect its halo status in the Ranger line-up with a huge F-150 inspired radiator grille, xenon headlights, LED daytime running lights and reinforced underbody protection. The enlarged side step boards have been designed specifically to prevent rock spray from hitting the rear of the truck, and feature drain points for sand, mud and snow.
The leather-clad interior gets sport seats, lightweight, racing-style magnesium paddle shifters for manual gear changes and perforated hand grips for the steering wheel. There's also an on-centre marker to help the driver keep track of the direction of the front wheels when off-road.
Ford's latest eight-inch touchscreen Sync3 infotainment system will be fitted as standard, with DAB audio and voice-control for a range of smartphone apps. The navigation system also gets a useful "breadcrumb" feature to leave a trail when exploring off-road, which means you should be able to find your way back to civilisation if you get lost.
Fuel economy figures, CO2 emission ratings and pricing are all to be confirmed; however, expect the Ford Raptor to exceed £40,000 including VAT when it goes on sale in mid-2019.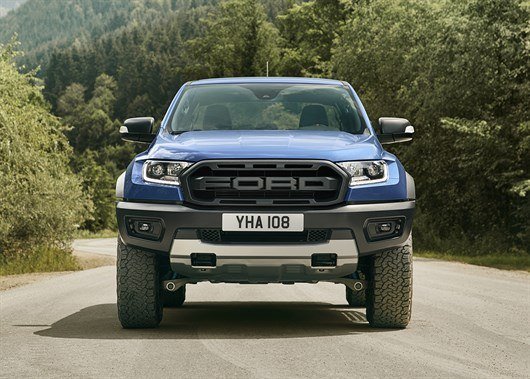 Comments
Author

Dan Powell
Latest